Bitcoin stays consistent at $23,400, raising speculations over the expected rally many market experts had predicted. Follow along as we take a look at Bitcoin's price performance, and the possible targets it could reach in the near future.
Bitcoin Price Holds Around $23,000 On Sunday
Bitcoin is just about where it was a week back, hovering at around $23,400 while being marginally volatile throughout the week. Effects from the increase in tax slab haven't been apparent, as they've caused little to no movement for the price of Bitcoin; if not confine it below the $25k price level.
The token's price rally for the year has been quite similar to its price performance historically, particularly the uprise in prices on the weekend, referred to as the "wild weekend phenomenon" in the market.
If you aren't familiar with this phenomenon, wild weekends essentially mean that Bitcoin's price will undergo an uptrend every weekend; irrespective of its performance throughout the week. Last Sunday, for example, Bitcoin was up by 3.4% percent, while it rose by over 5.5% the weekend prior.
Multiple theories try to explain this occurrence, but the most compelling among them is an explanation that suggests the lack of liquidity to be the cause. Normally, on weekends, the liquidity of Bitcoin is less than on weekdays, which makes it really easy for investors to notice any major purchases made on the chain.
And as market behavior would have it, retail investors feel positive about a coin that's being purchased in bulk by whales or institutional investors and thus proceed to buy a share for themselves as well. This causes a domino effect in the purchase pattern, where an increasing number of people purchase a certain token, consequently driving its price to an uptrend.
While this pattern has been consistent for the last few weeks, it doesn't guarantee that Bitcoin will rise this week as well. However, since Bitcoin is known to follow its historical price behavior, it doesn't hurt to be optimistic.
Will Bitcoin See A Price Drop In February?
Even though the current outlook for Bitcoin remains positive, some market experts expect the token to land at another bottom before venturing to the top. The relative strength index (RSI) for Bitcoin found a critical support level after it rose from its January low.
While Bitcoin isn't known to make double bottoms for the relative strength index, a higher low for Bitcoin might still be in sight. If this is true, Bitcoin can fall back by a few hundred dollars but would very well be above the $23k level if it plans to maintain the current RSI.
Michael van de Poppe, a popular crypto expert, shares the same outlook but has some relatively extreme predictions for Bitcoin. He believes that the $40k target for Bitcoin isn't impossible, given the current market scenario. But for that to happen, Bitcoin may have to retrace the $20k price level as that appears to be more sensible.
So far, Bitcoin bottomed out at $22,657 this week, rising as high as $24,167 on Thursday. The 24-hour trading volume for Bitcoin stands at $14.5 billion, which is a testament to the lower liquidity on weekends as mentioned above.
$40k Target In Sight For Bitcoin?
Bitcoin's price didn't display much optimism as investors were anticipating the announcement of the US Nonfarm Payrolls. But now that the numbers are published, fortunately much better than the expected targets, Bitcoin saw a rebound in price from its previous drop.
Bitcoin crossed the $24k price target on Thursday, hinting at the next critical level at $25k, but it couldn't sustain quite well and quickly fell off from the top and is currently trading at around $23.4k. This hasn't, however, led to any questionable outlooks for the token as bulls continue to be optimistic about the token's current prospects.
Staying above the $23,000 level is crucial for Bitcoin, as it can be understood from the Bitcoin Market Value to Realized Value (MVRV) indicator, which currently stands at 1.17. This value is considered to be safe for now, as long as it stays above the usual 1, observed about three weeks back.
If the MVRV ratio falls below 1, it might indicate the start of a bear market if it fails to recover within a short period of time. Since the token is above this level, it fails to conclude that investors are accumulating the token and we might be in for a new high in weeks to come.
In addition to this, the S&P index underwent a "golden cross" a few days back, where the 50-day simple moving average (SMA) crosses the 200-day SMA, represented by a cross. This suggests a positive price performance in the short-term over the long run.
Bitcoin is expected to undergo a similar bullish signal in a week or two, last seen in September 2021, hinting that a bullish rally might be on hold for the token. With that being said, it's important to note that while a token starts to rally with a golden cross, it is not a definitive indicator for a token to make a rally.
Join The Metaverse Revolution With RobotEra
RobotEra has been undergoing a presale that has been nothing less than super successful so far. Since the first day itself, the project has been raising a lot of funds and is closer than ever to halfway through its target of $1.8 million.
Currently, in phase one of its presale, TARO, the native token of the RobotEra ecosystem is available to purchase for 0.020 USDT and has been featured in major cryptocurrency publications. It's no wonder that the presale has been progressing so quickly, as investors are purchasing the TARO tokens for 0.020 USDT before the price increases to 0.025 in the next round of the presale.
RobotEra takes players to a planet that has been destroyed and needs help to come back to life. Each player will be a robot in the ecosystem, and together with their robot companions, players will help restore the plant back to life by taking roles as robots. These robots will be represented as NFTs, where each player will have a unique identity for themselves.
Players will also be able to partake in concerts, organize events and exhibitions, as well as visit theme parks; all of which will be a part of the infrastructure that players have collectively built.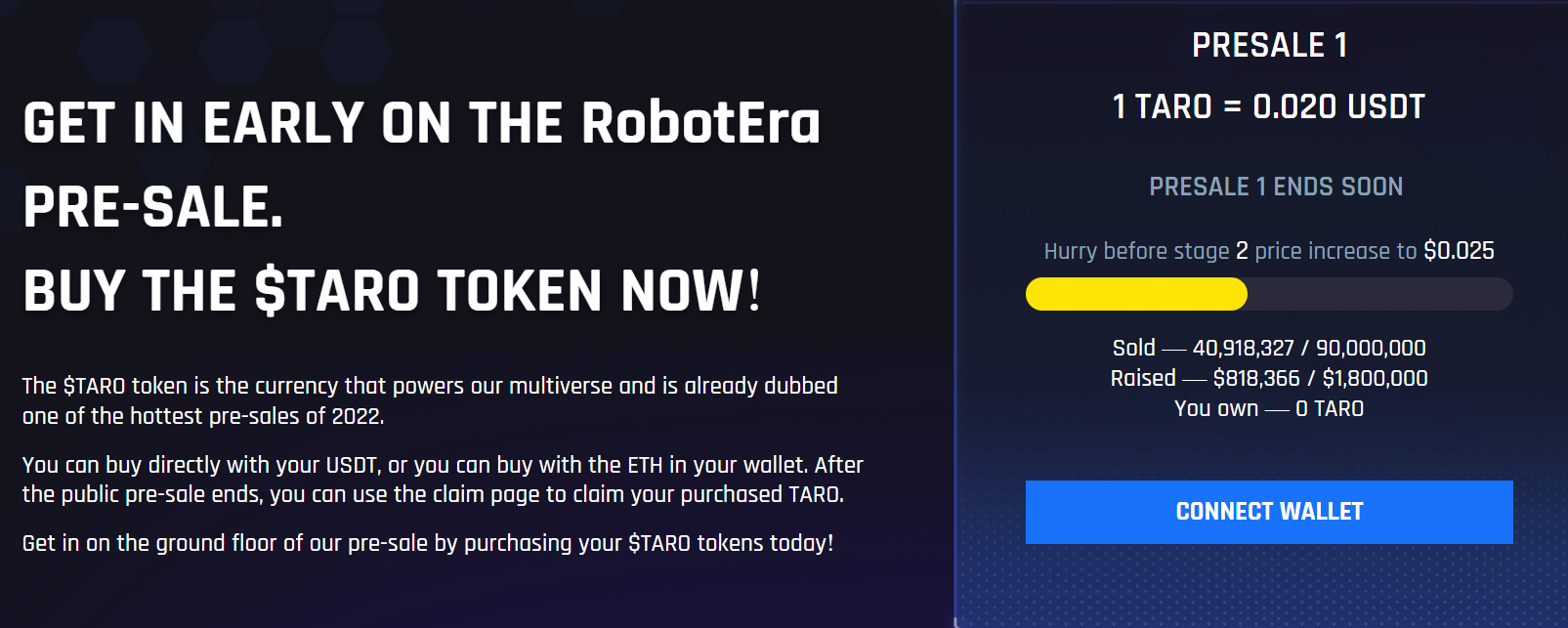 RobotEra Presale Page
You might ask, what's in it for me? Apart from the fun, players will be able to earn TARO tokens by completing a variety of tasks, that include building the planet. In addition to this, players can also stake their NFTs to earn a passive income or sell them for a definite price. And that's just what the basic revenue structure offers.
RobotEra is a metaverse, so players can experiment with numerous ways to make money in the ecosystem. For instance, you can organize an event where you charge other users for a seat. Introduce tiers to the seating so that you maximize your earnings.
If you haven't yet invested in the project, there's no better time than now to get your TARO tokens at a discount before the price increases to 0.025 USDT.
Read More-
Fight Out (FGHT) – Newest Move to Earn Project
CertiK audited & CoinSniper KYC Verified
Early Stage Presale Live Now
Earn Free Crypto & Meet Fitness Goals
LBank Labs Project
Partnered with Transak, Block Media
Staking Rewards & Bonuses