LUNC price has, over the last couple of days, remained profitable, keeping investor interest on the roof. In the last 24 hours, Terra Classic's price shot up by 1.9%, bringing its weekly accumulative gains to 3.3%.
LUNC now exchanges hands at $0.000165 after being rejected from the weekly high of $0.0001834. There has been a massive increase in trading volume by 173% to $273 million based on live price data from CoinMarketCap.
It is worth keeping in mind that a spike in volume without a significant price increase often points to accumulation. It implies that investors, mainly high net-worth individuals and institutional, are slowly buying the asset in large amounts while anticipating a big movement in price.
Therefore, another rebound is probable in the upcoming sessions as long as LUNC price holds above the support provided at $0.000161. Meanwhile, Terra Classic's market cap is up by 2.4% to $994 million, making it the 40th largest crypto.
Assessing the Potential of LUNC Price Staying Profitable in The Coming Days
LUNC price could flip massively bullish if it successfully retests support at $0.000161 in confluence with the upper falling trend (continuous line). The Moving Average Convergence Divergence (MACD) indicator's position above the mean line upholds the bullish outlook in Terra Classic.
A buy signal is still in place, although it is not visible with the MACD (line in blue) holding above the signal line (in red). Nevertheless, the path with the least resistance will stay to the upside if the MACD holds above the mean line (0.00).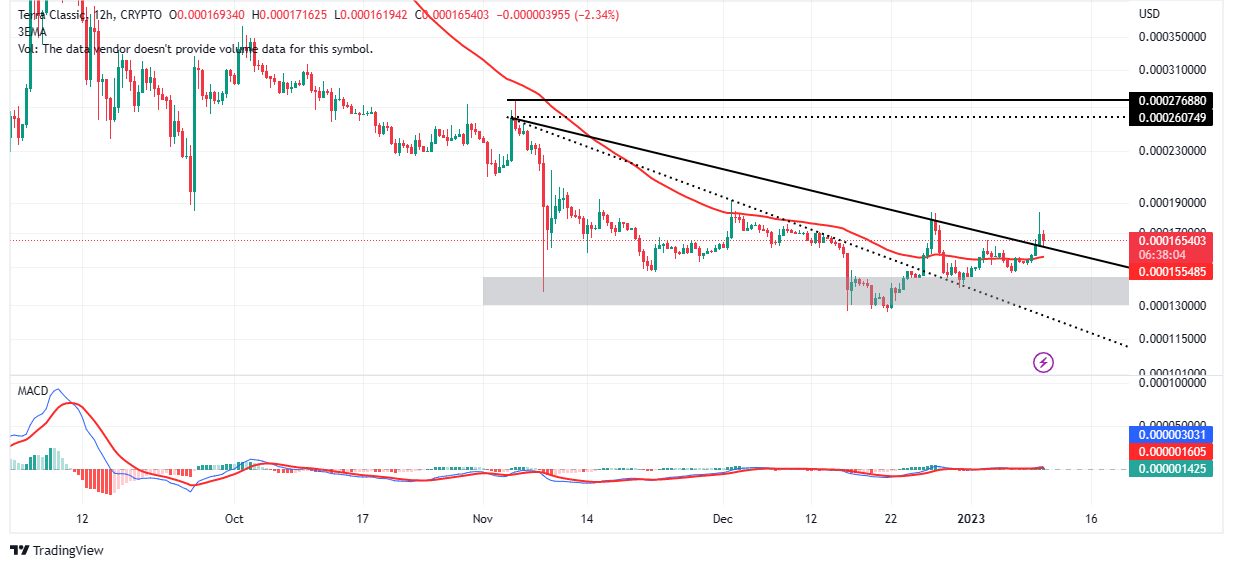 Traders must hold off their buy entries until Terra Classic confirms a rebound in a green candle above the upper falling trend, as established earlier. Support at the 50-day Exponential Moving Average (EMA) (in red) at $0.0001554 would play crucial in the resumption of LUNC's uptrend, especially if support at $0.000161 breaks.
On the other side of the fence, it is prudent for traders looking forward to shorting LUNC price to wait until the 50-day EMA support is broken for potential take-profit targets at $0.00013 and $0.000115.
A glance at the future of LUNC price from the daily time frame chart cements the optimistic outlook and that a rally is poised to ensue. Realize the same upper falling trend affirming support at $0.000161.
A buy signal from the Super Trend indicator shows that it may be unwise to short LUNC price. This indicator overlays the chart like a moving average but incorporates the average true range (ATR) to measure market volatility.
As observed from the chart, a buy signal manifests as the Super Trend flips to trail the price. Investors expect the price to keep trending north until the Super Trend flips above price, sending a sell signal.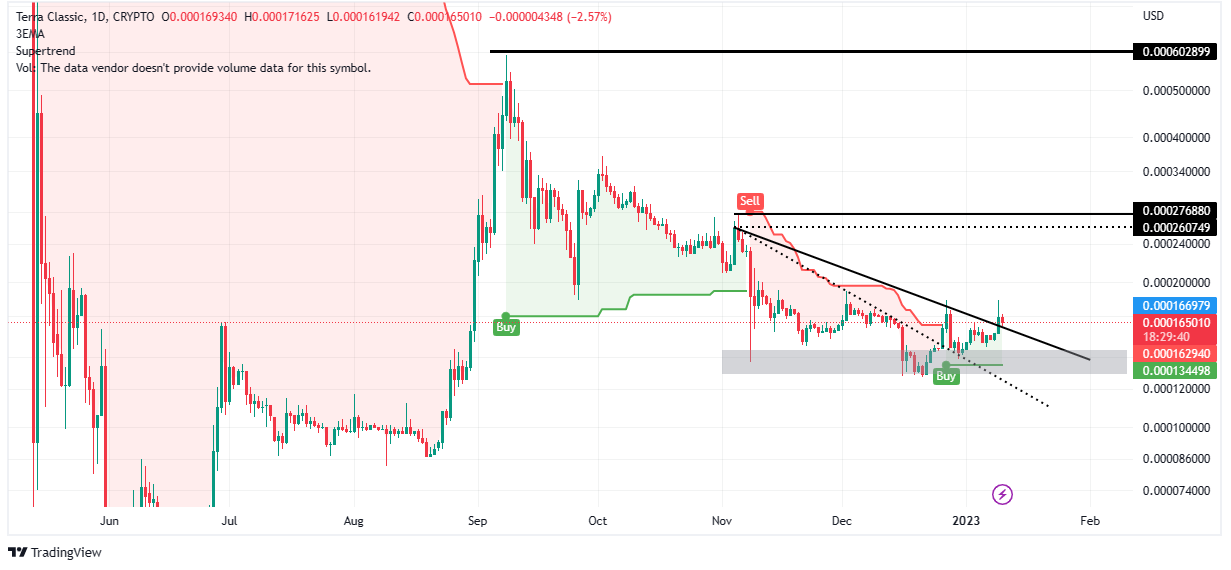 What Could Be Holding LUNC Price From Rallying Promptly?
Terra Classic is poised to rally, but investor interest appears to be declining this week. According to data from Santiment, mentions of LUNA and its products have dipped significantly over the last 24 hours.

Interestingly, Terra Classic presence on social channels like Twitter has increased in the past months, with developers frequently highlighting new products launching on the blockchain.
Recently the team announced several upgrades coming to Station, the official mobile wallet for managing native Terra assets and connecting to decentralized applications within the ecosystem.
(1) Jared_TFL on Twitter: "By end of January Station will support many cosmos chains. We have commitments from several already, and are actively working on 22 integrations. What we need from you: as chains are added in we will need dapp developers to integrate station extension." / Twitter
Approximately 22 different chains will be implemented and supported on Station, with the team deliberately choosing to integrate the easiest protocols first. By the end of January, the mobile wallet will support many Cosmos-based chains. Terraform Labs's Jared_TFL has requested dApp developers to integrate station extensions to make the exercise seamless.
Altcoins to Consider Promising Quicker Returns
As LUNC price mulls over the next direction it would take, investors may be interested in new crypto projects with the potential to revolutionize many traditional industries using blockchain technology. Currently, in their presale stages, these altcoins offer investors a chance to be early adopters.
Dash 2 Trade (D2T)
For those traders looking for a comprehensive crypto platform that provides access to data and key information to make informed decisions, Dash 2 Trade is worth considering. This rising blockchain protocol offers trading signals for investors to take advantage of market opportunities.
One of the standout features of Dash 2 Trade is its social sentiment and on-chain analysis dashboard, which allows traders to identify trending coins. In addition, the platform's world-class strategy builder utilizes accurate price data from top exchanges to help investors develop proven strategies.
Another advantage for users of Dash 2 Trade is its unique scoring system for crypto presales. Experienced crypto investors know that selecting the best crypto to buy at the presale stage can be challenging, which is where this dashboard comes in handy. It includes social tools for traders to share ideas and insights.
Dash 2 Trade presale ends in two days with $15 million raised. The platform's native token will be listed on a CEX for the first time on Wednesday, 11 January 2023.
FightOut (FGHT)
A new Move-to-Earn (M2E) blockchain platform is emerging to bridge the gap between Web2 and Web3 users. FightOut offers a unique model compared to other M2E projects such as SweatCoin, Step App, and STEPN.
FightOut aims to make the fitness industry accessible to everyone and reduce the high costs that have hindered widespread adoption. To achieve this, it will use a fitness app to track the progress of all members and distribute rewards earned through workouts and challenges.
FightOut is currently conducting a presale to raise funds for developing its ecosystem and acquiring gyms worldwide where users can join a community of like-minded individuals.
FGHT is the native token powering FightOut's ecosystem. Approximately $2.5 million has been raised as investors scoop the new token.
Related Articles: