One of the most anticipated cryptos of this year, D2T, powering the most anticipated crypto intel platform of this year, Dash 2 Trade, is only a few hours away from going live on cryptocurrency exchanges.
The listing will take place at 10 am UTC on Wednesday on popular cryptocurrency exchanges – BitMark, Gate.io, LBank, and Uniswap – a DEX.
https://t.co/a1d9vDe5GZ #Startup Initial Free Offering: #D2T @dash2_trade

🗓️ Subscription: 07:00 AM, Jan 10-Jan 11 (UTC)
💰Airdrop Value: $120,000

Claim NOW: https://t.co/mJiKLMj7L3#gateiostartup #Gateio #Airdrop #launchpad pic.twitter.com/0JfVwH5NGb

— Gate.io Startup (@Gateio_Startup) January 9, 2023
More Listings will be Coming for Dash 2 Trade.
The current significant listings aren't the only ones Dash 2 Trade hopes to achieve this year – the crypto intel platform has entered an agreement to list D2T on Changelly Pro at a later date.
With Dash 2 Trade going live on four cryptocurrency exchanges at the same time, you can guess that this token has more than enough liquidity to cover all who couldn't move in early and now must make do with the crypto IEO offering.
Dash 2 Trade Presale in Full Throttle – Only $422k Worth of Tokens Remained
The entire cryptocurrency crowd was hit with a dose of good news when it got the last chance to enter the overfunding round. The new funding goal became $15.42 million after the Dash 2 Tradfe presale smashed through the $13.42 mark earlier than expected.
And at the time of writing, 111.5% of the tokens have been sold, and more than $15 million have been raised. The token is not only $400k away from reaching its final goal – and if you miss this last lap – you will miss it, period. There n't be any extension, as the token will land on the exchanges we mentioned tomorrow.
What Drove So much Interest in this Utility Crypto?
The LUNA Crash and the FTX betrayal made it clear to us that people need to have a better picture of the projects they put their money into. Also, there were signs in the market that they couldn't see. Those that could generate profit even during the bear season.
Dash 2 Trade is the answer for those who got left behind. It gives them tools to analyze the market conditions in real time – and these tools aren't your standard technical indicators. Dash 2 Trade comes equipped with a variety of tools to give people a better idea of the current happenings in the market – both inside and outside the pricing charts.
Social Indicators
Every cryptocurrency project is social-media savvy. It is how developers create hype around the project to drive people to buy the tokens and increase the token's price. On the other hand, an abysmal social media presence leads to people completely forgetting about the asset. However, there are so many tokens that keeping tabs on each of their social media tools is not an easy task.
That's where Dash 2 Trade brings all the social media indicators into one place. Think of it as a refined version of lunar crush, where you will see the social media responses and the scores to go along with it.
Strategy Builder and Backtesting Tools
You can only react to sudden changes in the market if you have a plan beforehand. Dash 2 Trade helps with that by providing you with a strategy-building tool. And with backtesting, you can test your strategies under simulated market conditions before applying them in real-time.
But Dash 2 Trade only provides you with tools – you will also get suggestions to fix your strategies.
Advise from Leading the Traders on The Platform
Dash 2 Trade is brought to you by the makers of Learn 2 Trade – a forex signals platform with over 70k active traders. Many of them would now be coming over to Dash 2 Trade not just as investors but as a community of specialists who will give you suggestions to navigate the crypto market better.
Risk Profiler
You must know where you stand as a trader if you want to evolve as an investor. Dash 2 Trader, thus, offers "Risk Rankings" through its Risk Profiler. All traders on Dash 2 Trade will receive assessments and scores based on their investment habits. Understanding those details will allow traders to move forward after reformulating their strategies or learning something new.
Copy Trading
It is easier to walk on land that has been walked on – which is why Copy Trading is such a useful utility. It allows beginners to copy the trading approach of veteran investors. That mirroring not only gives beginners a chance to win big in the market but is also a great learning tool.
Curated Signals and Technical Indicators
Dash 2 Trade will also be home to curated market signals backed by industry-leading traders with a deep insight into a crypto project's market movements. Advanced traders will also have access to all technical indicators, from moving averages to relative strength index, to discern the price movement of a particular asset.
But the biggest offering of Dash 2 Trade is the presale dashboard. It has garnered a lot of attention from the crypto space after coming out as a demo.
Dash 2 Trade Presale Dashboard has the Entire Crypto Crowd Interested
2022 has been a great ear for early movers since many presale cryptocurrencies allowed people to make gains even before the token hits the cryptocurrency exchange.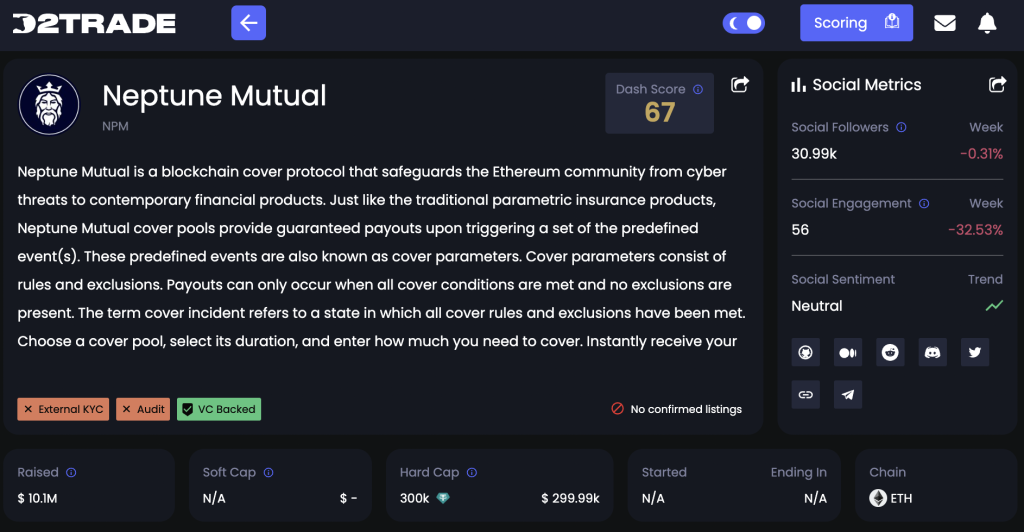 But not all crypto presales are cut from the same cloth. To help people find the right crypto to move in on early, Dash 2 Trade has come up with the presale dashboard.
The presale dashboard possesses a presale token on multiple offerings, including tea, treasury, reserve, influencers, advisors, Donor advised funds, locked liquidity, marketing, foundation, future growth potential, staking, and sale.
It then gives tokens a dash score based on their potential. It also checked whether the token has an external KYC, has been audited, or is VC-backed. By the time you are down reading a presale report, you will have enough info to decide whether to pick or drop a particular presale project.
The launch of the beta version of this presale dashboard is the reason that more people became aware of Dash 2 Trade – leading the team to launch an overfunding round to accommodate some last-minute buyers.
Where to Buy Dash 2 Trade at the Last Minute
With little less than a day remaining before the presale ends – you must race to the official website –dash2trade.com – and buy and invest in this crypto right now. The price of 1 D2T token is 0.0556 USDT, and as soon as the presale ends, the tokens will be listed on cryptocurrency exchanges.
Related Articles
Dash 2 Trade – Presale Ends Soon
Active Presale Live Now – dash2trade.com
Featured in Cointelegraph – $13M Raised
KYC Verified & Audited
Native Token of Crypto Signals Ecosystem
Upcoming Listings Jan 11 – Gate.io, Bitmart, LBank, Changelly