There's one major trend that's going to take over the world in 2023 and that's Web3. Truth be told, it has already cemented itself strongly all over the globe in 2022, but it's only in 2023 that we will see all the resources poured into the result into something tangible. These things take time and so it's in the medium term that we will see substantial outcomes.
At the same time, another trend that is taking over the market is the application of decentralized technology in real estate. This is something that has been talked about for a long time, but new technical ideas like NFTs have revived the interest and efforts.
The real estate market is something that has always been a mainstay in portfolios, but rising prices in recent decades have put it out of reach of younger investors. However, things are changing with Metropoly, a real estate NFT marketplace that many real estate experts predict could cause a seismic shift in the Web3 space.
Metropoly Makes Real Estate Affordable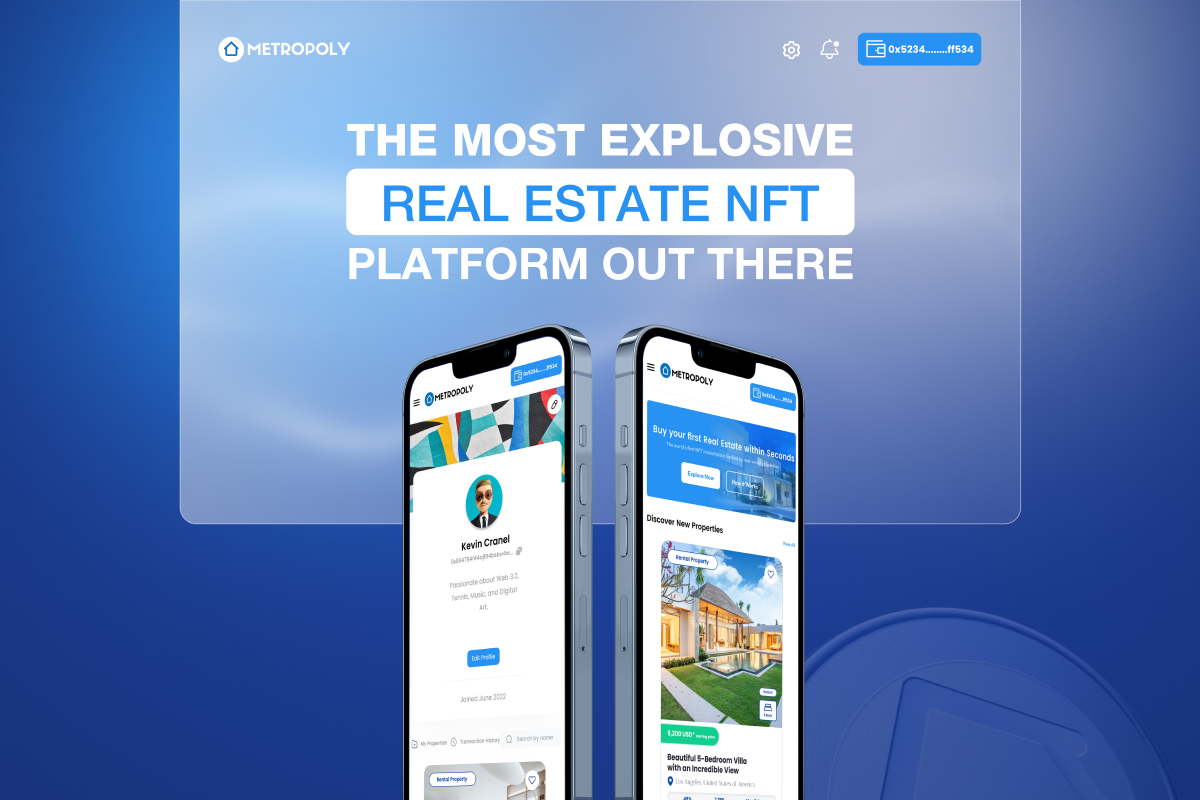 The real estate market isn't exactly affordable – that much is clear. In some countries, some regions see simple 2-bedroom houses costing upwards of $2 million. This puts it out of the reach of the common person, but a platform like Metropoly changes that through a variety of features.
The blockchain-based real estate allows anyone, young and old, to enter the real estate market, allowing them to tap into the benefits of using real estate as a hedge against inflation and to generate passive income. With it, the young will be able to obtain a home for future security, while the elderly can use it as a pension replacement or alternative.
All the NFTs on the Metropoly marketplace are 100% backed by real-world properties. The key feature that makes it affordable to everybody is fractional investing, which is an idea that has slowly been taking shape. This allows users to buy small fractions in a property – as low as $100.
Users will only have to connect their wallet, visit the marketplace to see the various properties – apartments, penthouses, and villas – and then make the purchase. These purchases start from as low as $100. There is a beta version of the platform that users are available that offers some insight into how the marketplace will operate. It lets users view properties, visit ongoing auctions, and see the payouts tab. The properties listed in the prototype are for purely illustrative purposes. There is an all-time leaderboard where you can see the number of fractions of real estate owned, its performance, and dividends received.
Metropoly will feature properties from across the world. Property types will include premium apartments and villas. There's a good chance that investors will find something or the other they like, and in due time, it should attract some major property developers from around the world.
Metropoly is also conducting very lucrative content that is bringing it a lot of exposure. This is a $1 million giveaway where the winner gets access to a $1 million premium apartment in the Burj Khalifa.
With access to the apartment, they could also stand to gain rental income that could go to $100,000 annually. To enter the contest, users will have to perform such social and marketing challenges as tweeting about Metropoly, joining the Discord and/or Telegram channel, and signing up for the newsletter, among other things.
Limited Time Left in Metropoly Presale 
Metropoly is enabling the next era of innovation in real estate.🚀

Powered by blockchain technology and NFTs, it is making property ownership a reality for everyone. 🤩

Join the presale now! 👉 https://t.co/tpOwICvgol#realestate #ethereum #nft #crypto #web3 #realestate pic.twitter.com/0nMXxZIlRt

— METROPOLY – PRE-SALE IS LIVE NOW 🔊 (@metropoly_io) December 29, 2022
Metropoly's presale has been a rousing success so far, with the project has raised hundreds of thousands for the METRO token. The latter is an ERC-20 utility token with a max supply of 1 billion tokens. 1 METRO token costs $0.05, with the minimum investment being $100. The token can be purchased with USDT, ETH, or BNB. Those interested will want to enter as quickly as they can if they want an early dip into this ecosystem – and all the benefits associated with it.
Speaking of benefits, all presale investors are enrolled in the Platinum Member's Club. This provides perks like early access to the Metropoly Beta and a Metropoly NFT. The higher the investment, the better the perks. The higher tiers offer perks like real estate NFTs worth $10,000 and cashback on rental income. Investors will also receive bigger bonuses if they invest sooner in the presale.
The platform's contract code has been verified by SolidProof and the team identities have been verified by CertiK.
Metropoly is Shaking Up the Real Estate Market
The value that Metropoly offers are undeniable. It is delivering a much-need solution to the real estate investment problem. Both young and old investors can benefit from it and the fractional real estate investment solution is something that will make existing real estate companies think twice about their legacy systems.
The democratization of real estate may be what the crypto market needs to spur the reengagement of the wider public in crypto. These kinds of helpful use cases are precisely what the market needs to create more trust.