There are only a few memecoins in the space at the moment that can be considered as projects with true potential. While the 2021 bull run had given investors a sense of euphoria where everyone was stocking up on memecoins, the 2022 crash gave them a reality check, as a majority of these projects crashed hard, losing almost all of their value within a matter of days. Some of the only exceptions that stood the test of time and have indeed been delivering good products are Dogecoin, Tamadoge, Shiba Inu etc.
Among this list of few promising memecoins, Tamadoge seems to be taking centre stage now, as the platform has been gaining immense traction due to its excellent products and team which seems to be delivering developments and upgrades as promised within their roadmap. Not only is Tamadoge popular among those in the memecoin community, but is also a token that many of the top investors are now keeping a close eye on
The Beta Arcade Games By Tamadoge are Exploding
Tamadoge finally launched three excellent games it had announced previously this week, and the popularity it has been gaining is surprisingly high. While crypto gamers surely have been waiting for the games, even traditional gamers hopped onto the bandwagon since Tamadoge was hyped across various social media platforms for the past couple of months.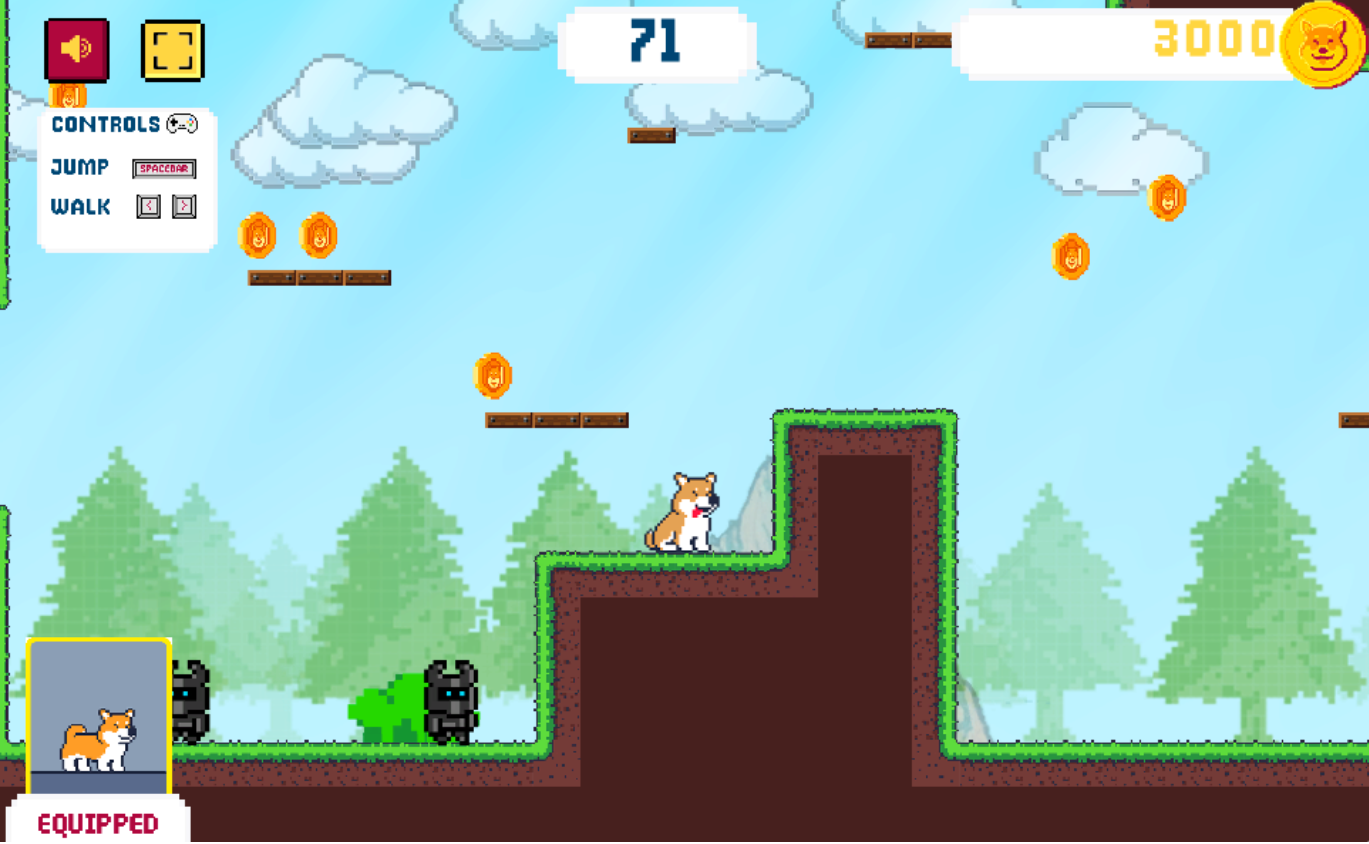 The three games that have been launched currently are Tamadoge Arcade- To the Moon, Rocket Doge and Super Doge. Developers have already assured that two more games can be expected in the near future, which may be able to rack up a higher number of players too. There is no doubt that Tamadoge manages to marry Tamagotchi-like fun with blockchain tech in an enjoyable and rewarding way.
Within just 15 hours of the beta game launch itself, the platform was able to record over 150 hours of gameplay. The fact that Tamadoge is a recently launched project within the crypto industry, and still managed to gain this kind of attention is commendable. With over 6,000 retries, the arcade games are already proving themselves to be highly addictive among beta testers. Among the three titles launched right now, the most popular game is Super Doge.
I tested the beta.& graphics are great, in-game music is cool retro sound. childhood memories are awakened. The game is super fun, really addictive💛💪🏼🤩

— GTA Online Community by Franjo (@GTAOnlineCom) January 5, 2023
Community responses; imply the reviews from a majority of the testers of Tamadoge arcade games have good things to say too. Infact, many of them took to social media platforms like Twitter to express their satisfaction with the game and stated that it was indeed, an enjoyable experience as one would expect from Tamadoge's previous claims.
What to Expect at the Moment
Surely, since the game is still in the beta phase, it will not be possible for Tamadoge to deploy P2E components within them. The games are currently free to play and are released to the testers with the sole purpose of making them a better version before it gets launched officially.
However, the testers still have a chance to earn some amazing rewards. This can be done by taking advantage of the Tamadoge Bug Bounty. The Bug Bounty rewards beta testers for finding bugs and glitches in the games. Users who report a bug, glitch or vulnerability will be rewarded in TAMA tokens. Normal game bugs will be rewarded with 1,000 TAMA while reporting game-breaking bugs or high-impact bugs and cheats will be rewarded with 10,000 TAMA. The beta testing will be available for a minimum of five days and may be extended, depending on community feedback. All beta testers will be given 10,000 TAMA credits to get started on their testing journey as well.
Tamadoge's full version rewards players with TAMA for climbing leaderboards and earning Dogepoints. The Tamadoge Pet Store also offers food and clothing, with a 5% burn on all purchases, making Tamadoge a deflationary asset. Players receive rewards from the Pet Store, and revenue is generated for product development and marketing. Partnerships with other metaverse projects will be sealed in the first quarter of 2023, as stated by the team on several occasions.
What is Tamadoge?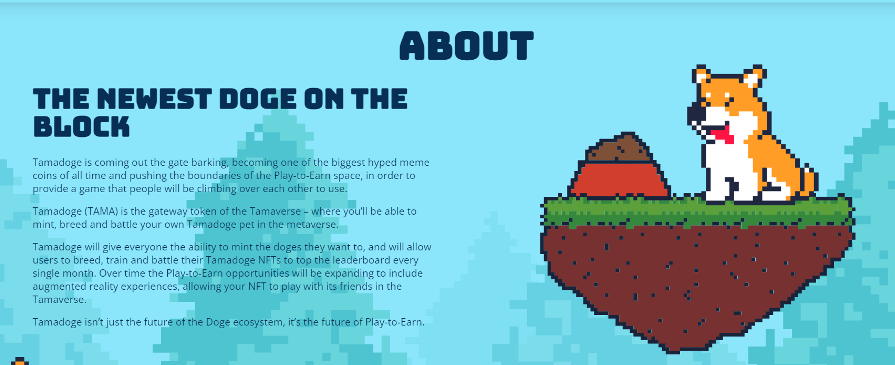 Tamadoge is the currency at the centre of the Tamaverse, which allows users to create, breed, care for and battle with their Tamadoge pets, which are in the form of NFTs. Thus, TAMA becomes a memecoin with utility. Announced in July 2022, Tamadoge is a deflationary cryptocurrency whereby users can battle to climb up the leaderboard by gaining Doge points. Users with the most Dogepoints at the end of each month will be able to claim their winnings from the monthly Dogepool.
Essentially, the Tamadoge ecosystem is a P2E game platform, which is set to bring in several other features within its entirety in the upcoming months. It is listed across multiple centralized exchanges. Some of the top exchanges from where the TAMA token can be purchased include Gate.io, LBank, MEXC, BitMart and BKEX. The team has also applied to be listed on the world's biggest exchange in terms of volume traded- Binance.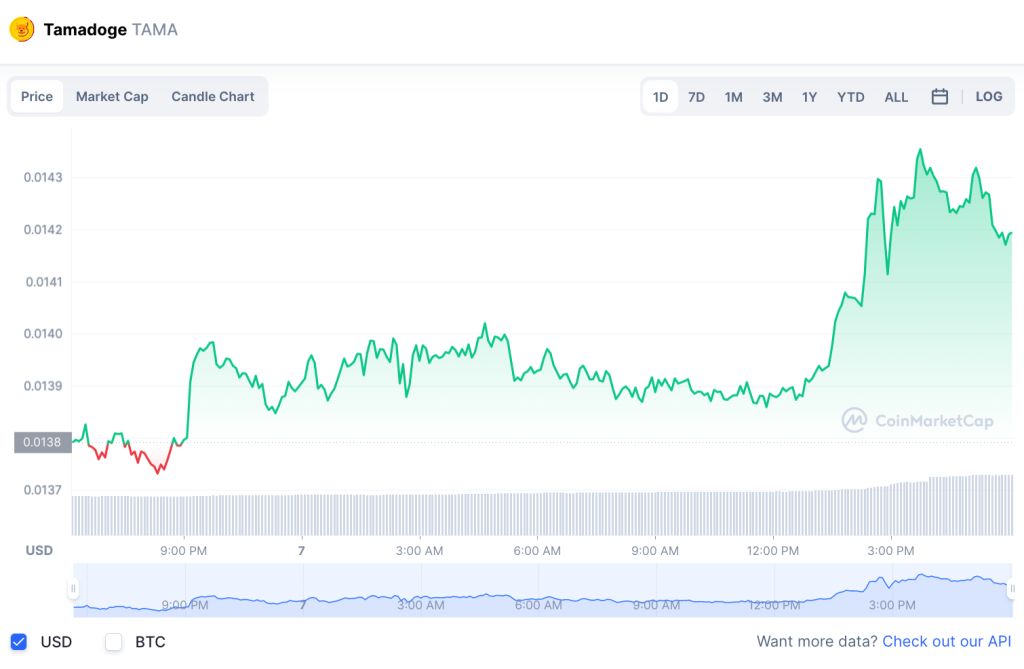 At the time of writing, the TAMA token is trading in the $0.014 range but can be expected to shoot up in value as further upgrades and developments surrounding games and the entire platform come to light. Due to all these positive events, the TAMA token has already recorded a decent spike, which many speculate to be the start of a major uptrend.
Conclusion
For anyone looking to be a part of the P2E sector and earn passive income, options like Tamadoge can be surprisingly good. Since it is a memecoin that also boasts of utility, the chances of gaining massive returns in the upcoming months increase considerably.
Read More:
FightOut (FGHT) – Newest Move to Earn Project
CertiK audited & CoinSniper KYC Verified
Early Stage Presale Live Now
Earn Free Crypto & Meet Fitness Goals
LBank Labs Project
Partnered with Transak, Block Media
Staking Rewards & Bonuses