There was a point when a sizable portion of individuals had a very positive outlook on the Web3 Adult Industry and many would consider it to be the essential next step in Adult Entertainment.
A wave of cryptocurrency initiatives targeting and claiming to revolutionize the adult industry appeared during the preceding 2021 bull run. However, it appears that the online buzz has retreated to obscure Internet corners.
What happened to the dream of a decentralized adult industry?
The Hope
Decentralization of adult content and its distribution promises a fairer environment for content creators, without forcing them to submit their adult content to the strict ToS policy and whims of a centralized platform. This is the most obvious reason why Web3 and adult entertainment seemed to be a perfect match. Reminisce about the day when OnlyFans came dangerously close to outlawing all pornographic content before backing down the next day in the face of intense user backlash. Any adult content creator would be on board with the idea of a decentralized platform where Adult Content may be made, shared, and enjoyed in a fair and private manner if it meant freedom to create content with the assurance that no central authority can shut them down.
The scope of this goes far beyond the adult entertainment sector. The promise of immutable content, once created, that cannot simply be destroyed by a central authority just because, peace of mind, and most crucially, ideas surrounding privacy, freedom to create and express oneself, extend deep into the very fabric of much of our modern web.
The Situation Right Now
What has transpired with some of the most anticipated initiatives from 2021 if Web3 and therefore decentralization guarantee a better, fairer Adult Content sharing platform? Let's examine the current status of these initiatives.
CumRocket Crypto

When CumRocket Crypto's market cap topped $110 million in November 2021, it became well-known. It was one of the original ideas for a web-based network for adult sharing that sits in between memecoins and adult platforms. When Redditors make jokes about becoming billionaires and having to declare capital gains like "Got early into cummies," you know something has truly become a meme.
CumRocket has lost over 95% of its market cap since its all-time high, despite its meme status notoriety and a number of tactical alliances.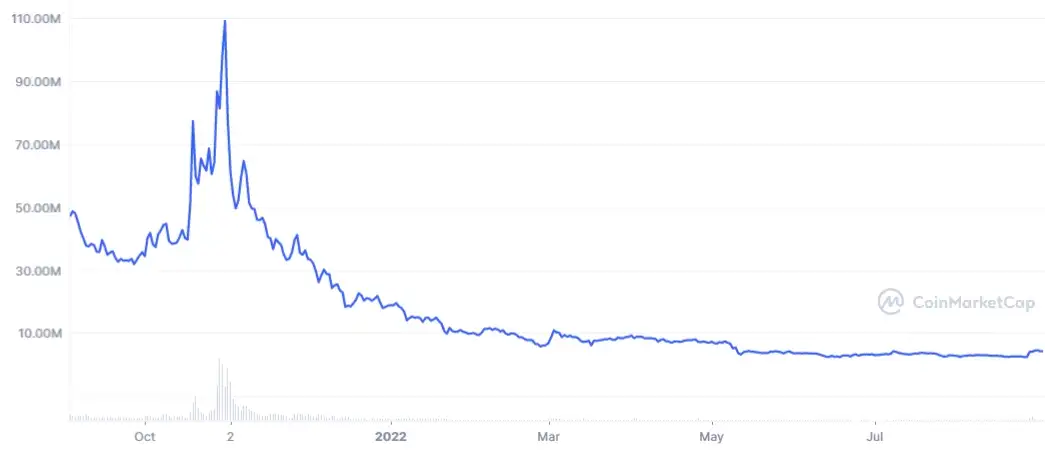 Additionally, Dickasso, the platform's top creator, has a total holding of 3.5 million Cummies, which currently is worth around $10,000 compared to the almost $300,000 it was worth at its peak. The fact that the revenues of the majority of other authors are currently less than $3,000 shows why the platform is currently only receiving a small amount of specialized attention. Simply put, adult material producers couldn't make a life on Cummies.
Taboo

Taboo advertised itself as a "Playboy for Crypto," promising anonymity and artistic freedom without adopting Cumrocket's meme-centric stance. The sole difference between Taboo's business strategy and CumRocket's is that Taboo has also introduced a direct collection of "Taboo Punks," which are presently trading at the floor price of 0.09 ETH.
Additionally, the project's worth decreased from $400 million to only $16 million, a loss of approximately 96%.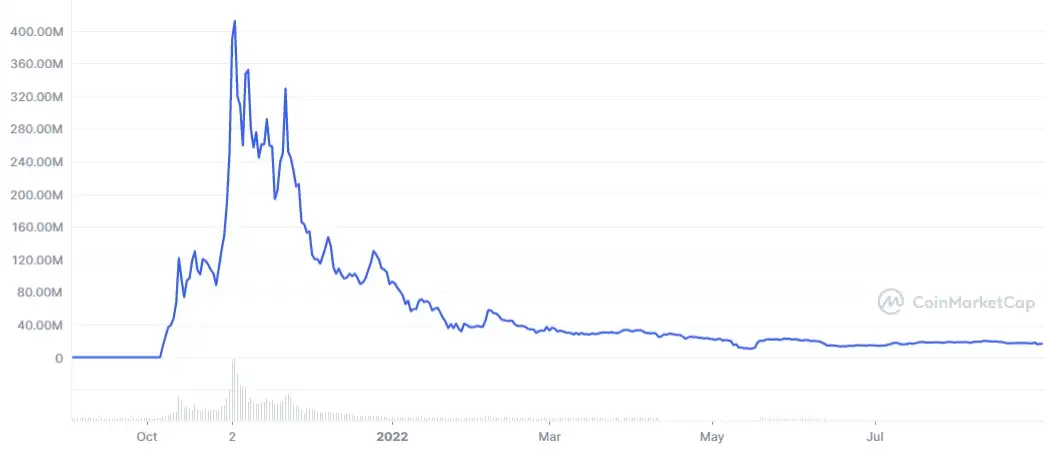 Nafty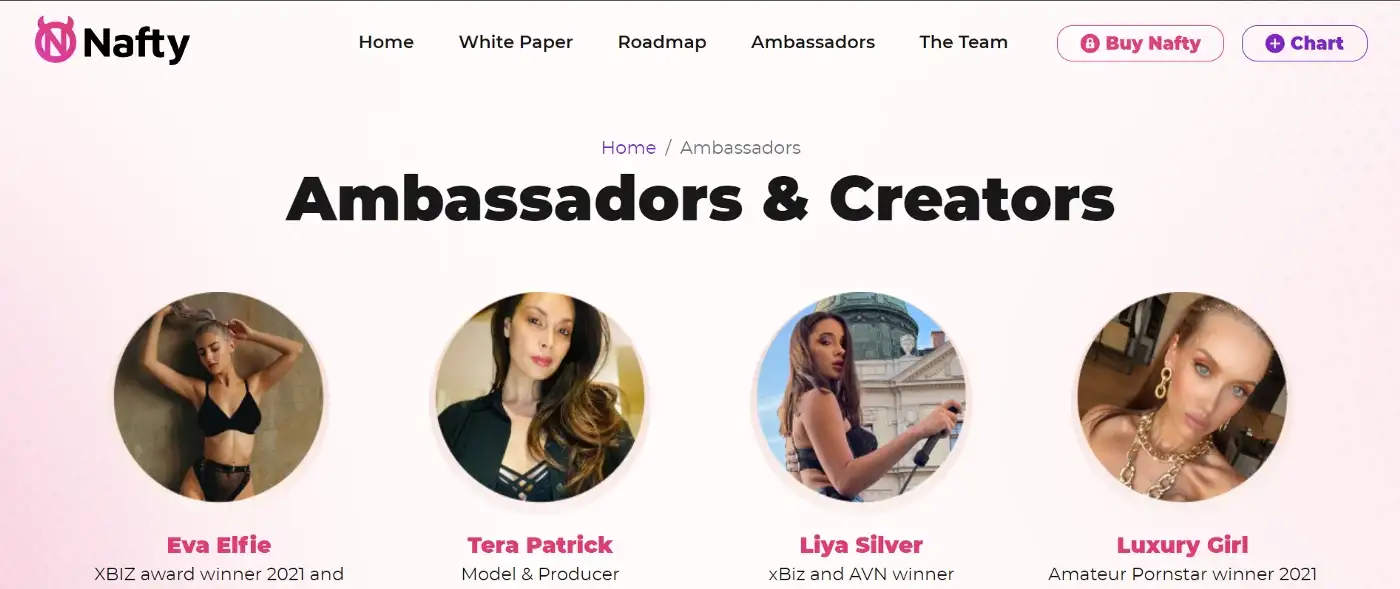 Similar to the first two, Nafty guarantees confidentiality, prompt payment, and ownership of all produced and acquired content. Nafty offers a currency, a marketplace, and strategic partnerships to lure consumers to join, just as CumRocket and Taboo.
The token does not yet have CoinMarketCap data, but based on Poocoin trends, this project has been nothing more than a brazenly planned rug-pull.
The project is also not moving forward because the team has missed every phase of the roadmap. Although the exact amount of the fraud is unknown, the fact that 14,000 people still own Nafty tokens shows that it was a sizable scheme.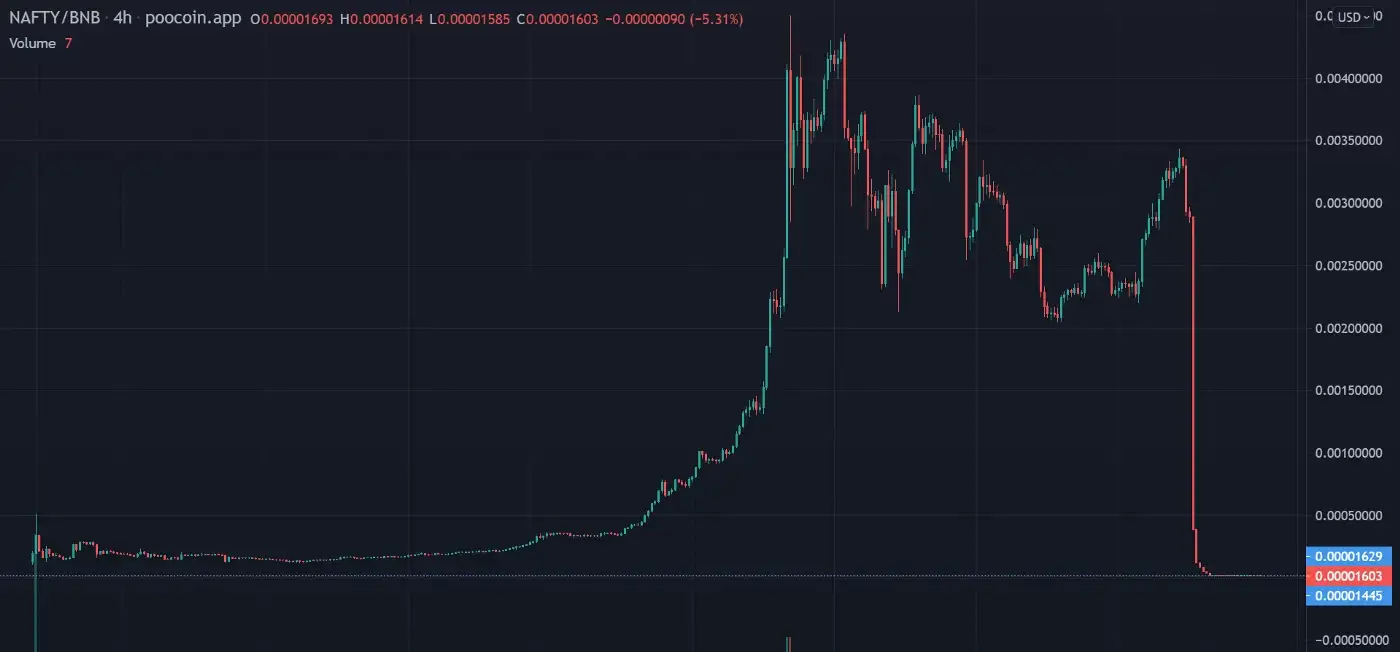 And this is simply the case with the most well-liked initiative, which was "lucky" enough to spark a brief buzz within the community. The truth is that there are already hundreds, if not thousands, of copycat projects using the exact identical methodology, all of which will inevitably fail. In fact, more and more are already appearing every day, with well-known Twitch Streamer Amouranth announcing the launch of her own NFT Adult Content platform Shush.
Additional recent initiatives include CumInu, xxxnifty, and Unique.fans. None of these initiatives have progressed beyond the promise stage, and many of them are unlikely to be realized given the status of the market right now. The next time you perform a Google search, you'll probably get a completely new set of results.
The Problem
What's preventing the adult content industry from moving to Web3 when there are already so many platforms accessible and new initiatives are being launched every day?
The existing product line-up may contain the solution. The expansion and expansion of the platforms and their user base are simply not being prioritized by ventures like Nafty, Taboo, CumRocket, and countless other imitations.
The majority of these projects were developed primarily for marketing purposes during a bull market when everyone would blindly buy whatever currency they could find and miraculously see it increase by double digit percentages in a matter of days. That is unsustainable on its own, but since a project's product offering is dependent on the governance token's underlying value, it will be much harder for it to survive if the market becomes bearish. The creators of the most of these initiatives are probably well aware that they are riding a temporary hype and are likely ready with a suitable exit strategy so that, in most cases, the core group of developers will be well-off.
The problem is that it leads to disillusionment, broken promises, and an unsustainable source of income for producers. It would be a huge surprise to see anyone be able to achieve that, much less thrive and lead a happy life, if Adult Content providers are to survive—as in day to day living off the income they make from ERC-20 tokens that fluctuate with buzz.
Final Thoughts
In order for Web3 Adult Content Sharing Platforms to be a viable alternative to conventional centralized Web2 platforms, they must be completely redesigned. Decentralization, data ownership, and privacy are the three pillars of Web 3. Tokenomics,  tokencoins, and get-rich-quick schemes should not be the focuses. Instead of being monetized, a decentralized network is more equitable.
That would be a fantastic place to start, not just for platforms that share adult content but for any platform that wants to offer a web3 substitute for a popular web2 service: to focus on the user.
Related
FightOut (FGHT) – Move to Earn in the Metaverse
CertiK audited & CoinSniper KYC Verified
Early Stage Presale Live Now
Earn Free Crypto & Meet Fitness Goals
LBank Labs Project
Partnered with Transak, Block Media
Staking Rewards & Bonuses