NEXO, the utility token of cryptocurrency lending/trading platform Nexo, was last trading higher by close to 4.0% on Friday, making it one of the best-performing cryptocurrencies in the top 100 by market capitalization. NEXO/USD was last changing hands in the $0.73 per token area, just under 5% below earlier weekly highs, but still up around 21% versus last month's lows just above $0.60.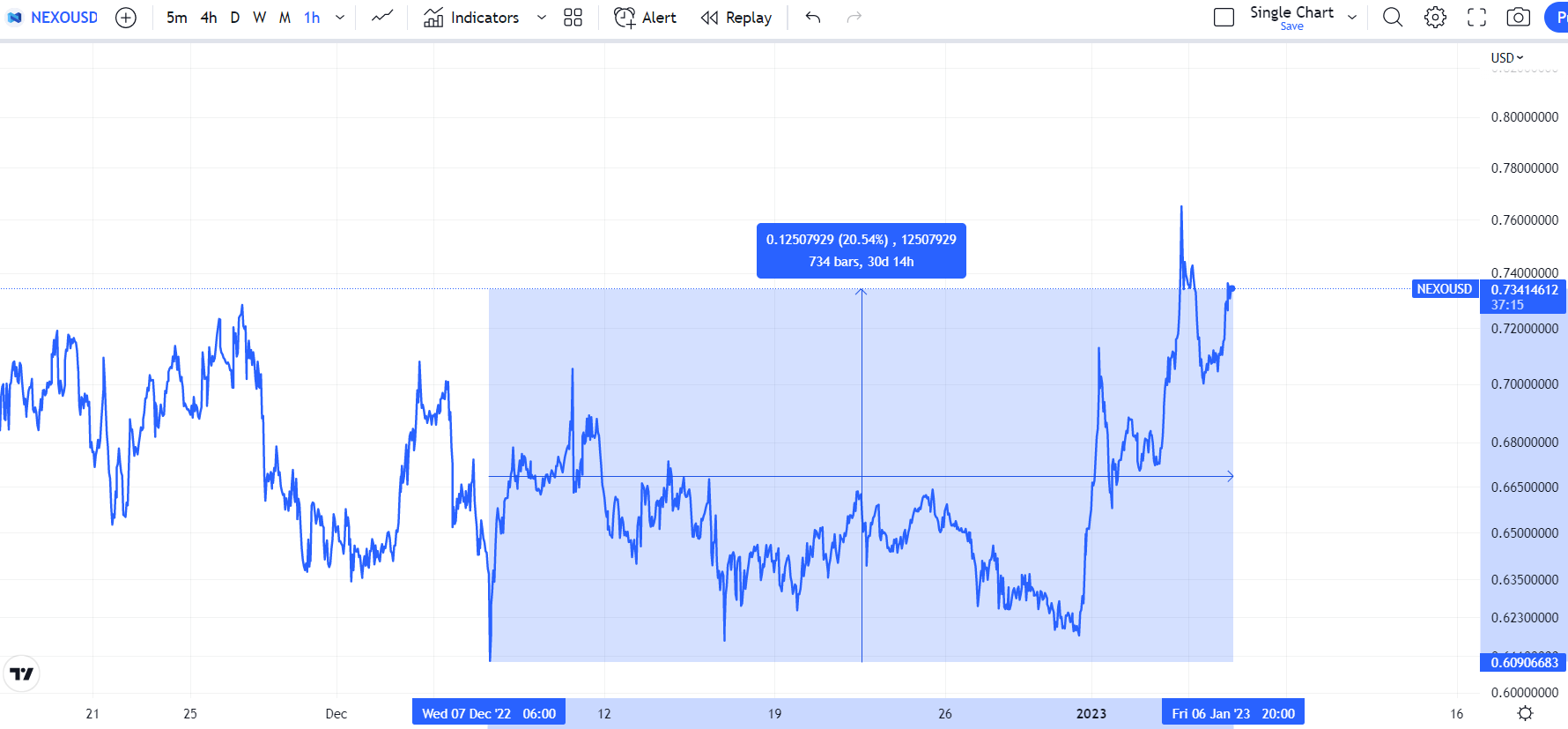 Resistance in the $0.77-80 area, which includes a series of recent lows and highs and the cryptocurrency's 100 and 200-Day Moving Averages (DMA) is holding firm for now. The bulls will be hoping that an upside break could be the trigger for a push towards $1.0 and a retest of the November highs in the $1.05 area.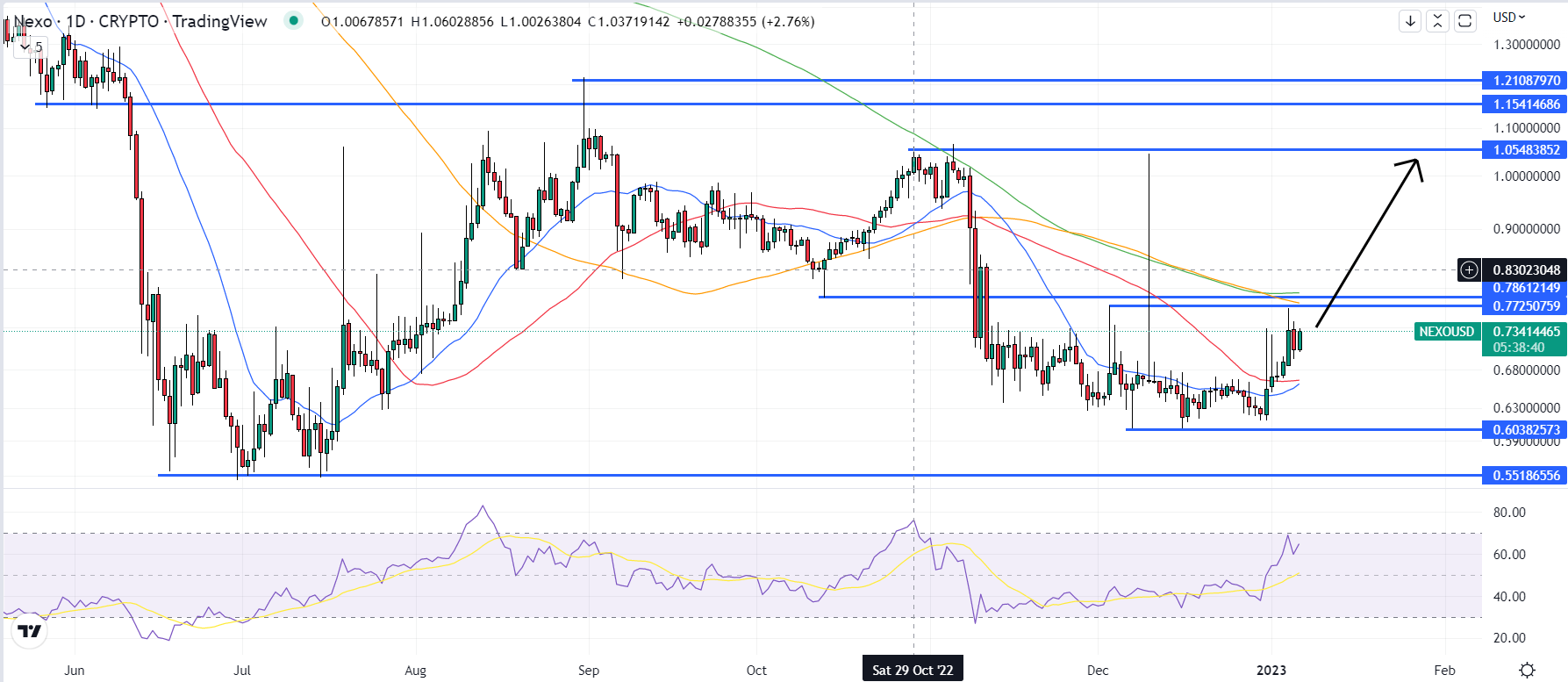 Price Prediction – Where Next for NEXO?
But with so much FUD (fear, uncertainty and doubt) regarding centralized cryptocurrency exchanges still doing the rounds in wake of the abrupt collapse of Sam Bankman-Fried's FTX exchange in November, it's unlikely that the token of a cryptocurrency exchange/lending platform can perform super well in this environment.
That suggests NEXO might well find resistance again if it tries to retest the $0.77-80 area and end up retesting support around $0.60 soon. A break below $0.60 would open the door to a swift drop back to the $0.55 level, which is the earlier annual lows.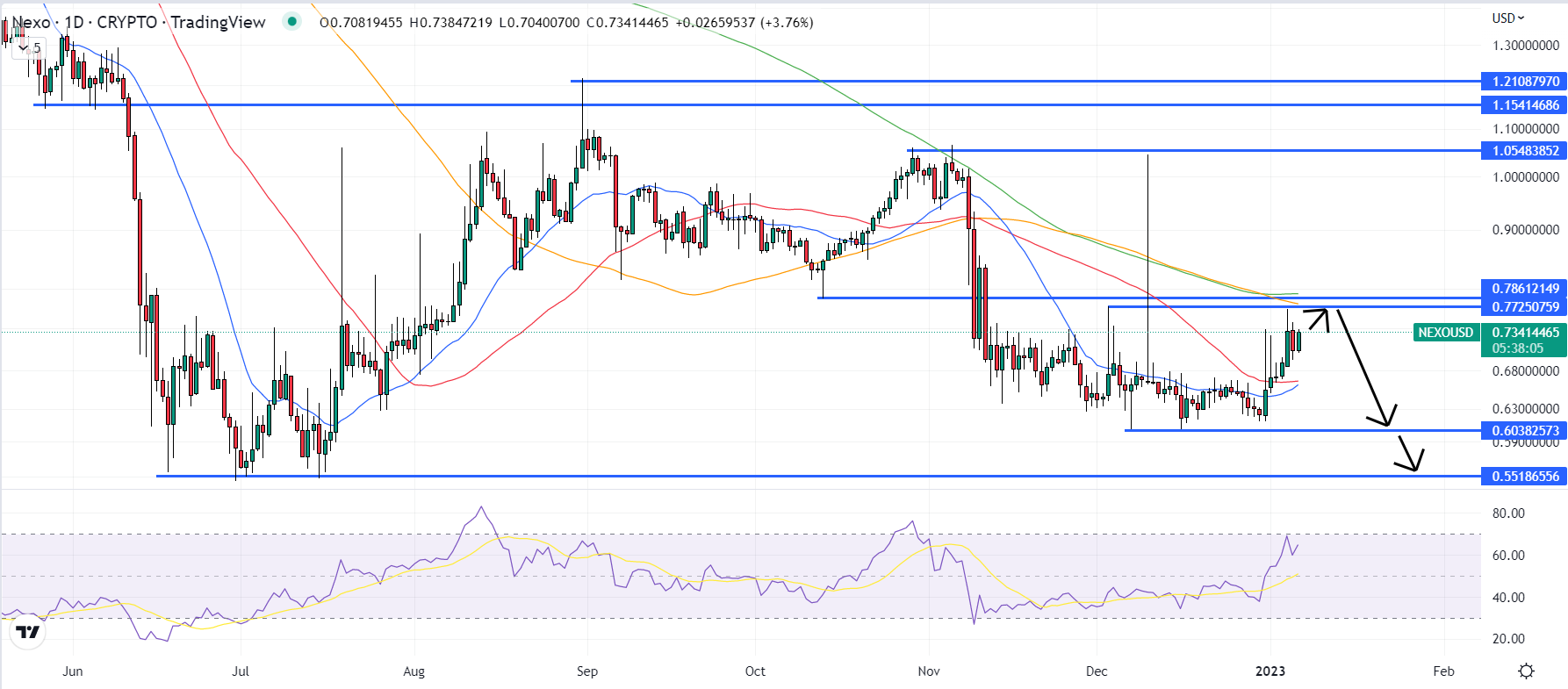 NEXO Holds Up Despite Vauld Buyout Rejection
NEXO continues to perform well despite fellow crypto lending/trading platform Vauld's again rejecting a takeover offer from Nexo, with Vauld this time citing concerns about Nexo's financial health. According to a real-time attestation of Nexo's balance sheet courtesy of Armanino, Nexo's collateral ratio remains in excess of 100% of the 134,436 BTC worth of assets on the exchange.
Last summer, Vauld paused withdrawals and asked for a moratorium in Singapore to protect it from creditors. Nexo has been attempting to buy the firm ever since, with the latest offer being tendered on the 26th of December.
But Vauld seems to doubt that Nexo has the required financial muscle. Reportedly, a Vauld creditor said they require further proof of Nexo's solvency and for Nexo to provide evidence that it can fill the $400 million hole on Vauld's balance sheet. Vauld reportedly fears getting caught up in a second liquidity crisis.
Vauld has given Nexo until the 6th of January (today) to respond. Vauld has until the 20th to finalize its restructuring plans.
Tensions between crypto lenders Nexo and Vauld have risen fast as both companies face the steep downturn in the digital asset market https://t.co/6vzwF7fYkU

— Bloomberg Crypto (@crypto) January 6, 2023
Altcoins to Consider
With cryptocurrency markets generally having performed poorly in recent weeks, investors might be looking to diversify their holdings with the discounted presale tokens of some promising, up-and-coming crypto projects. Here is a list of a few that analysts at InsideBitcoins think have the potential to perform well.
FightOut (FGHT) – Presale on Now
The young move-to-earn crypto niche has shown a lot of promise, but early success stories like STEPN have significant limitations that have, so far, prevented them from conquering the mainstream. FightOut, which touts itself as the future of move-to-earn, wants to change that in 2023. FightOut is a brand new web3 fitness application and gym chain that rewards its users for working out, completing challenges and competing within a first-of-its-kind fitness metaverse.
While existing M2E applications such as STEPN only track steps and require expensive non-fungible token (NFT) buy-ins to take part, FightOut takes a more holistic approach to tracking and rewarding its users for their exercise and activity, and doesn't require any expensive buy-ins to take part. FightOut seeks to combine the physical and web3 worlds.
The project aims to eventually acquire gyms across all of the world's major cities, whilst simultaneously promoting an integrated web3 fitness experience. At the center of FightOut's digital ecosystem will be its smartphone application which, according to FightOut's whitepaper, is scheduled for launch in Q2 2023.
The FightOut app will harness smartphone and wearable technology to measure and track physical performance. The app will have its own in-house tokenized economy, where users can earn rewards for completing M2E tasks, and can mint their own soul-bound token avatar, through which the user will be able to interact with the FightOut metaverse.
FGHT is the token that powers the FightOut metaverse ecosystem. Users will pay to enter competitions and leagues with FGHT, and winning will be paid out in FGHT.
FGHT can also be used in peer-to-peer fitness wagers. FightOut's FGHT tokens are currently selling for 60.06 per 1 USDT, and interested investors are encouraged to move fast to secure their tokens, with the pre-sale having already raised over $2.28 million in just a few days. FGHT is the token that will power the FightOut crypto ecosystem.
Dash 2 Trade (D2T) – Over-funding Round About to End, CEX Listing Imminent
Those interested in investing in a promising crypto trading platform start-up should look no further than Dash 2 Trade. The up-and-coming analytics and social trading platform hopes to take the crypto trading space by storm with a host of unique features. These include trading signals, social sentiment and on-chain indicators, a pre-sale token scoring system, a token listing alert system and a strategy back-testing tool.
Dash 2 Trade's ecosystem will be powered by the D2T token, which users will need to buy and hold in order to access the platform's features. Dash 2 Trade is currently conducting a token presale that was originally supposed to have ended a few days ago, but has been continued due to massive token demand.
The raise total recently surpassed a massive $13.7 million, with the token set to be listed on its first centralized cryptocurrency exchange in just four days. Investors should thus move quickly to secure tokens before the volatility begins. Tokens are currently selling for $0.0533 each.
C+Charge (CCHG) – Presale Now On
The carbon credit industry is projected to be worth $2.4 trillion by 2027. Democratizing access to accrue these benefits is going to massive business in the years ahead and this is something crypto start-up C+Charge hopes to achieve. C+Charge is currently building a blockchain-based Peer-to-Peer (P2P) payment system for EV charging stations that will allow the drivers of electric vehicles (EVs) to earn carbon credits.
C+Charge aims to boost the role of carbon credits as a key incentive for the adoption of EVs. At present, large manufacturers of EVs like Tesla earn millions from selling carbon credits to polluters. C+Charge wants to democratize the carbon credit market by allowing more of these rewards to find themselves in the hands of the EV owners, rather than just the big businesses.
C+Charge has just started its pre-sale of the CCHG token that its platform will use to pay at EV charging stations. Tokens are currently selling for $0.013 each, though by the end of the presale this will have risen by 80%. Thus, investors interested in getting in early on a promising environmentally friendly cryptocurrency project should move fast.
FightOut (FGHT) – Newest Move to Earn Project
CertiK audited & CoinSniper KYC Verified
Early Stage Presale Live Now
Earn Free Crypto & Meet Fitness Goals
LBank Labs Project
Partnered with Transak, Block Media
Staking Rewards & Bonuses