There has been speculation all around the market that cryptocurrencies may finally be looking to shoot up this year. While there has been no solid evidence presented by any of the claiming parties yet, it still seems to be a ray of hope for the masses across the globe. Since the market crashed in early 2022, the industry has been in a rather dire condition, thanks to the constant stream of negative press surrounding cryptocurrencies or NFTs. But one event that shocked the entire industry on an immense scale, without a doubt, was the LUNA (now LUNC) crash.
Despite having one of the biggest falls in the history of cryptocurrencies, LUNC somehow still managed to stand its ground, despite having lost more than 99% of its value. While this is a completely futile price range for a majority of the investors, some of them seem to have their hopes up for the token. LUNC however, has surely been having a great start since the new year, as 2023 saw the token rising in value considerably as compared to many of its counterparts.
LUNC Price History
LUNC(then LUNA) was one of the biggest cryptocurrencies in the space at a point in time and was valued above $115 briefly before it collapsed due to a major flaw within the Terra ecosystem. It was not only popular as one of the top cryptocurrencies with a massive community but was also among the top 10 cryptocurrencies in terms of market cap. Despite being backed by some of the biggest brands in the space LUNC dipped to levels lower than $0.00012 during its crash.
On a smaller timeframe, however, LUNC has been gaining decent momentum and is even seeing a decent increase in volume. Since the end of December, LUNC had been on a constant downtrend, owing to the FTX collapse and other negative press as talked about at the start. However, it started regaining value shortly after and has now been growing at a decent pace. The lowest price range that LUNC touched in the last month was around $0.000127, which was on 22 December 2022.
LUNC Price Prediction
While the price of LUNC has been rising, predicting an accurate movement in the upcoming weeks can be a rather difficult thing to do. However, there are some factors which could play an important role in shaping the way it might move. At the time of writing, LUNC is trading at around $0.00015 and has bounced back from its support of $0.000148 from a couple of days ago.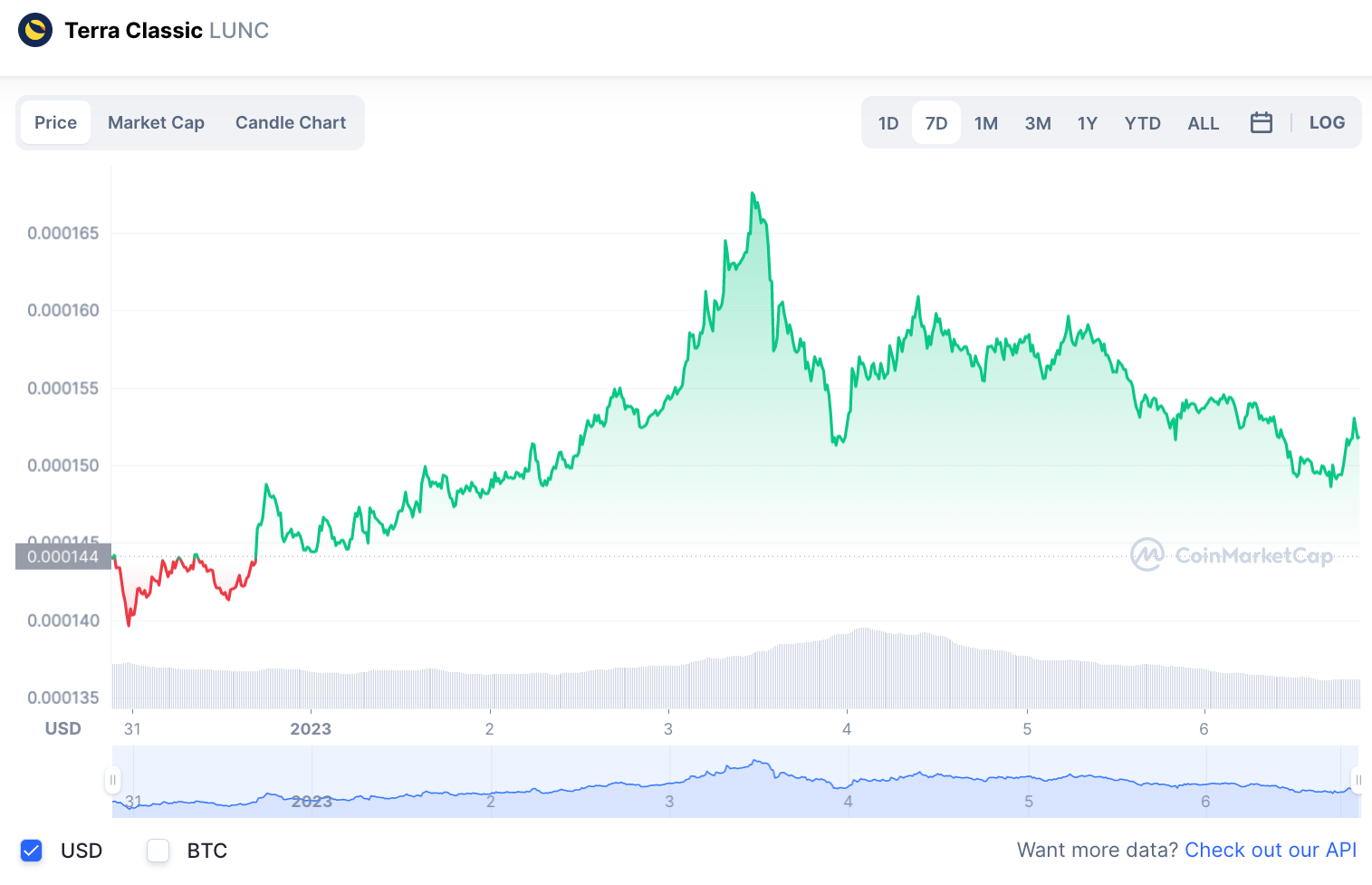 Surely, the ecosystem seems to be thriving, despite the lawsuits and bad press that LUNC is constantly facing even today. But the growth of LUNC has historically been one that was mostly driven by community strength or hype, unlike other top tokens that grow based on the developments or utility that they bring to the table. LUNC may be looking for a decent upward movement in the upcoming days sure, but it may be wise to think twice before investing in it at a point where the market hasn't even fully recovered.
The token once had a market cap of more than $134 billion but is currently within the $900 million range, which means that it has more room for volatility as compared to before too. While it may be a good pick to a certain extent which is evident considering its bullish momentum seen since the start of 2023, it may be wise to not make it a major investment currently.
What is LUNC?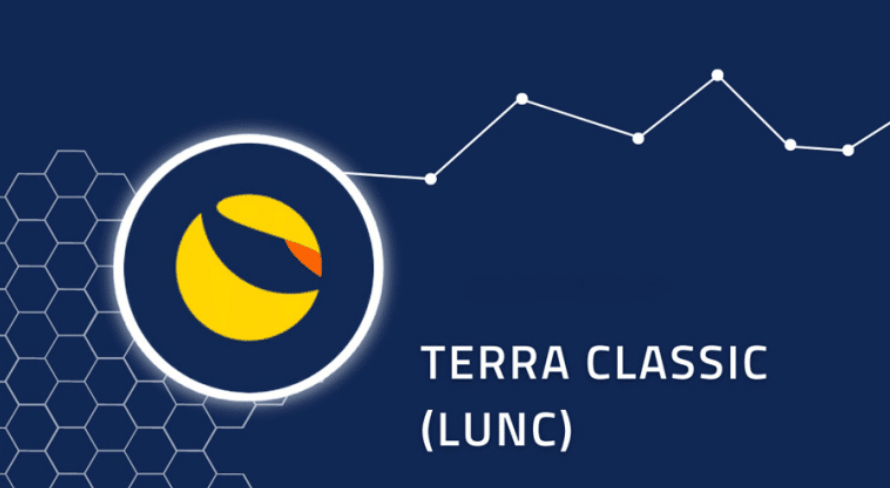 A native token for Terra blockchain, Luna Classic (LUNC), was released in August 2018. Before the current Terra (LUNA) launched, $LUNC existed. It uses Terra's original code. Its main function was to absorb price deviation from the algorithmic stablecoin $UST. As a means of balancing supply and demand, UST tokens were minted and burned to set the price of the stablecoin.
UST collapsed in May 2022. As a result of the UST stablecoin algorithm, trillions of LUNA tokens were created, which led to a hyperinflationary spiral that reduced the value of the original LUNA token by 99%. A proposal called Terra Ecosystem Revival Plan 2 allowed both versions of the token(LUNA and LUNC) to exist. The essence of the plan is to split the current blockchain through forking, which created a new chain in the ecosystem, preserving the previous version.
The existing chain and token have been rebranded as Terra Classic, according to the recovery plan. Despite being a token that doesn't have an inherent value as such, it is still considered an asset with potential by many in the LUNA community.
What Are Better Alternatives to the LUNC Token?
While LUNC may be a great option for investing at the moment, there are some newly launched cryptocurrency projects which have much more potential in terms of utility, growth and overall adoption.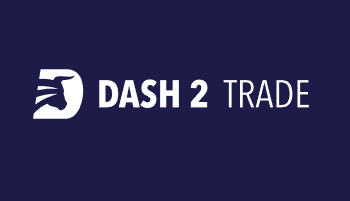 Two such tokens that have been gaining massive popularity are D2T and FGHT of the Dash 2 Trade and FightOut project respectively. Dash 2 Trade is a crypto analytic and a social trading platform, while FightOut is a metaverse-integrated project within the fitness domain. Both projects are still in the presale stage and have been performing exceptionally well.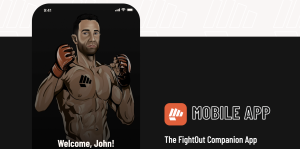 While Dash 2 Trade is nearing its first centralized exchange listing on Gate.io, FightOut too has been raising a surprisingly high amount of funds from a quickly increasing community.
So for all those who are looking to make massive profits in the upcoming weeks with the help of high-utility tokens, FGHT and D2T are certainly great options that cannot be overlooked.
Read More:
FightOut (FGHT) – Newest Move to Earn Project
CertiK audited & CoinSniper KYC Verified
Early Stage Presale Live Now
Earn Free Crypto & Meet Fitness Goals
LBank Labs Project
Partnered with Transak, Block Media
Staking Rewards & Bonuses