Cardano price is struggling to hold its place on the charts as investors focus on booking short- term profits. The eighth-largest cryptocurrency trades at $0.273 at the time of writing, boasting $9.4 billion in market capitalization. An ongoing retracement follows a rejection from $0.278 and shows that a huge chunk of the $225 million trading volume in 24 hours is bearish.
Some investors could embrace this bearish correction as an opportunity to buy more ADA ahead of another breakout, first above $0.30 and later toward $1. The Input Output Global (IOG), the organization in charge of developing the Cardano Blockchain is working on several releases and software upgrades for 2023 which may positively influence ADA price.
Investors have high expectations for the Cardano ecosystem this year. Some key elements promised to the community in 2021 and 2022 could see the light of day over the next 12 months.
The introduction of stablecoins' support on the Cardano blockchain is one of these important software upgrades. Investors believe having stablecoins on Cardano will improve the network's standing, especially in decentralized finance (DeFi).
Two stablecoins are anticipated to debut on the Cardano blockchain for the first in Q1 2023. USDA is one these tokens, backed by the world's strongest currency, the United States dollar. However, to ensure parity is sustained, developers tap other fiat assets and adopt some ADA benefits such as network efficiency.
Djed is the second stablecoin, created in collaboration with Coti. The stablecoin has been designed in such a way that it holds its peg to the US dollar through a Cardano-based smart contract.
Oracles on Cardano
Cardano developers hope the introduction of oracles would improve the network by allowing the transfer of data both on-chain and off-chain. Chainlink (LINK) is the most significant oracle platform in the crypto market. It enables seamless management of smart contracts while allowing them to function at full capacity.
Oracles on Cardano would enable key activities like atomic swaps, pricing as mutually agreed oracle data and cross-chain liquidity pools. With this upgrade, Cardano would be at par to complete on a level ground with Ethereum.
Meet Hydra – A Layer 2 Solution for Cardano
Following the release of the vast Vasil hard fork, the Cardano blockchain made significant steps toward scalability. Over the years, congestion on Bitcoin and Ethereum networks have shown how important it is to have a network that is scalable for the practicality of everyday life.
Cardano's Hydra, a Layer 2 solution would see transaction speed increase significantly while not compromising on a high throughput and low transfer fees. Hydra Head will pave the way for developers to build intricate protocols on the blockchain.
Investor interest in Cardano would improve profoundly in 2023 as developers bring these three software upgrades to life. As interest peaks, so will the value of ADA which is expected to rise to $1 in the coming weeks, perhaps months. Some analysts believe that Cardano price could against all odds, rise to tag its all-time high of $3.09 in September 2022.
Cardano Price Slows Down Its Uptrend, Where to Next?
Cardano price is struggling to find a higher support after it got reject from resistance at $0.278 as highlighted by the 200-day Exponential Moving Average (EMA). The first tentative support holds the ground at $0.270, where a recovery might come into play.
The Moving Average Convergence Divergence (MACD) indicator reveals buyers could still have the upper hand; hence investors should refrain from selling due to the fear of being caught up in a lengthy bull trap.
Notice the position of the MACD (line in blue) above the signal line (in red) and in the positive region. Moreover, the histograms in the indicator have stayed green since December 30 implying that the path with the lease resistance is to the upside.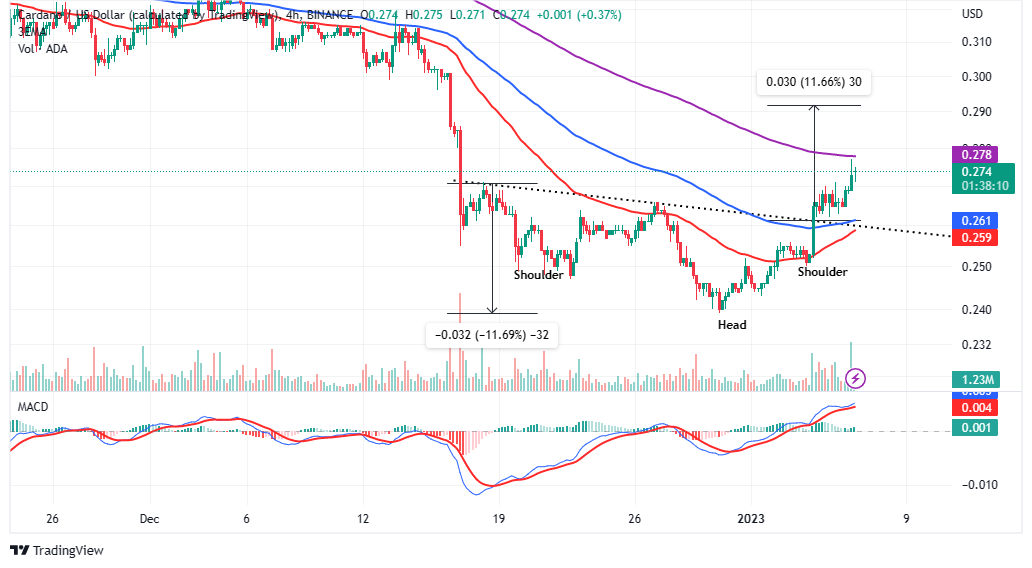 It is worth mentioning that Cardano price holds above two major moving averages; the 50-day EMA (in red at $0.259) and the 100-day EMA (in blue at $0.261), which adds credence to its bullish prospects.
The same four-hour time frame chart recently brought to light the formation of an inverted head-and-shoulders (H & S) pattern with an 11.6% breakout target. As the name suggests, this is a bullish pattern with a head and shoulders formation, only that it is upside down.
When trading this pattern, the trader places a long entry above the neckline resistance. The take-profit target equals the distance between the head and the neckline extrapolated from the breakout point.
In ADA's case, the breakout journey started earlier this week, but stalled at the 200-day EMA. Therefore, bulls need to push Cardano price above this hurdle to reignite the uptrend to $0.292.
Cardano's bullish leg could stretch further to the north as long as buyers reclaim the lost key support at $0.30. However, failure to close the day above the 200-day EMA would call for more short positions, which would in turn, push Cardano price on a downhill trip to $0.260 and $0.24, in this order.
Other Altcoins to Consider as Cardano Price Hits Pause
With 2022 gone, investors are deliberating which assets could propel them to the moon in 2023. While it is essential to have the portfolio with Bitcoin, Ethereum and other big altcoins like Cardano, newer projects offer bargain entries. Moreover, investors have a chance to be early adopters with initial exchange listings for tokens like FGHT, D2T and CCHG likely to return quicker gains.
FightOut (FGHT)
The evolution of the fitness industry has greatly benefited from blockchain technology in the past few years. Still, there are gaps preventing fitness enthusiasts from achieving their fullest potential, let alone earn from the effort they put into their journeys.
FightOut is a Move-to-Earn fitness app aiming to introduce an ecosystem that gamifies the fitness lifestyle. Unlike projects like STEPN which require high initial investments in NFT purchases, FightOut removes barriers to entry by making the process affordable to all.
(1) Fight Out on Twitter: "The #FightOut community always has your back! 🔥 No matter how big your fitness goals are or how crazy they may seem, we'll support you every step of the way. Make sure to join our Telegram for more exclusive updates! ⬇️ https://t.co/JU3iMzICN6 https://t.co/84TbKJvdVP" / Twitter
An M2E fitness app will allow members to earn from the workouts and challenges they complete. FightOut stands from other M2E platforms by tracking user progress, rewarding hard work and ensuring a seamless transition from Web2 to Web3.
FightOut's presale is underway and has raised $2.58 million by selling 1 FGHT for 1 USDT. Investors can take advantage of a 50% bonus to buy FGHT, but only until the presale hits the $5 million mark.
Dash 2 Trade (D2T)
For traders interested in a crypto platform built around the need for investors to have access to data and key information to make informed decisions, Dash 2 Trade is the best crypto to buy. This up-and-coming blockchain protocol demands attention for providing trading signals for investors to take advantage of opportunities in the market.
Dash 2 Trade features include a social sentiment and on-chain analysis dashboard where traders can spot trending coins. A world-class strategy builder will help investors come up with tried and tested strategies using accurate price data from top exchanges.
(1) Dash 2 Trade on Twitter: "🖥️ Did you know? 🖥️ D2T is launching the TAXLESS $D2T token to support the informed trading analytics platform, providing #crypto traders with in-depth market insights. #D2T helps create market-beating strategies! Visit our website for more ⬇️ https://t.co/ExvBBjKIU6 https://t.co/z4lpfbC4ju" / Twitter
Users on Dash 2 Trade will have access to an exemplary scoring system for crypto presales. The ardent investor in crypto markets knows that selecting the best crypto to buy at the presale stage is not a small feat. Hence, the important of this dashboard which comes equipped with social tools for traders to share ideas.
Dash 2 Trade presale has raised $13.8 million out of the expected $15.42 million. In this final presale stage, D2T sells for $0.0533 ahead of its first exchange listing on January 11.
C+Charge (CCHG)
The carbon credit industry has for the longest time, been a preserve of big corporations like Tesla, even though it is project to be worth $2.4 trillion in 2027. Companies that adhere to set emission standards earn carbon credits which they can trade in an open market.
However, individuals driving electric vehicles (EVs) have no way of benefiting from this fast-growing industry despite their contribution toward a better planet.
(1) C+Charge on Twitter: "✅At C+Charge we provide a seamless payment solution that allows users and charging station owners to benefit even in the energy crisis time Don't miss your chance to make an impact! Join our presale and start earning today🚀 👉🏼https://t.co/ixe18bPqzI https://t.co/crgX73yviw" / Twitter
C+Charge is a new on-chain protocol that has come to change this narrative and aims to democratize the carbon credit industry by enabling EV drivers to earn carbon credits every time they pay using CCHG at charging stations.
A mobile app is coming up and will be the core of the ecosystem. In addition to managing payments, the app will manage all the end-to-end activities associated with charging vehicles. Some key elements expected from the app are a carbon credit tracker, payment options, a charging station finder, and real time charger wait times.
C+Charge presale is underway, with $81k raised. Investors are currently buying 1 CCHG token for 0.013 USDT. Roughly 156 million tokens are left before the price increases to 0.0165 USDT.
FightOut (FGHT) – Move to Earn in the Metaverse
CertiK audited & CoinSniper KYC Verified
Early Stage Presale Live Now
Earn Free Crypto & Meet Fitness Goals
LBank Labs Project
Partnered with Transak, Block Media
Staking Rewards & Bonuses