Over the past few years, meme coins have taken off in the crypto markets. While some were initially skeptical of these tokens and labeled them as scams, many managed to produce impressive gains for their holders–while others experienced a severe devaluation of their investments. Shiba Inu (SHIB) is an example of how successful meme coins can be; its growth has astounded investors and it has become one of the most sought-after digital assets today.
Shiba Inu (SHIB) Price Prediction and Technical Analysis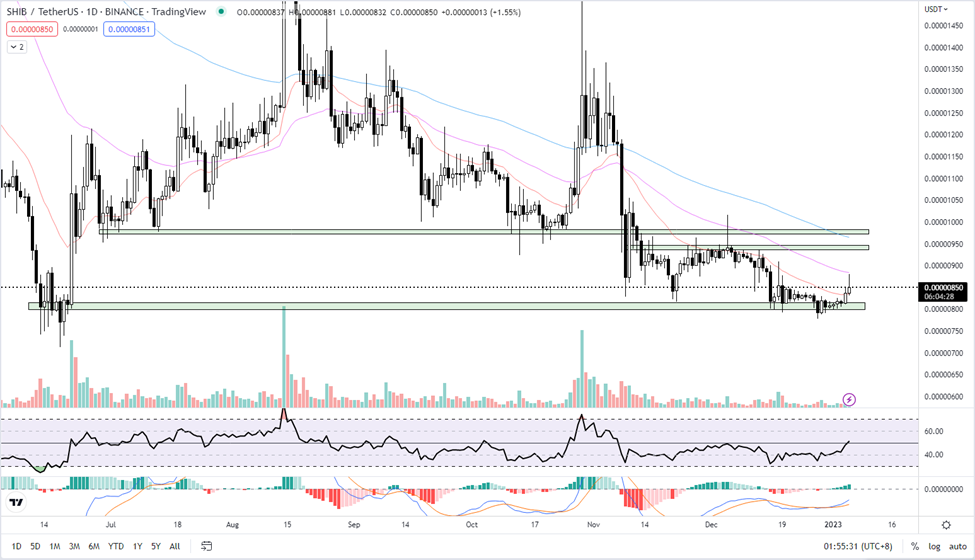 Exponential Moving Average (EMA)
Exponential Moving Averages are still in bearish alignment with the SHIB price trading below the medium to long-term 50-day and 100-day EMA. However, the price has recently bounced off the 20-day EMA and has been trading above it today, which indicates that the cryptocurrency may be bullish in the short-term.
Relative Strength Index (RSI)
After falling below the RSI 50 level in November, Shiba Inu's RSI has been trading sideways. With SHIB's recent moves, the RSI currently sits at 51.09–above RSI 50 for the first time in almost two months. It's crucial for the RSI to close today above this significant level to indicate that the trend for SHIB may finally be changing.
Moving Average Convergence Divergence (MACD)
SHIB has entered the new year with a newly formed MACD bullish crossover. As the indicator approaches the zero line, the separation between the MACD and signal line has a healthy histogram with gradually increasing volume.
SHIB Price Action, Support, and Resistances
After trading sideways for the majority of the last week, SHIB's price broke out of the $0.00000820 resistance yesterday. The price also tested the 50-day EMA area earlier today at $0.00000884 but was immediately met with selling pressure pushing the price down to $$0.00000850 as of writing.
The immediate price target levels are the 50-day EMA, then the range-high significant level of $0.00000936 to $0.00000947. The immediate supports are the 20-day EMA and the range of $0.00000799 to $0.00000816.
Shiba Inu (SHIB) Price Prediction Fundamental Analysis
The Shibarium Protocol
The Shiba Inu project will soon be introducing Shibarium, a Layer-2 scalability platform.
Shibarium Update 🧵

As we approach the launch of the upcoming Shibarium Beta Network, we first would like to start by thanking the Shiba community for bringing such energy and excitement surrounding the upcoming phased introduction.

1/6 🧵

— Shibarium Network (@ShibariumNet) January 4, 2023
The platform focuses on off-chain settlements that can be batched and processed on-chain later, resulting in higher transaction throughput and cheaper transactions. This layer could be particularly useful given the large market capitalization of its native token SHIB, as it includes a burning mechanism to reduce its circulating supply.
Market players also believe that Shibarium could play an important role in shaping the development of decentralized applications (DApps) on Shiba Inu's network as well as extending its reach into the Metaverse space.
One must always consider the fundamentals of a crypto project before making any investment decisions; this is clearly illustrated by Shibarium's potential impact on Shiba Inu's price. Other altcoins that have good fundamentals and could potentially yield high returns in the days ahead include FGHT, D2T, CCHG, TARO, and RIA.
Fight Out (FGHT)
Fight Out is a revolutionary move-to-earn (M2E) platform and gym chain that will revolutionize the fitness industry with smart technology, rewards for effort, challenges to compete in against others users, and REPS tokens earned through workouts. These REPS tokens can be used to purchase subscriptions and memberships as well as apparel, supplements, or training equipment. Fight Out users will also get access to a supportive fitness community.
Fight Out will provide a perfect framework to reward users for their physical fitness achievements. Their progress will be documented via a soulbound NFT avatar, and as they achieve more of their workout objectives in real life, these advances will be reflected in the avatar's stats. With this incentive-based system, people will be inspired not only by tangible rewards but also through social motivation from other users.
The company's physical gyms (the first of which will open in Q4 2023) will be equipped with cutting-edge Web3 features such as "mirrors" which showcase users' digital fitness profiles. These mirrors will be fitted with sensors that monitor workouts and provide tips to extend a user's experience, while also logging their efforts for rewards and bonuses. The project is also launching an ambassador program featuring renowned boxers and athletes who will offer masterclasses alongside other exclusive events.
Joining the #FightOut presale has never been easier! 🙌

👉 Step 1: Visit our website
👉 Step 2: Connect your Metamask or Trust wallet
👉 Step 3: Buy $FGHT tokens

Buy $FGHT now before stage 1 ends! ⏰⬇️https://t.co/z34Nkx3ffi pic.twitter.com/E1YMzg11md

— Fight Out (@FightOut_) January 5, 2023
With the potential to revolutionize the M2E and fitness app market, it's no surprise that there is a strong demand for its token. In only a few weeks, this project has raised an impressive $2.66 million.
Dash 2 Trade (D2T)
Set to launch in the start of 2023, Dash 2 Trade is poised to revolutionize the crypto trading landscape with its groundbreaking features. Not only will traders be armed with a robust suite of tools that offer comprehensive visibility and control over their investments, but also an encouraging community packed full of resources for evaluating projects comprehensively before investing. With these powerful tools at your disposal, you can have peace-of-mind knowing that all essential data is available when making decisions about your investment portfolio.
Dash 2 Trade's platform is the perfect place for beginner and veteran traders alike to refine their techniques and take advantage of automated trading through exchange APIs. Additionally, its token presale scoring system offers users an opportunity to invest in particularly promising tokens from the get-go before they hit the mainstream.
On top of its state-of-the-art analytics and real-time sentiment monitoring, Dash 2 Trade's parent company has already built a strong community around the platform due to the existing 70K international traders from Learn 2 Trade. This combination of features has a good chance of making Dash 2 Trade an industry leader in trading platforms.
D2T's presale has been a success since its launch, fully selling out and now accepting additional investors on a limited basis. To raise an extra $2 million for more exchange listings and accelerated product rollouts, 36 million tokens have been released at the impressive rate of $0.0556 each. With the presale successfully raising over $13.74 million so far–the team will have plenty of runway and resources to launch successfully and continuously improve their platform.
The team was able to exceed their development goals ahead of schedule when they launched the beta of the presale section of their trading dashboard on January 4. Additionally, they announced a new exchange listing at Gate.io, alongside the already announced listings on Changelly Pro, LBank, and BitMart.
C+Charge (CCGH)
C+Charge is the ideal representation of how blockchain technology can be employed to solve real-world challenges. With its peer-to-peer payment system and secure smart contracts, EV owners can easily discover available charging stations and pay for them directly from their crypto wallets with no extra fees or time delays as compared to regular payment systems.
C+Charge is the perfect solution for various EV charging issues, such as:
1. Unnecessary Expenses: C+Charge eliminates the additional fees associated with traditional payment systems, allowing users to discover more cost-effective charging arrangements.
2. Unreliable Accessibility: With its searchable database and intuitive navigation system, C+Charge makes it simpler for EV owners to locate available stations nearby effortlessly
3. No Transparency: With C+Charge, you can instantly access data about all the current chargers and prices with total transparency.
4. Lack of Security: C+Charge utilizes blockchain to ensure secure transactions for customers and provide a safe space for online payments – giving users peace of mind that their private information is well-protected.
5. No Real-Time Information: C+Charge provides customers with instant updates on the status of their chargers, so they never have to worry about being left in the dark again.
With its innovative solutions to prevailing problems in the EV charging space, C+Charge is demonstrating how blockchain technology can be leveraged to bring about positive change. With electric vehicles on the rise, C+Charge has an unprecedented chance to shape this fast-growing sector.
C+Charge's CCHG token presale is currently underway and selling tokens for $0.013 USDT each. From this initial price, the cost of each token will increase over four stages until it reaches its final price of $0.02350.
RobotEra (TARO)
Embark on an epic journey through the post-apocalyptic world of Taro in RobotEra, where you and your robotic companion must traverse and rebuild the battered wasteland of a world. Players can take advantage of no-code tools within the metaverse that allow for easy construction of robots or assets with absolutely zero coding experience needed.
RobotEra is the ideal place to use your entrepreneurial skills to make money as well. You can do this by playing quests, taking part in community events, or staking. Additionally, you have the chance to earn revenue through selling space on billboards and structures inside the game world. Users can also create custom events for other players and charge an entry fee.
Our goal is to bring you the best experience possible! 🚀
#RobotEra gives you the power to create your own virtual reality experiences from your own living room 🤖

Join the RobotEra Army and create the metaverse of your dreams! ⬇️
https://t.co/gYUdfmKnVw pic.twitter.com/hSdRSkkScI

— RobotEra (@robotera_io) January 5, 2023
With the launch of RobotEra's augmented and virtual reality (AR/VR) coming up this year, players will have access to a wider range of financially lucrative world-building features within the game. So far the presale has raised over $640K.
Calvaria (RIA)
If you are a PvP and play-to-earn enthusiast ready to take your strategic battle tactics to the next level, Calvaria: Duels of Eternity is just what you need. With this game, players use unique NFT trading cards to devise strategies and fight against opponents in an afterlife-themed world. RIA token holders not only get the authority over the decentralized autonomous organization (DAO) responsible for making game decisions but they can also benefit from staking.
Next step in our partnership with KuCoin team is the @KuWallet integration! $RIA will be available there at launch, and KuWallet is supported right now on our ICO page: https://t.co/JekxLNMJgh where kuwallet users can purchase $RIA directly from the wallet!#calvariagang https://t.co/OqzmDd1yUE

— Calvaria: Last Stage Presale is Live! ✨ (@CalvariaP2E) December 29, 2022
The presale of the game's token has been a success, amassing $2.66 million to date and is rapidly closing in on its target goal of $3 million. The strong demand from buyers persuaded developers to close off the sale earlier than initially planned.
Related:
Dash 2 Trade – Presale Ends Soon
Active Presale Live Now – dash2trade.com
Featured in Cointelegraph – $13M Raised
KYC Verified & Audited
Native Token of Crypto Signals Ecosystem
Upcoming Listings Jan 11 – Gate.io, Bitmart, LBank, Changelly