Lido DAO price surges another 7.5% in 24 hours, bringing the total cumulative gains in the last seven days to slightly above 42%. The decentralized autonomous organization (DAO) token, which supports the staking of multiple assets, is trading at $1.35 at the time of writing, although it recently hit a three-week high of $1.45.
Investor interest in LIDO is growing by the day, bolstered by continued community engagement via channels like Twitter. According to the latest report from Lido Finance, staking deposits for Ethereum (ETH) grew by 0.21% to 4,637,760 in the seven days ending January 2.
(1) Lido on Twitter: "⚡️ Lido Deposits Ethereum: 4,637,760 ETH (7d: +0.21%) Polygon: 58,025,885 MATIC (7d: +3.32%) Solana: 2,335,230 SOL (7d: -6.13%) Polkadot: 2,522,827 DOT (7d: +1.89%) Kusama: 99,290 KSM (7d: +0.38%) https://t.co/zQw07WF6Se" / Twitter
Staking despots for Polygon (MATIC) went up 3.32% to 58,025,885 in the same period. Staking deposits for Solana (SOL) fell by -6.13% to 2,335,230, while deposits in Polkadot (DOT) increased by 1.89% to 2,522,827.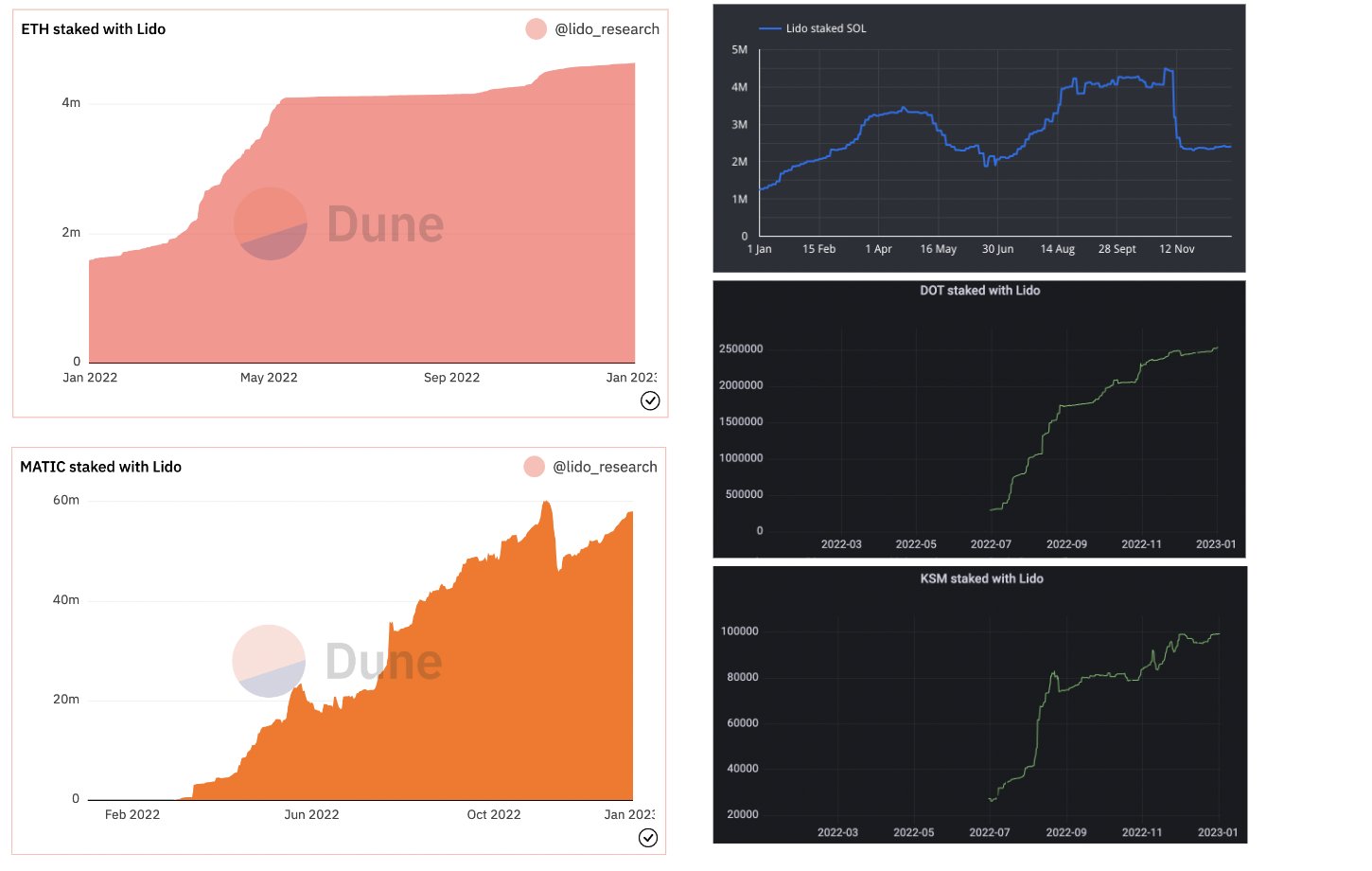 Governance tokens like Lido DAO, SWISE and RPL exploded this week despite Bitcoin (BTC) and Ethereum (ETH) staying relatively unchanged. The uptick in the price of tokens that allow investors to retain the liquidity of their assets despite being locked (staked) in a smart contract started after Ethereum developers announced their commitment to enabling withdrawals of ETH staked in the Beacon Chain since December 2020.
"Most recently, liquid staking derivatives [tokens] have had a nice uptrend. This is thanks to the Shanghai upgrade expected in a few months, which will enable withdrawals of staked ETH. As withdrawals are enabled, many believe more users will stake their ETH," CroissantEth, a pseudonymous analyst said via Twitter.
Staking refers to the process of locking up crypto assets in a smart contract to support network development; in return, investors earn rewards. The term can loosely be compared to investing in a fixed-income security like a government bond.
Liquid staking platforms like Lido DAO allow investors to access the staked value, including the rewards earned via a derivative token, representing the claim on the assets. Users can then utilize this derivative token to generate more revenue elsewhere in the market.
The release of Ethereum staked in the Beacon chain will encourage other investors to lock up their assets. Since Liquid staking platforms make up 40% of all the staked Ether, their popularity is bound to grow.
Data from Messari, a crypto analytics platform, reveals that Ethereum has the lowest ratio in the Layer-1 asset class at 14%. In other words, there is a lot of room for growth in Ethereum's staking rate relative to the total supply.
(1) David Alexander II on Twitter: "Quick 🧵on the Shanghai upgrade and $ETH staking: As withdrawals on staked $ETH now have a tentative release date, this has led to increased staking activity – the highest monthly volume since April. However, this upgrade also has many implications for staking providers ⬇️ https://t.co/A8UuSuikai" / Twitter
Lido DAO is now at the helm of the decentralized finance (DeFi) sector after displacing major platforms like MakerDAO and AAVE based on data from DefiLlama.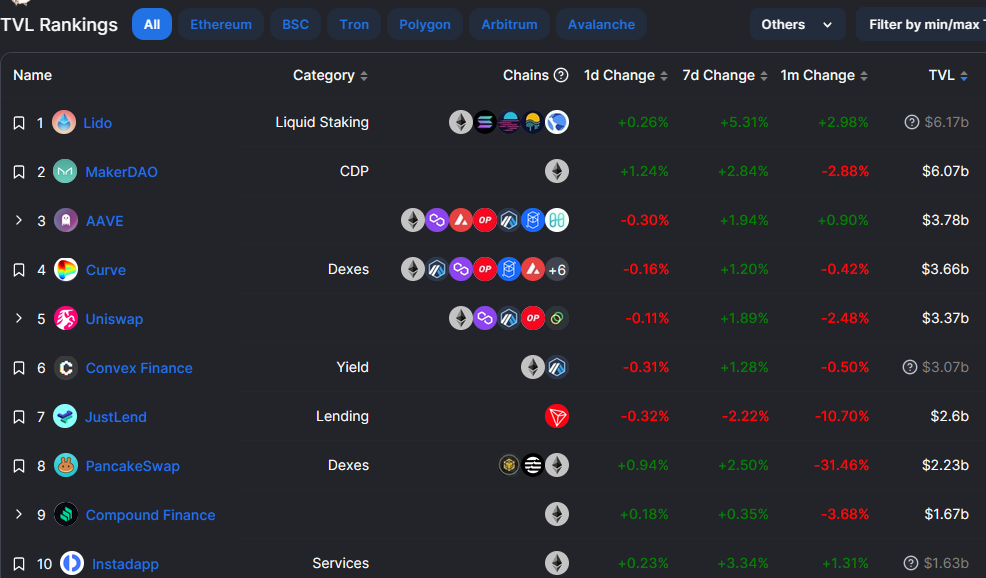 Lido DAO Price Stalls Ahead of Another Breakout
Lido DAO price has retreated to exchange hands at $1.35 after failing to clear resistance provided by the 200-day Exponential Moving Average (EMA) (in purple) at $1.35. Profit booking could drive the pullback, but more buyers are expected to scoop up a lower-priced LDO.
The bullish outlook in Lido DAO is still intact according to the position of the Moving Average Convergence Divergence (MACD) indicator above the mean line. Similarly, a buy signal confirmed at the beginning of the year implies bulls have the upper hand.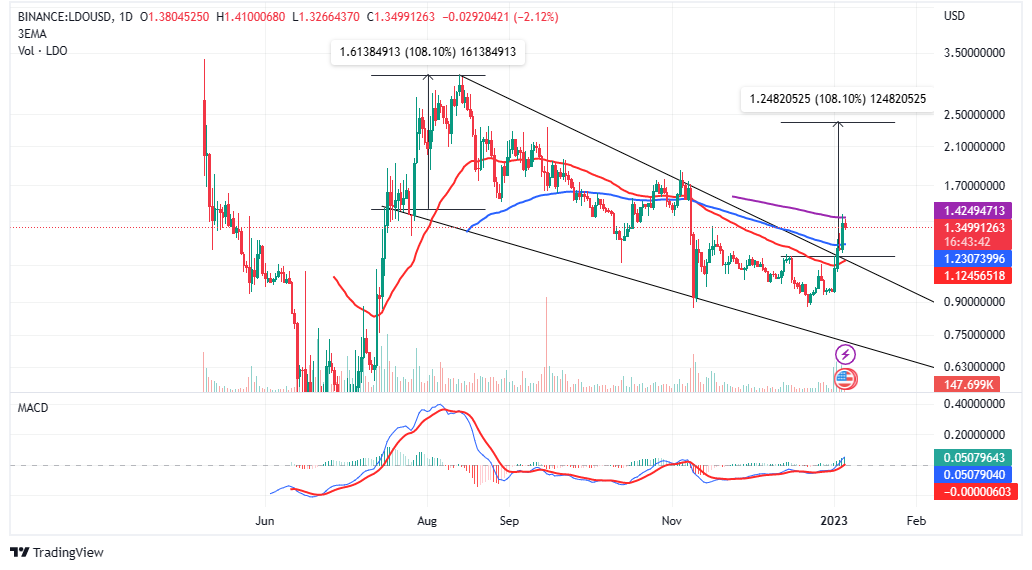 Lido DAO price rally will likely continue to $2.40, a 108% falling wedge pattern's breakout target. This bullish pattern often marks the end of a substantial downtrend. Traders who fired up their buy orders above the upper trend line saw their positions immediately turn profitable and might be cashing out amid the ongoing retracement.
It is worth remembering that the 108% target equals the distance between the widest points of the wedge extrapolated above the breakout point. Traders should wait until LDO closes the bearish candle and starts printing another green candle before entering new buy orders. A break above the 200-day EMA would affirm a strong bullish grip on the price. Key resistance levels to keep in mind are $1.70, $2.10 and $3.10, respectively.
Altcoins to Consider in 2023
Investors considering changing the contents of their holdings may be interested in up-and-coming altcoins with the potential to return above-average gains following their first debut on exchanges. In the presale stage, the tokens offer investors a unique opportunity to get in when the price is still very low.
FightOut (FGHT)
As the fitness industry expands its wings from Web2 to Web3 platforms, it is becoming difficult for investors to decide the projects to back. However, FightOut presents a model that has yet to be seen among other M2E projects like SweatCoin, Step App and STEPN.
FightOut's idea is to open the fitness industry to everybody and bring down the prohibitive costs that continue to hinder mass adoption. A fitness app will be used to track the progress of all members and distribute rewards earned by completing workouts and challenges.
FightOut is conducting a presale to raise money to help develop the ecosystem and purchase a series of gyms worldwide where users can grow within a community of like-minded people.
FGHT presale is underway and has raised $2.6 million by selling 1 FGHT for 1 USDT. Investors can take advantage of a 50% bonus to buy FGHT, but only until the presale hits the $5 million mark.
Dash 2 Trade (D2T)
Investors keen on exploring crypto analytics may look no further than Dash 2 Trade. The team behind this up-and-coming ecosystem presents an opportunity not seen before, where traders can use a token to access key information to make decisions.
D2T is the ERC-20 token powering the Dash 2 Trade ecosystem. Dash 2 Trade aims to become a leading crypto analysis and social trading platform. Although Dash 2 Trade does not charge a monthly subscription to its basic features, investors would pay 400 D2T per month for the Starter tier and 1,000 D2T monthly to access all the features on the platform.
Dash 2 Trade's advanced dashboard will provide investors with a bespoke scoring system for high-quality presales for the first time in the industry. The ecosystem will encourage collaboration among members using social trading tools for traders to share strategies and ideas.
D2 T's presale is closing in on the finish line with $13.5 million raised. Although the first CEX listing will take place on January 11, investors can still buy the D2T token at 0.0556 USDT.
C+Charge (CCHG)
A young cryptocurrency project is here to open the gigantic carbon credit industry to individuals – particularly electric vehicle (EV) drivers. The carbon credit industry is predicted to be worth $2.4 trillion in 2027 but is currently dominated by large corporations like Elon Musk's Tesla.
C+Charge allows EV drivers to earn carbon credits sent directly to a dedicated application. As the network expands, C+Charge will partner with EV manufacturers to standardize charging requirements.
C+Charge presale is ongoing, with $68k raised. Investors are buying 1 CCHG token for 0.013 USDT. Roughly 154 million tokens are left before the price increases to 0.0165 USDT.
Related Articles:
FightOut (FGHT) – Move to Earn in the Metaverse
CertiK audited & CoinSniper KYC Verified
Early Stage Presale Live Now
Earn Free Crypto & Meet Fitness Goals
LBank Labs Project
Partnered with Transak, Block Media
Staking Rewards & Bonuses