Terra price is slowly slipping back in the red after losing its New Year bullish momentum at $1.35. The rest of the crypto market is red and green as assets like Bitcoin (BTC) and Ethereum (ETH) give up gains accrued this week. All is not lost for LUNA because the bulls still hold support at $1.30. With a little push, Terra might stretch its leg to $1.70 and $2.0 in the coming days.
Edge Protocol Debuts on Terra
The Terra ecosystem is now home to its first liquidity protocol, Edge Protocol. According to a recent announcement, users will have access to two assets in the first phase. LUNA is available on Edge Protocol for borrowing, while axlUSDC is ready for use as collateral.
"Edge Protocol allows users to create a position by freely supplying any number of assets available in the pool and collateralizing them to borrow any available assets in the pool," a blog post about the soft launch said in part.
Users have been informed that some current parameters may change depending on market conditions. In addition to borrowing, users can earn interest, leverage long and short positions. This is a soft launch; hence some features might be restricted.
(2) Edge Protocol on Twitter: "The first establishment of liquidity protocol in Terra is here Edge Protocol is currently live now on Terra! Access liquidity with your assets at https://t.co/cGlg1j1QAP https://t.co/RkSmdb0tSj" / Twitter
Terra Price Stalls Uptrend Ahead of Another Breakout
LUNA price exchanges hands at $1.33 mid-through this week's trading while holding firmly to short-term support provided by the 100-day Exponential Moving Average (EMA) (in blue) at $1.3295. Following a four-hour to a daily close above this key level, Terra price will most likely stretch the leg, first to $1.40, then later to $1.70.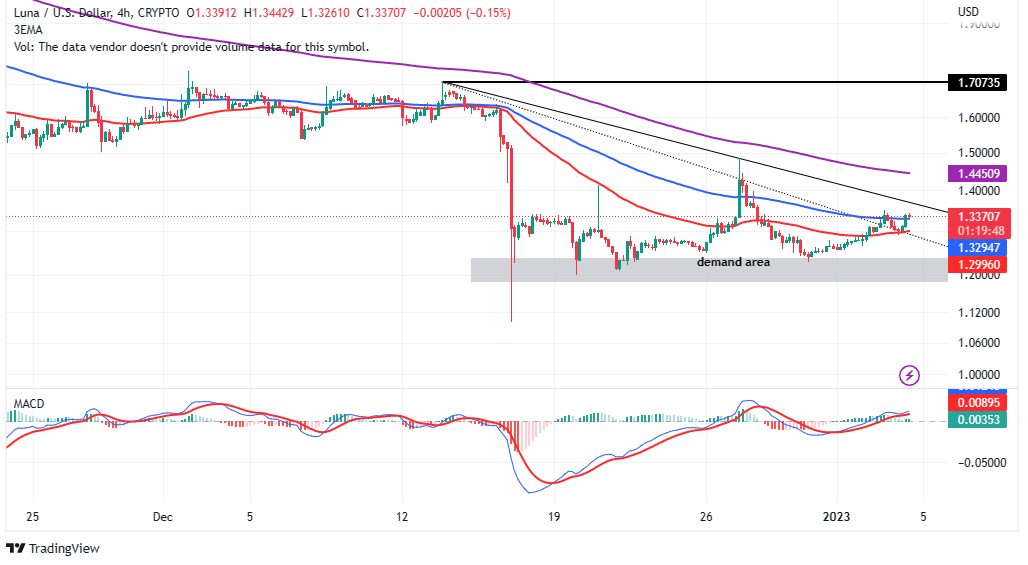 Currently backing Terra's robust support is a falling dotted trendline at $1.2996 in confluence with the 50-day EMA (in red). Similarly, the Moving Average Convergence Divergence (MACD) indicator cements the bulls' influence on LUNA.
Notice the MACD (line in blue) holding above the signal line (in red), which is a positive signal. Moreover, the momentum indicator's position above the mean line (0.00) hints at the path with the least resistance staying to the upside.
Nevertheless, traders may delay their buy orders until Terra price prints a green candle above the 50-day EMA. A more profound signal would be a break above the upper falling trend line around $1.36 for a possible target at the 200-day EMA (in purple) and holding the ground at $1.4450. LUNA's medium-term technical outlook indicates a potential move to $1.70 and $2.0, respectively.
Terra price is making its way out of the falling channel, as illustrated on the daily time frame chart. Support at the lower boundary allowed bulls to regain control, thus blasting LUNA above the middle-level resistance. Now, all attention is on the bulls' ability to obliterate the seller congestion at the upper boundary, in near confluence with the 50-day EMA.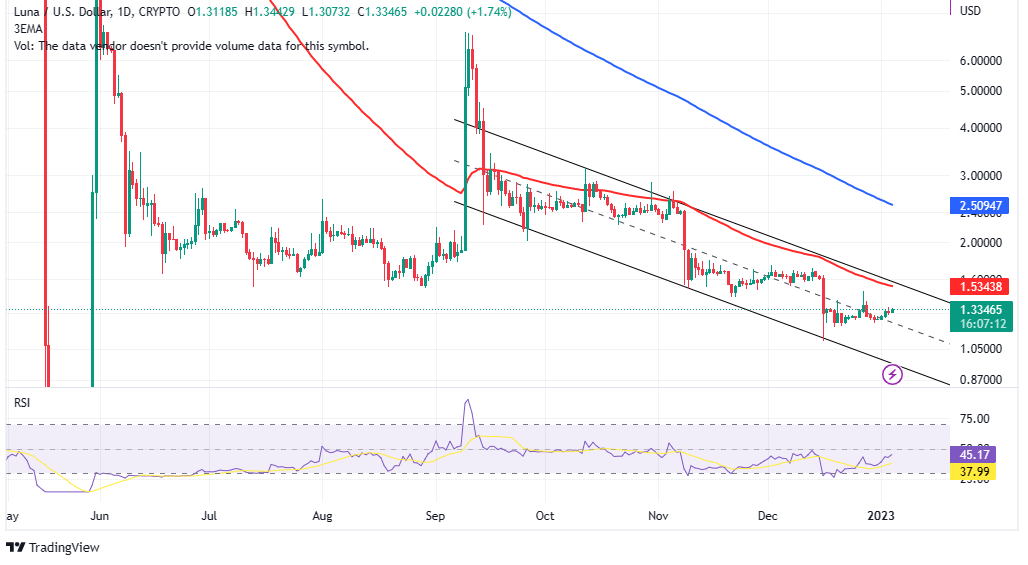 The same daily time frame reveals the bullish outlook in the Relative Strength Index (RSI). Recovery would occur if the RSI stays above the signal line and closes the distance to the overbought region above 70.00.
Investors looking for a long-term long position in Terra price may have to wait until LUNA confirms a break above the falling channel. For buy orders entered above the upper boundary hurdle, traders could consider cashing out at the 100-day EMA (in blue) at $2.50, September's peak at $7.00 and the 200-day EMA (in purple) at $8.91.
Terra Price is Bullish, but These Altcoins Offer Quicker Returns
As investors consider which assets make their way into their 2023 crypto portfolios, they may be interested in up-and-coming altcoins with the potential to break out and return substantial gains. The tokens listed here are carefully selected and possess the necessary fundamentals to play a significant part in the future of crypto while revolutionizing other industries. Some tokens won't be in presale for long, hence the need to hurry before they launch for the first time on CEXs.
FightOut (FGHT)
Move-to-Earn (M2E) coins continue to gain popularity in the crypto industry as they strive to help people lead healthy lifestyles. Projects like STEPN, SweatCoin and Step App currently rank top among this asset class. However, they are yet to fully decentralize the fitness industry and allow everyone to benefit, including the stakeholders and the clients – something FightOut believes it will achieve.
According to the team behind FightOut, the industry is still reeling from key problems like the prohibitive costs of hiring personal trainers. Although traditional gyms are affordable, they lack the social and community aspects that could otherwise provide motivation, guidance, accountability and enjoyment.
(2) Fight Out on Twitter: "Don't sleep on this one! 🔥 #FightOut is the future of #MoveToEarn! We're offering early adopters up to 50% bonuses with $FGHT for a limited time! Don't miss out – Join the presale now! ⬇️ https://t.co/xwthuHJbBG https://t.co/DmfAG7Vwoj" / Twitter
With the new ecosystem, FightOut hopes it will remove barriers to entry that come in the form of Web3 knowledge and expensive starter NFTs associated with platforms like STEPN.
FightOut's presale continues to perform exceptionally well, with $2.6 million raised. The team gives a 50% bonus for purchases before a set threshold of $5 million.
Dash 2 Trade (D2T)
Dash 2 Trade is a revolutionary cryptocurrency ecosystem powered by the tax-less D2T token launching as an ERC-20 token on the proof-of-stake (PoS) Ethereum network. With this token, users can access a crypto on-chain analytics platform, signals and other premium trading features.
Dash 2 Trade's advanced dashboard will provide investors with a bespoke scoring system for high-quality presales for the first time in the industry. The ecosystem will encourage collaboration among members using social trading tools for traders to share strategies and ideas.
Dash 2 Trade encourages progressive investment by enabling the creation and testing of trading strategies. The platform also incorporates technical signals like moving averages, bands and volume indicators to help traders make informed decisions while improving their risk management skills.
(2) Dash 2 Trade on Twitter: "📢ATTENTION D2T CREW!📢 ⌛️The countdown is on – only 2 days until our amazing presale ends!⌛️Unless it sells out sooner! 😱 🔥Less than 6% left!🔥 Take your chance and buy $D2T tokens at a lower price – it could be your last opportunity.🔽 https://t.co/PMdwCfAHt1 https://t.co/v6CO7MAcms" / Twitter
Dash 2 Trade presale has raised $12.8 million and is in its final stage. D2T is selling for $0.0533 ahead of its first exchange listing on January 11. However, the presale closes in just three days.
C+Charge (CCHG)
The world is grappling with climate change that has seen weather patterns shift and sea levels rise, affecting the lives of many communities. Global nations met in the 1990s after realizing the gravity of the situation. They proposed a carbon credit incentive to see companies that produce a lot of emissions strive to curb environmental pollution.
The carbon credit market allows corporations to sell the extra credits earned. This industry is designed for large corporations, with companies like Tesla dominating. The industry is projected to grow to $2.4 trillion by 2027.
C+Charge is conducting a presale that will enable it to build a peer-to-peer (P2P) payment system for charging electric vehicles (EVs) on top of blockchain technology. The main idea is to open up the carbon credit industry to individuals – those driving EVs.
(2) C+Charge on Twitter: "What will you get with $CCHG? ✅Lower the earth's temperature ✅Reduce carbon emissions ✅Carbon credits ✅Chance of receiving free #EV charges Buy some $CCHG now ⬇️ https://t.co/ixe18bPqzI https://t.co/NVi7oWhL0k" / Twitter
C+Charge hopes to position itself as the first platform on or off-chain to reward EV drivers with carbon credits and standardize charging and payment for a transparent sector.
C+Charge presale is underway, with $68k raised. Investors are currently buying 1 CCHG token for 0.013 USDT. Roughly 156 million tokens are left before the price increases to 0.0165 USDT.
Related Articles:
FightOut (FGHT) – Move to Earn in the Metaverse
CertiK audited & CoinSniper KYC Verified
Early Stage Presale Live Now
Earn Free Crypto & Meet Fitness Goals
LBank Labs Project
Partnered with Transak, Block Media
Staking Rewards & Bonuses