Solana, one of the fastest-growing coins, is showing signs of recovery as it bounces from its lowest price ($8.2) in the past two years. The coin has gained a whopping 40% in the past week. After having a terrible past year, the following news comes as a relief for many.
With a market cap of $5 billion, Solana now has become the 15th biggest cryptocurrency. The coin has been ranked among the top ten cryptocurrencies for a better part of its trading life, and its poor performance could be credited to the severe crypto winter, which was made even worse by the Luna and FTX crash.
Solana (SOL) is the official currency of the Solana blockchain (one of the fastest, if not the fastest, blockchains in the world). The currency is used to pay the validation fees and could also be used to access various other features of the blockchain (staking, making payments, etc.).
About Solana
Solana was launched in 2020 by Anatoly Yakovenko as a faster and cheaper alternative to industry leaders like Bitcoin and Ethereum. With transactions completed at an average time of 400ms, Solana boasts of recording more than 50,000 transactions in a minute (Ethereum handles over 15 transactions per second). Solana charges an average of $0.00025 as transfer fees per second while Ethereum charges $1.68 on average.

The reduced transaction time and fees make Solana a perfect platform for new DeFi and GameFi apps that have to execute thousands of transactions on a daily basis. Solana tries to address the scalability issue, which has oftentimes rigged big blockchains like Ethereum and Bitcoin.
Solana uses the novel proof of history consensus mechanism along with the proof of stake mechanism to enable the blockchain to handle transactions at high speed.
Proof of History and Proof of stake
Solana's secret behind fast and cheap transactions is its decentralized consensus mechanism. The Proof of History mechanism uses the Verifiable Delay Function (VDF), which gives a transaction timestamp as they come in. This allows a faster sequencing of validators which are then verified using the proof-of-stake mechanism.
Solana's Innovative Projects
The Solana blockchain is one of the many projects the coin derives its value from. It offers various other features like an NFT market place a suitable infrastructure for building DeFi and GameFi apps. The platform is constantly working on novel ideas in the field of Finance and Web 3.
Solana Price History
Solana has been on a roller coaster ride ever since its launch. The coin was first made available to investors in March 2020 at $1. After falling below the $1 mark in the months ahead, Solana saw an epic run in 2021. It reached its all-time high of $258.78 in the first week of November and closed the year at $178.
2022 saw a huge decline in Solana's value as it fell below $100 dollar by the end of January. The year brought further shocks for the coin in the form of the Luna crash in May (forcing the coin below the $50 mark) and the FTX collapse in November, which forced the coin below the $20 mark from which it has not recovered yet.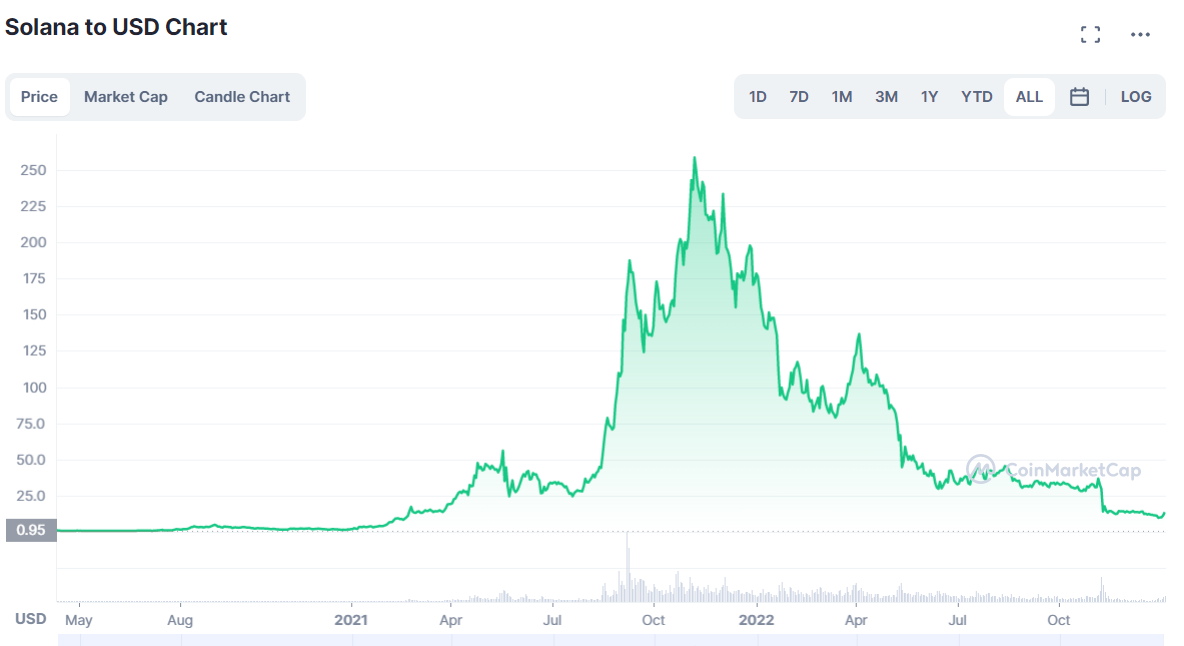 The year 2022 saw Solana's value plummeting from $178 to $10 (approximately), a decline of a whopping 93%.
Although Solana's decline last year was mostly attributed to the crypto market crash, its abrupt and prolonged power outages also contributed to its condition.
Excess Power Outages
A power outage prevents the validators from processing transactions. For a blockchain which handles thousands of transactions each second, even a small power outage would end up being a big issue. Since its launch in 2020, there have been seven instances of power outages, the longest of which lasted for about 17 hours.
The co-founder accepts that network outages tend to be Solana's biggest problems. However, he believes that such power outages are a result of the vast number of users that the network serves on a regular basis. He says that such outages are a trade-off for speedy and cheap transactions.
These power outages on their own are not significant enough to impact Solana's price charts, but once paired with a bearish market, they become detrimental.
Solana Price Movement in the Short Term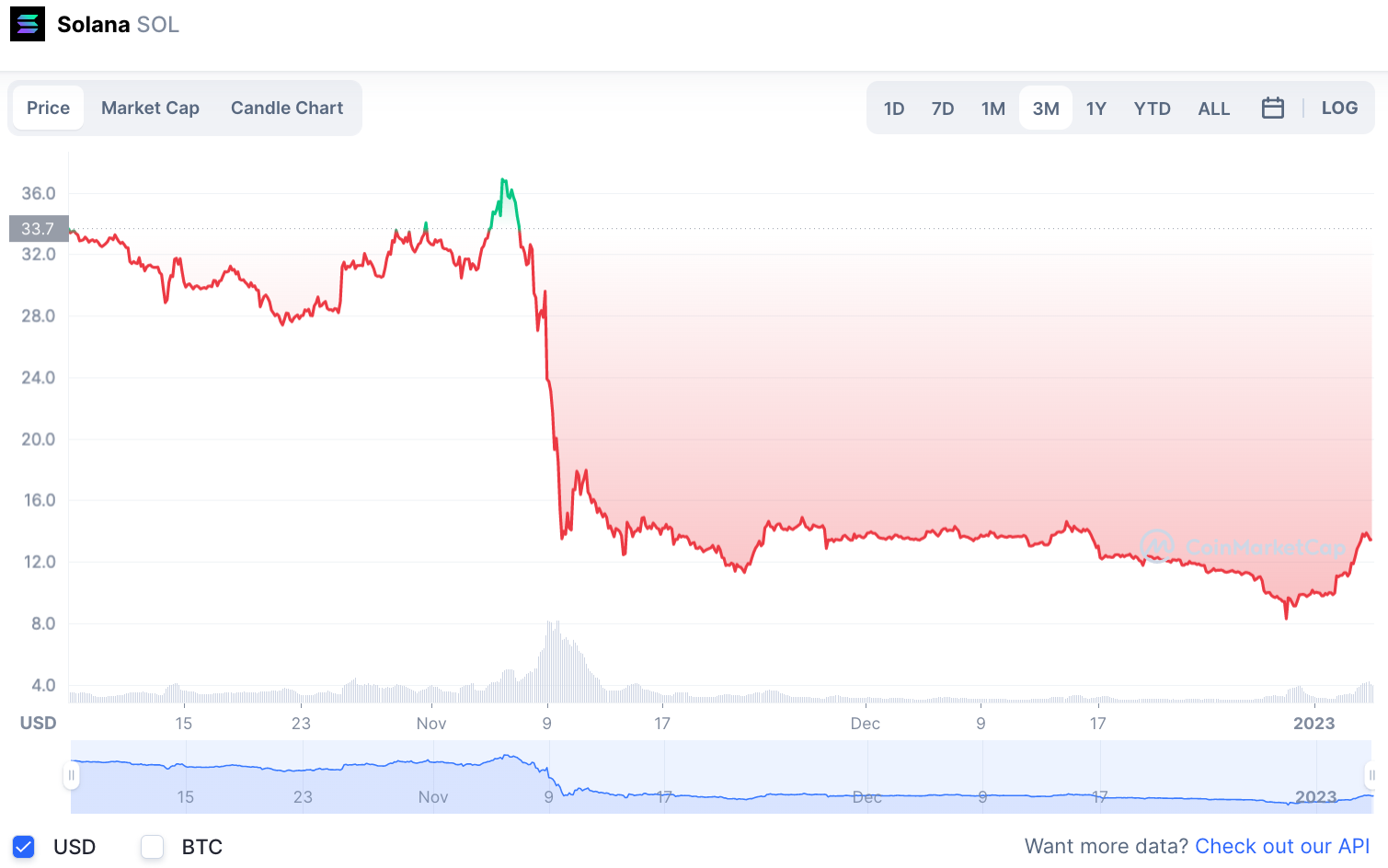 Solana has gained about 7% in the last 24 hours and is approaching the $15 resistance level. The coin remains trailing behind its 200-day simple moving average and 50-day simple moving average and is currently experiencing a bearish run (long term) as the 50-day SMA moves below the 200-day SMA.
Solana seems to be moving upward ever since it hit its lowest point ($8.3) in December. This small bullish run could help it cross the local resistance level, post which it could rise even further.
Crypto market analysts predict that Solana will once again cross the $30 mark in 2023. However, it may not see as much success as it saw in 2021 because of the growing scepticism among investors.
Solana's Price Growth in the Long Term
Utility tokens have a better chance of making it big in the long run. This is because they are backed by projects which actually create value for their customers. The growth of these projects positively impacts the currency's trajectory.
Solana has grown tremendously within a year of its launch. Solana is easily one of the most innovative projects in the market. Although its growth in 2021 was bolstered by the overall bullish market, many of its investors were positive about its innovative technology.
Its multiple sub-projects (NFT Marketplace, payment system, etc.), along with its immensely fast and affordable transactions, would continue to provide utility to its users in the long run.
Conclusion
Solana (also termed as Ethereum killer) still remains below $20. The coin was forced below $20 after the FTX crash. The coin stood far from where it was at the start of the year. 2023 could, however, be a positive year for Solana as investors grow more and more interested in utility tokens. This is evident from the massive investments received by many early-staged projects, even during the crypto winter. 
Read More:
FightOut (FGHT) – Newest Move to Earn Project
CertiK audited & CoinSniper KYC Verified
Early Stage Presale Live Now
Earn Free Crypto & Meet Fitness Goals
LBank Labs Project
Partnered with Transak, Block Media
Staking Rewards & Bonuses