Lido DAO has thrived in the last two years to earn a place among the leading five decentralized finance (DeFi) protocols in the market today. In the last 48 hours, however, the decentralized app (Dapp) protocol has ascended to the top spot after its total value locked (TVL) on the protocol reached $5.98 billion. Lido DAO price recorded a spike in the first two days of the New Year.
The DeFi token's value rose from $0.95 to $1.27 on December 2, before the bears attempted a recovery but the bulls took over. At the time of writing, the LDO price is trading at $1.38, after gaining 11.8% in the last 24 hours. With a 24-hour trading volume of $79 million and a live market cap of $1.14 billion, Lido DAO ranks #36 on CoinMarketCap.
The increase is attributed to Lido DAO's achievement in the DeFi market and the hype surrounding Ethereum's upcoming Shanghai Upgrade, with investors hoping to sustain the bullishness.
Most recently liquid staking derivatives have had a nice uptrend.

This is thanks to the Shanghai upgrade expected in a few months which will enable withdrawals of staked ETH.

As withdrawals are enabled, many believe more users will stake their ETH.

LDO +26%
RPL +12%
SWISE +66% pic.twitter.com/tl2d3KSlRC

— 👨‍🍳.eth (@CroissantEth) January 2, 2023
Lido DAO Price Pumps On Ethereum's Upcoming Shanghai Upgrade News
Lido DAO has joined governance tokens of top liquid staking products like SWISE and RPL who are rallying on news about Ethereum's Shanghai upgrade set to "de-risk" ether staking by opening ETH withdrawals.

Based on recent reports, governance tokens of liquid staking platforms that let users retain the liquidity of their tokens even though they are locked in a blockchain network have been rallying since the New Year. LDO, the governance token of the Lido decentralized autonomous organization (DAO), has surged 19% in the last seven days, sending LDO price to a one-and-a-half-month high of $1.45 on Wednesday, according to data source CoinMarketCap.
In the same way, Liquid staking protocol StakeWise's SWISE token surged more than 70% in a week, while Rocket Pool's RPL gained around 10%. Staking entails locking coins in a crypto wallet to support the operations of a blockchain in return for rewards. The process is compared to investing in fixed-income securities like bonds.
The rally comes after an announcement by Ethereum developers on December 8, 2022, saying that the network's next hard fork, or backward-incompatible software upgrade, will take place in March 2023. The upgrade, which has been christened Shanghai, will feature a code that will allow withdrawals of ether staked in the Beacon Chain since December 2020. If this happens, participants will finally have a timeline for reclaiming their ether.
Accordingly, activity among liquid staking protocols has picked up in the past few weeks, with the likes of David Alexander of Binance Labs, the venture-capital arm of crypto exchange Binance highlighting the turnout on Twitter.
Quick 🧵on the Shanghai upgrade and $ETH staking:

As withdrawals on staked $ETH now have a tentative release date, this has led to increased staking activity – the highest monthly volume since April. However, this upgrade also has many implications for staking providers ⬇️ pic.twitter.com/A8UuSuikai

— David Alexander II (@Mega_Fund) December 27, 2022
Recording a TVL of $5.9 billion, Lido has outpaced both MakerDAO and AAVE to become the world's biggest decentralized finance (DeFi) protocol, based on data source DefiLlama.
Nevertheless, a section of traders remains skeptical of whether LDO will sustain the gains long-term, as indicated in the profoundly negative funding rates or costs incurred for holding bullish long or bearish short positions in the perpetual futures contracts tied to LDO.

A negative funding rate shows that the leverage is twisted on the bearish side, setting the stage for a short squeeze that can be interpreted as an exaggerated price rally triggered by bears leveling off their positions.
According to crypto hedge fund Ouroboros Capital, on-chain evidence suggests that shorts have stacked on in Lido DAO because of the outperformance hoping that early investors sell.
Will Lido DAO Price Sustain The Bullishness?
Lido DAO price is currently bullish after bulls recovered from an attempted correction. The current LDO price at $1.38 is facing the resistance offered by the 200-day Simple Moving Average (SMA) at $1.45 after bulls flipped yesterday's resistance offered by the 100-day SMA at $1.26 into support.
LDO/USD Daily Chart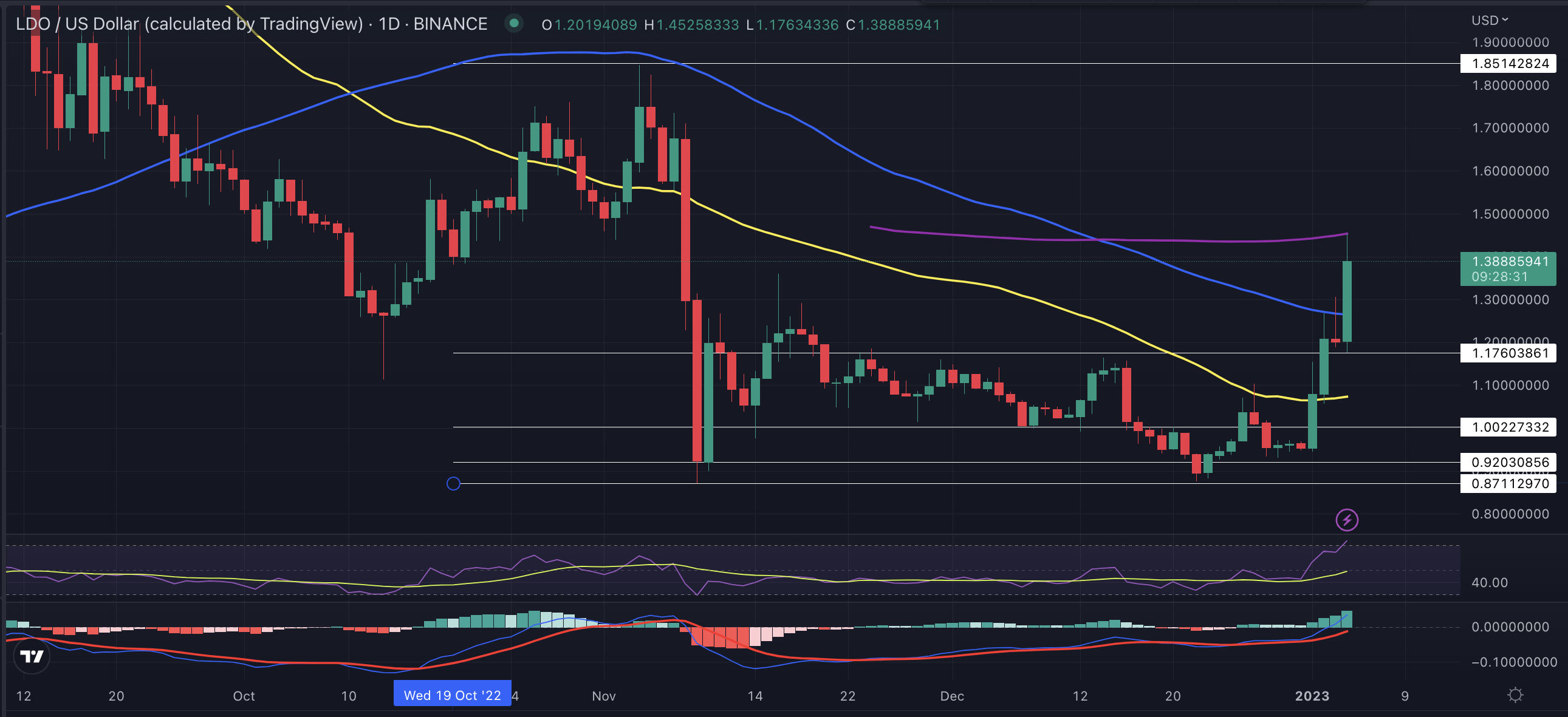 For the uptrend to continue, Lido DAO price will need to breach the immediate resistance level at $1.45, flipping the 200-day SMA into support. This will allow the LDO price to initiate a potential rally to tag the local high at $1.85, marking a 32% increase in value from its current trading price.
Supporting this bullish outlook was the relative strength index (RSI) was tipping upwards to show that more buyers are entering the market. The price strength at 73 suggested that the LDO is firmly under the control of buyers. In the same way, the moving average convergence divergence (MACD) is also moving upwards to show that the LDO price may increase.
On the flip side, given that the broader market shows a lack of bullishness, the LDO price may record a drawdown as well. In addition, the RSI has just entered the overbought region. This suggests that the current bullish momentum may soon run out of steam occasioning a correction. 
As such, Lido DAO price may turn down from the current levels losing the support of $1.176, leading to the crypto tagging the critical psychological level at $1.00. A daily candlestick close below this level would invalidate the bullish thesis and push the price to the six-month lows of around $0.87, marking a 37% value drop.
In other news, the rising interest rates coupled with high inflation have caused many investors to be skeptical about the crypto industry. Dash 2 Trade's presale seems unaffected, however, by this negative sentiment. The Dash 2 Trade presale kicked off with a presale in mid-October 2022. At inception, no one thought it would soar at such a striking rate when investors began purchasing D2T tokens.
Dash 2 Trade ICO Raises $13.1m, 2 Days To Go – Best Presale 2022?
Dash 2 Trade's initial coin offering (ICO) is almost at its summit, with less than seven days to January 11 when the project will go live with the beta release of its dashboard. After a successful campaign that has amassed more than $13 million, only 3% are left of the presale tokens.
The project has kept its popularity intact, an action that made it possible for Dash 2 Trade to secure a worthy position in the cryptocurrency market. So far, the project has recruited a large pool of investors despite the harsh conditions in the wake of the bear market.
When the presale was beginning, the project's native token, D2T was trading at $0.0476. The price increased with every stage and is now selling for $0.0533 in the final phase of the presale. Investors can only enjoy this price till the presale closes in two days.
🚨PRESALE ENDING SOON🚨

⌛3 Days remaining until our presale ends⌛

First CEX launch will go live on Wednesday 11th Jan 2023!!

Buy $D2T now before the exchange listings🔽https://t.co/CY2wNGNVBQ pic.twitter.com/Wm9QqwlSqO

— Dash 2 Trade Official Team (@dash2_tradeTeam) January 2, 2023
Calvaria Presale Raises $2.63 Million as Just 15% of RIA Tokens Remain
Calvaria started on a promising one in late 2022 when it introduced its presale event and thereafter succeeded to thrill the crypto community. Presently, Calvaria has raised $2.65 million, having sold more than 135 million RIA. So far, less than 15 % of its native token, RIA, is available in its presale event.
Related News: