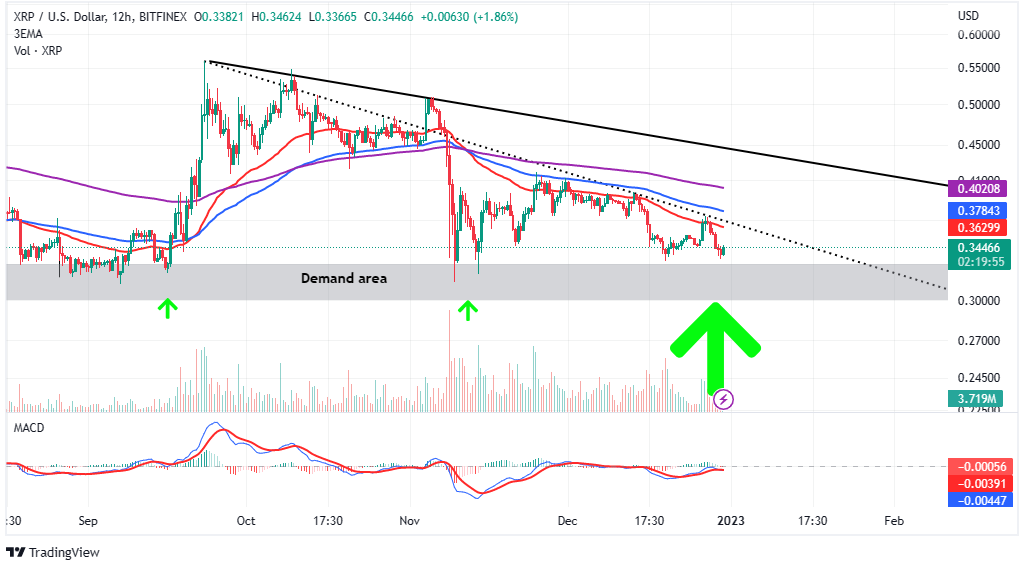 XRP price is making its way to the upside after holding support at $0.3347 for the second time in December. The cross-border payments token was recently rejected by resistance at $0.37, prematurely snapping out of an uptrend that would have tagged $0.40 before 2023.
However, a green candle is forming on the short-term 12-hour time frame bolstered by the news that Tranglo, Ripple's official partner, has expanded its real-time cross-border payments to Malaysia.
Ripple has confirmed that its official partner, Tranglo, has expanded its international money transfer services to Malaysia, one of the ASEAN region's fastest-growing countries. Tranglo will settle 80% of all cross-border transactions in real time. According to the company, the expansion was overdue amid real-time transaction spikes.
(3) Ripple on Twitter: "Our partner @Tranglo has officially launched real-time cross-border payments in Malaysia.🎉 The company's real-time transactions continue to grow and are expected to increase 3.5X by 2025. 📈 Read about their expansion in the APAC region via @UToday_en.⬇️ https://t.co/Ry8pBxlMQa" / Twitter
The inroads Tranglo is tapping were made possible by PayNet, Malaysia's most trusted central payment system, which previously ran a service referred to as DuitNow on a platform that enables real-time payments. Over the last three years, real-time transactions soared by over 800%.
Interestingly, Tranglo is approaching Malaysia to expand to the larger Asia-Pacific region. The company hopes for a firm foothold in cross-border money transfer systems and technologies. It is worth mentioning that Ripple owns a 40% stake in Tranglo – the move to Asia aligns with its expansion goals.
XRP Price Eyes $0.45 As It Collects Liquidity
The XRP price retracement to $0.3347 may have liquidated some traders; however, it was necessary for a stronger rebound above all the major moving averages. Realize that the cross-border money transfer token must clear a four-time resistance provided by the 50-day Exponential Moving Average (EMA) (in red at $0.3630), in confluence with the lower falling trend line (dotted).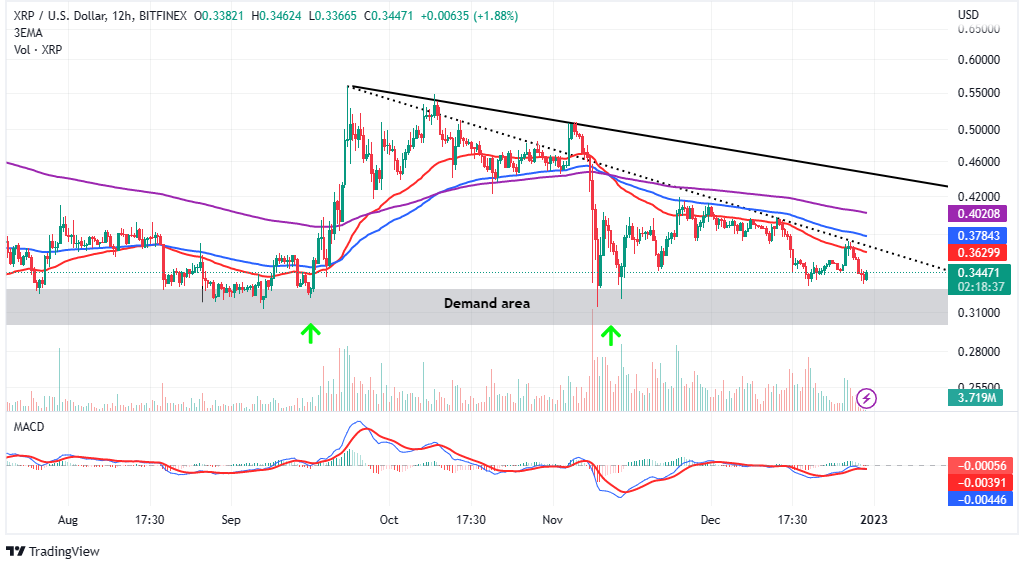 Nevertheless, long positions bought above the dotted trend line and the 100-day EMA (in blue at $0.3784) would be safer and allow for profit-booking at the 200-day EMA (in purple at $0.4020). Stubbornly bullish investors might hold onto the uptrend until XRP price touches the upper falling trend line (continuous line), around $0.45.
Traders may need to manage their expectations, especially with the Moving Average Convergence Divergence (MACD) indicator spotting a sell signal in the same 12-hour time frame.
Those waiting to short XRP must wait until the MACD confirms another sell signal as it slides below the signal line. It may be worthwhile to wait for another possible rejection from the 50-day EMA for a plausible exit at $0.30.
Altcoins Offering Quicker Returns in 2023
XRP price is still a long way from detangling from the crypto winter, and a move to $1 may be a pipe dream until the Ripple vs. SEC case is determined. However, investors interested in quicker gains to repair the mess left behind by a hectic 2022 could consider projects like the soon-to-be-listed Dash 2 Trade. The tokens listed here are performing well in their presales and could spike significantly after debuting on exchanges.
FightOut (FGHT)
FightOut is a cryptocurrency platform incentivizing the fitness lifestyle with a fitness app and a chain of gyms. Besides earning rewards for completing workout tasks and challenges, users have the opportunity to grow within a vibrant community.
A tokenized economy will help run the ecosystem where users earn FGHT tokens for completing M2E tasks. FightOut hopes to revolutionize the fitness economy with Web3 solutions, where users can create accounts and mint their own digital NFT avatars to use in the metaverse.
(3) FightOut on Twitter: "Don't miss out on the #FightOut presale! 👏 This is your chance to get up to 50% bonuses with $FGHT – remember, this offer will end soon!! You better hurry – Time is running out! ⏰⬇️ https://t.co/z34Nkx3ffi https://t.co/29tjB5ZD9K" / Twitter
FightOut presale is currently underway and has raised slightly over $2.3 million in the first stage. The price will likely increase later, which calls for a quick response.
Dash 2 Trade (D2T)
Dash 2 Trade is a cryptocurrency platform changing how people view and manage their crypto portfolios. This platform gives users access to world-class crypto analytics and social trading tools.
Dash 2 Trade has many features and services that traders can explore as they navigate the dynamic cryptocurrency market. In addition to timely trading signals, Dash 2 Trade offers social sentiment and on-chain analysis to spot trending coins easily.
(3) Dash 2 Trade on Twitter: "🔔 Technical signals can be used by various types of traders in order to make well-informed decisions regarding when to enter and exit on an asset. 🔔 Learn more ⬇️ https://t.co/ExvBBjKIU6 https://t.co/Ns1i9s9XJV" / Twitter
A trading strategy builder is also in place to help investors improve their skills and share ideas with others. Still, on Dash 2 Trade, users can access a presale dashboard to explore new projects coming into the market.
Dash 2 Trade presale has raised $10.36 million and is in its final stage. D2T is selling for $0.0533 ahead of its first exchange listing on January 11.
C+Charge (CCHG)
This is a strong Peer-to-Peer (P2P) payment system for EV charging stations developed by C+Charge using blockchain technology. Individual electronic wallets will be given to users, who can use the wallets to pay for EV charging with the C+Charge utility token.
It is widely known that there need to be more electric power stations to charge the increasing number of EVs on global roads. The EV arena is further complicated by the need for industry standards for charging.
(3) Lucas Nahuel Velasco on Twitter: "🚨BREAKING NEWS: @C_Charge_Token presale is LIVE 🎉 👏 It's time to introduce crypto payments for the #EV charging🔋 Don't sleep on this – Buy $CCHG now and become an early adopter! Join the presale now ⬇️♻️ https://t.co/VV7BVmJGCJ https://t.co/IXNAxoUwVO" / Twitter
In addition to providing access to carbon credits, CCHG tokens will be used by drivers to pay for EV charging services. Operators of the charging stations will also receive payment via the same token.
C+Charge presale launched recently with $32k raised in the first stage. Investors can buy 1 CCHG for 0.013 USDT, but the price will shoot to $0.0165 USDT in the next round.
Related Articles:
FightOut (FGHT) – Move to Earn in the Metaverse
CertiK audited & CoinSniper KYC Verified
Early Stage Presale Live Now
Earn Free Crypto & Meet Fitness Goals
LBank Labs Project
Partnered with Transak, Block Media
Staking Rewards & Bonuses