Lowest Prop Firm Challenge Prices
Smart Prop Trader has the lowest prices for challenges in the prop firm industry. 
The Smart Prop Trader $10,000 trading challenge is $75 and has 0 minimum trading days. 
There is a maximum loss of $400 for this challenge in phase 1 and phase 2. 
The largest Smart Prop Trader challenge which is their $200,000 challenge costs $875 which is incredibly reasonable compared to other prop firms.
Best Spreads and Commission Payouts
The spreads and commission payouts are better than most prop firms. 
Once you're a fully funded Smart Prop Trader, then you can qualify for a 90% profit split with an account scaling up to $2.5 million.
During verification, the profit target is slashed in half which allowed traders a good opportunity to outperform other traders. 
Also, Smart Prop Trader allows funded accounts to trade during the news, but they urge that it should be done with caution. 
Founded by Blake Olson
Blake Olson is a successful trader who launched Smart Prop Trader with the goal of helping traders of all skill levels. 
Throughout his trading journey, Blake has helped create many successful businesses in the trading industry along with a successful YouTube channel called Trade Connect VVS.
Smart Prop Trader is more than just a prop firm. They truly want to make a difference in the trading industry and with Blake leading the way, Smart Prop Trader will do just that. 
Platforms available for Trading
You can trade your Smart Prop Trader challenge, verification, and Smart Prop Trader account on the most popular retail platforms such as MetaTrader 4 and MetaTrader 5. 
How long does it take to become a Smart Prop Trader
There are no minimum trading days required. 
You have 50 maximum days during phase 1 and 100 maximum days during phase 2. 
It is possible to have a funded Smart Prop Trader account within 2 trading days. 
Profit Split and Payout Ratio
The default payout ratio for all Smart Prop Traders is set to 80:20, however, it doesn't end at an 80:20 share split. 
If you meet the conditions of their Scaling Plan, then your payout ratio will automatically change to a 90:10 split.
What Traders Say
Traders are raving about Smart Prop Trader.
So far, on TrustPilot there are glowing reviews and people really love the pricing. 
Not only that, traders love the easy rules, no minimum trading days, and the brokerage.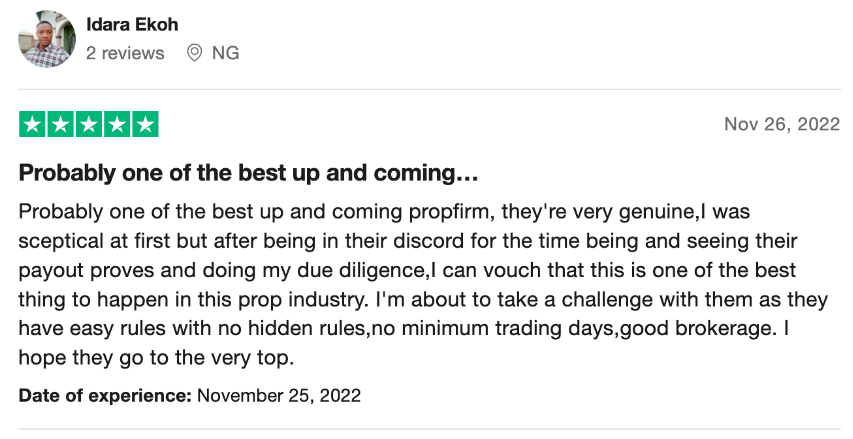 Try a Smart Prop Trader Challenge
Smart Prop Trader is a great place for traders of all levels.
The challenges do benefit newer traders because they don't have minimum trading days and their prices are so incredibly reasonable.
Smart Prop Trader has the lowest prices in the prop firm industry and they are already proving that they are stiff competition to established prop firms. 
First, try their free trial and then take one of the other challenges.
Try a Smart Prop Trader Challenge Today!