Social media influencer Andrew Tate and his brother were apprehended by law enforcement officials in Romania on Thursday and face charges related to sex-trafficking allegations.
Police reportedly surrounded a villa Tate and his brother Tristan were visiting and arrested them on charges of kidnapping, international human trafficking and rape, the Romanian news outlet Libertatea reports.
The brothers were also interrogated by law enforcement officials for five hours on April 11, but were released, the publication notes.
In a video published to social media Thursday, the brothers are seen being escorted into a car while flanked by police officers.
TRENDING: Wake Up America: The End Of Free Elections Is In Sight!
WATCH:
Andrew Tate and his brother Tristan have been reportedly arrested by Romanian authorities in human trafficking investigation

— Dexerto (@Dexerto) December 29, 2022
Tate and his brother allegedly held two young women hostage in the villa in April and subjected them " to physical violence and mental coercion," the Daily Mail reports. One of the victims was an American citizen and the other was Romanian.
Law enforcement official claim Tate heads an organized crime group that "sexually exploited" its members "by forcing them to perform pornographic demonstrations pornographic for the purpose of producing and disseminating through social media platforms" and a total of six victims have come forward with allegations claiming they were exploited by Tate's organized crime group.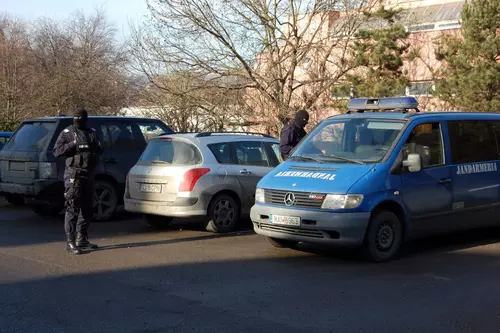 Tates arrest comes hours after the professional kickboxer ignited controversy by taunting environmental activist Greta Thunberg on Twitter.
"Hello @GretaThunberg. I have 33 cars," Tate wrote, tagging the 19-year-old Swedish activist on Twitter. "This is just the start.
"Please provide your email address so I can send a complete list of my car collection and their respective enormous emissions."
"Yes, please do enlighten me. email me at smalld**[email protected]," Thunberg shot back.
yes, please do enlighten me. email me at [email protected] https://t.co/V8geeVvEvg

— Greta Thunberg (@GretaThunberg) December 28, 2022
Tate hit back at Thunberg with a two-minute video warning she is "programmed" and a "slave of the matrix."
Thank you for confirming via your email address that you have a small penis @GretaThunberg

The world was curious.

And I do agree you should get a life ❤️ https://t.co/mHmiKHjDGH pic.twitter.com/SMisajQRcf

— Andrew Tate (@Cobratate) December 28, 2022