The price of the cryptocurrency Terra Classic (LUNC) skyrockets once more when Binance posts a positive tweet. It was just the day before that the price of LUNC had dropped all the way down to $0.000179, but today, it has rebounded all the way up to $0.00029.
Now crypto enthusiasts are eager to see what happens to the price of Terra Classic. Will it continue to rise or will it plummet? Read on to know more.
Which Way Is The Price Headed?
Following the release of some incredibly significant information on Twitter by CZ Binance, the CEO of Binance, the attitude around Terra Classic has shifted from negative to positive. Binance, a prominent centralized cryptocurrency exchange, has made a formal announcement that it is now in full support of the Terra Classic burning mechanism, which will assist in lowering the overall supply of the token.
It is particularly intriguing that the CEO of Binance has also stated that the company would begin burning all trading fees earned on the LUNC/USDT and LUNC/BUSD margin and spot trading pairings on Binance. This news adds to the already high level of curiosity around Binance.
» Binance To Implement Terra Classic (LUNC) Burn Mechanism

Quick thread on what we're doing and why below.https://t.co/b86RlCGPmv

— CZ 🔶 Binance (@cz_binance) September 26, 2022
The transaction costs will first be converted into LUNC before being transferred to the burn address. This indicates that Binance is responsible for paying the fees rather than the users of the platform.
This single piece of news could generate enough excitement and positive momentum on its own to push the price of Terra Classic back above a significant resistance mark which is now set at $0.000362.
Keep in mind that Binance is now the only exchange where LUNC may be purchased; Watch out for further development in this space as every activity involving LUNC on Binance will add to the overall burned supply of LUNC tokens.
Observing Terra Classic from a Technical Perspective
From the standpoint of technical analysis, Terra Classic is moving incredibly fast and has swiftly transitioned from the oversold region to the overbought region on the 4-hour relative strength index.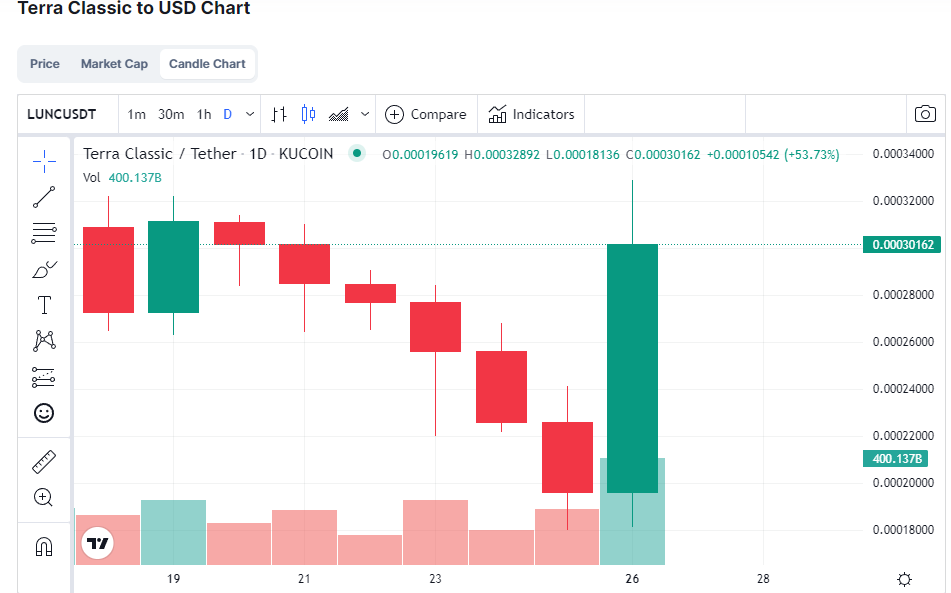 Terra Classic had a strong comeback and broke above the lost support levels of $0.00022, $0.00025, and $0.000264. Currently, the cryptocurrency is attempting to rebound above $0.000335 and $0.000362.
As a result of the price breaking through the upper level of the Bollinger bands as well, it is pretty simple to see that the bulls are once again firmly in charge of the market.
As a result of the overbought situation, there is a possibility that there will be a pullback in price following the widespread market excitement around Terra Classic. The price of Terra Classic has increased by more than 66% in the past day as a direct result of positive developments in cryptocurrency.

In the short term, it is possible to anticipate a regression of Terra Classic's price down to the 0.236 Fibonacci level located at $0.000292 and the 0.382 Fibonacci level, which is located at $0.00027.
Your capital is at risk.
Burn Supply of Terra Classic
After today's news from Binance, the community behind Terra Classic has regained its previous level of optimism. Keep in mind that Terra Classic is a community-based token, and that the price movement might depend on the emotion of Terra Classic holders at any particular time. This is one major factor you need to keep in mind.
As per reports from Terrarity, the Terra Classic token community has now been able to burn 4,245,661,335 of its own tokens, which accounts for around 0.08% of the total quantity that is now in circulation. The bullish sentiment about Terra Classic has taken a significant leap forward as a result of the recent integration of the burning tax mechanism on the Binance market.
Is There A More Lucrative Investment Other Than Terra Classic?
After this big ecstatic impulse wave for the Terra Classic cryptocurrency, many investors are undoubtedly going through what analysts like to refer to as "FOMO," which stands for "fear of missing out."
If you missed out on Terra Classic's rally, the cryptocurrency market offers another opportunity with Tamadoge, which may have comparable results. If you feel like you missed out, you may find a whitepaper on Tamadoge on their website.
After an incredibly successful presale that brought in more than $19 million, investors of Tamadoge are anticipating a significant pump in price when the cryptocurrency is deployed on the OKX exchange tomorrow at 12 p.m. British Summer Time for live trading.
If you are interested in participating in the Tamadoge and maybe adding TAMA to your portfolio, you can join up for an account on the OKX exchange, which will also enter you into a prize draw for a chance to win $10,000. If you do this, you will be a participant of the competition.
Why Tamadoge?
Tamadoge has the potential to become one of the next top 10 meme coins because it is deflationary in nature, has demonstrated that is has a lot of utility, offers an immersive gaming experience along with play-to-earn and augmented reality experiences and has a low supply of 2 billion. Do not overlook the fact that you are also able to mint your very own fantastic Doge NFTs and that this token as of now is heavily discounted. So, if you're one opportunistic investor, the timing is perfect for you to invest in Tamadoge which has a potential to offer 10x gains in future.
Tamadoge – Play to Earn Meme Coin
Earn TAMA in Battles With Doge Pets
Capped Supply of 2 Bn, Token Burn
Presale Raised $19 Million in Under Two Months
Upcoming ICO on OKX Exchange