The cryptocurrency market is down again after a brief and modest rebound. Its total cap is $1.31 trillion, representing a 4% decline in the past 24 hours, as well as a 32% drop in the past month. This fall has taken in all the major cryptocurrencies, including BTC and ETH, which have slipped by 3.7% and 4.5% in the past 24 hours. However, the ongoing downturn means that plenty of coins are available at a discount. We've grouped some of the most promising together in a list of the 5 best cheap cryptocurrency to buy right now.
5 Best Cheap Cryptocurrency to Buy
1. Lucky Block (LBLOCK)
LBLOCK is down by 3.4% today, at $0.00255592. That said, it has had a good week or so, being up by 130% in the past seven days.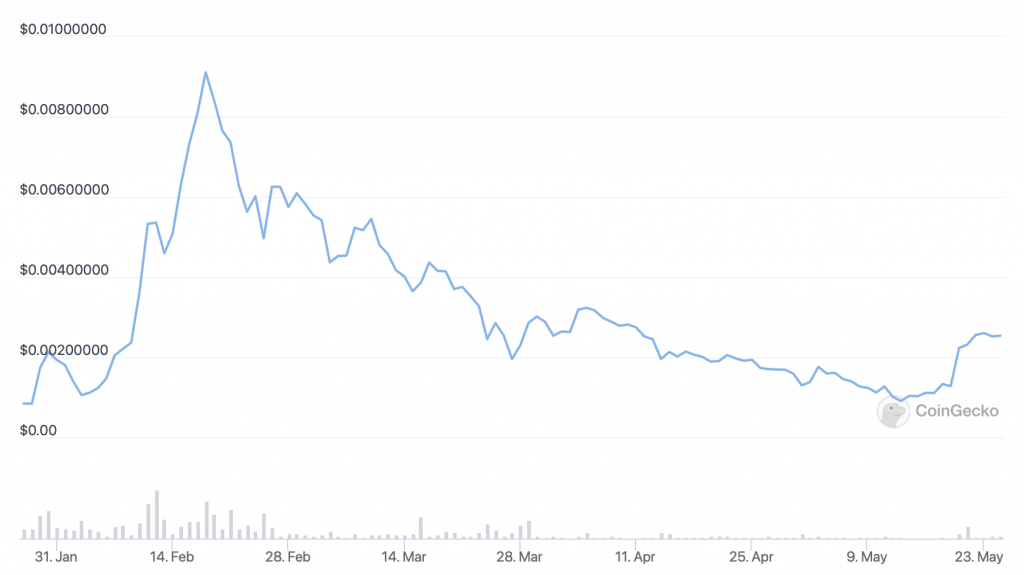 LBLOCK remains down by 74% compared to its all-time high of $0.00974554, set in mid-February. But it's up by nearly 500% since launching, and has been resurgent in the past few days.
This is because its native platform, Lucky Block, has confirmed the date of its first ever prize draw: May 31st.
First Draw Date? 🤔

31st of May @ 8pm BST ⏰

Don't miss it, get your $LBLOCK ready, buy now at https://t.co/c3zY3rNZ4H 🚀 pic.twitter.com/dpwClfR1tk

— Lucky Block 🤞 (@luckyblockcoin) May 21, 2022
Lucky Block prize draws work like this: players buy tickets using LBLOCK, giving them the chance of winning 70% of each draw's fund. Meanwhile, all holders of LBLOCK (regardless of entry) will receive an equal share of 10% of the same fund.
This setup has helped Lucky Block generate a considerable amount of excitement. While its initial rally has subsided, the fact that it will hold its first draw this time next week has renewed market interest in it. LBLOCK should continue rallying in the buildup to this draw, and likely beyond, given that the successful completion of the draw will boost investor confidence in the Binance Smart Chain-based platform. This is why it's one of our 5 best cheap cryptocurrency to buy.
2. Loopring (LRC)
At $0.560612, LRC is up by 6% in the past 24 hours. It's also up by 20% in the last seven days, but down by 40% in the last 30.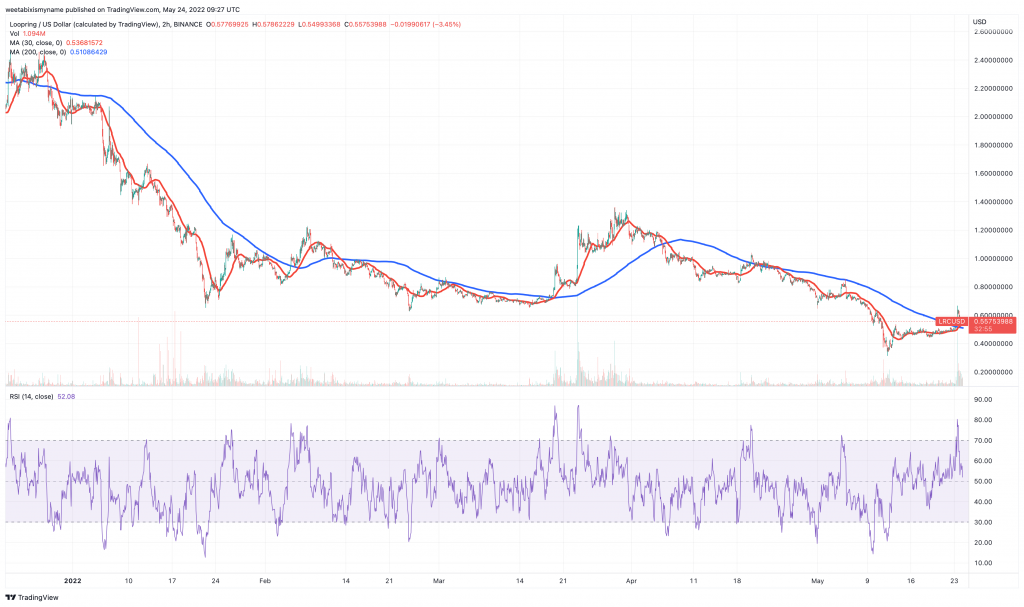 LRC's technical indicators reinforce the suspicion that it's reaching a new level. Its relative strength index (in purple) reached 80 a day ago, before settling just under 60. Its 30-day moving average (in red) has overtaken its 200-day moving average (in blue), suggesting a breakout.
There's a simple reason for this renewed momentum. LRC's native platform, Loopring, is benefitting from the fact that major video game retailer GameStop has launched its own official cryptocurrency wallet on the layer-two solution.
Congratulations on the wallet launch @GameStop💙

Download the wallet extension on any chrome browser today and check it out👇

It's integrated directly with Loopring L2, giving users another way to onboard directly to Layer 2 seamlessly from your browser✨#L222🌀 https://t.co/KPASOO0p1b

— Loopring💙🏴‍☠️ (@loopringorg) May 23, 2022
That GameStop chose Loopring other Ethereum itself or a rival layer-two is a major endorsement. Also, Loopring can expect growing usage even when Ethereum completes its shift to a proof-of-stake consensus mechanism later this year. That's because this shift won't do much to improve Ethereum's scalability in the short-term, with the latter having to wait at least until next year for sharding to arrive.
As such, Ethereum's growth will result in Loopring's growth, especially when it's one of the fastest and cheapest layer-two solutions around.
3. Tezos (XTZ)
XTZ is up by 5% in the past 24 hours, at $2.07. It's also up by 16% in the past week, but down by 31% in the past month.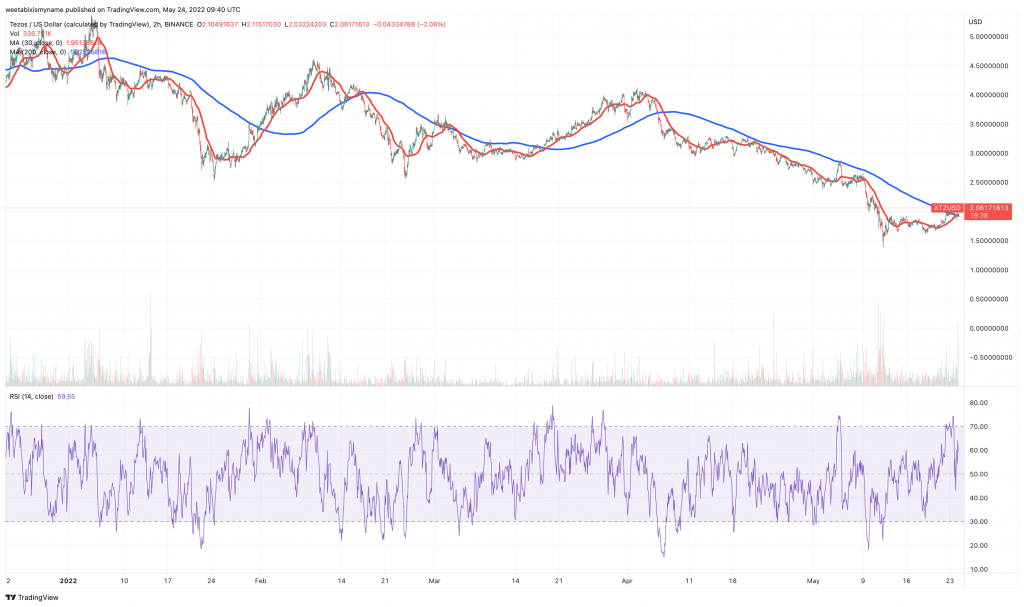 XTZ is another rare coin whose indicators are signalling strong momentum. Its RSI is up and so is its 30-day average, which together suggest a breakout of some kind.
There are a number of reasons for this, all of which relate to steadily increasing usage of Tezos, XTZ's native platform. Tezos is a proof-of-stake layer-one blockchain, and it's gaining traction in a variety of areas.

For one, it's increasingly being used for NFTs, with its presence at Art Basel Hong Kong highlighting that growing numbers of artists are turning to it.
NFTs + The Ever-Evolving World of Art

A celebration of the global #Tezos art community. pic.twitter.com/ihxSFu5blN

— Tezos (@tezos) May 20, 2022
Tezos is also making inroads into blockchain-based gaming, something helped by its scalability, which is superior to that of Ethereum and numerous other blockchains.
Tezos gaming is going to be epic. #tezos #blockchaingaming pic.twitter.com/61z4ZxFAei

— Block Born (@blockborn) May 23, 2022
Similarly, a growing number of DeFi platforms are developing on Tezos. And while its total value locked in is currently modest, this low level means it has plenty of upside potential right now. Which is why it's one of our 5 best cheap cryptocurrency to buy.
We are proud to work together with so many reputable #Tezos entities in the ecosystem. 🤝

Who to collaborate with next? Lets build a bigger and better #Tezos #DeFi ecosystem together! 🦾 pic.twitter.com/wHo5dk9hze

— Plenty (@PlentyDeFi) May 21, 2022
4. Cardano (ADA)
ADA is down by 6% in the past 24 hours, dropping to $0.513507. It's also down by 8% in the past week and by 42% in the past month.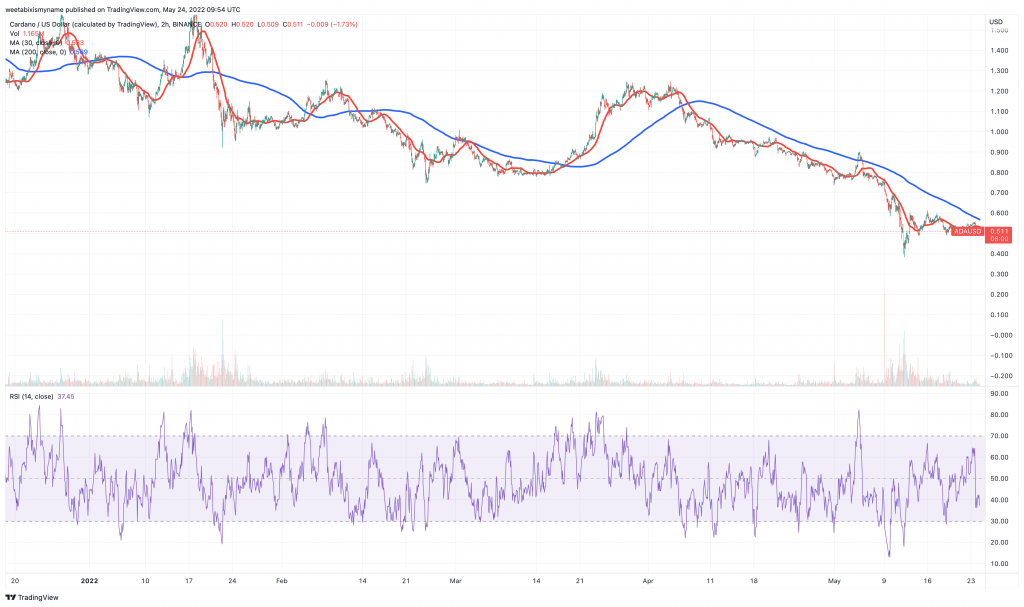 ADA is currently undervalued relative to its fundamentals, with its RSI confirming a period of overselling. In fact, the altcoin is 83% down since its ATH of $3.09, set back in September.
This record was set around the time Cardano finally introduced smart contract capabilities. Since then, it has been gradually building out its ecosystem of dapps, which now number beyond 900.
Nearly 900 projects are currently #BuildinOnCardano 🤯And this is just the beginning…

Keeping track of all the news is quite the job and we're still working on it. But we got you covered. In this thread, we look at the latest ecosystem updates 🧵

Let's go!👇#Cardano $ADA pic.twitter.com/OSHbOIjFMq

— Input Output (@InputOutputHK) April 5, 2022
Cardano is also working with Wanchain on interoperability. This is something which will make it compatible with other chains, and thereby increase liquidity for its apps and ADA.
The journey continues 👍 #Cardano https://t.co/8BUj6DJzMA

— Tim Harrison (@timbharrison) April 27, 2022
5. Algorand (ALGO)
At $0.406945, ALGO is 8% down in the past day. Its current level also represents an 11% drop in the past week and a 42% fall in the past month.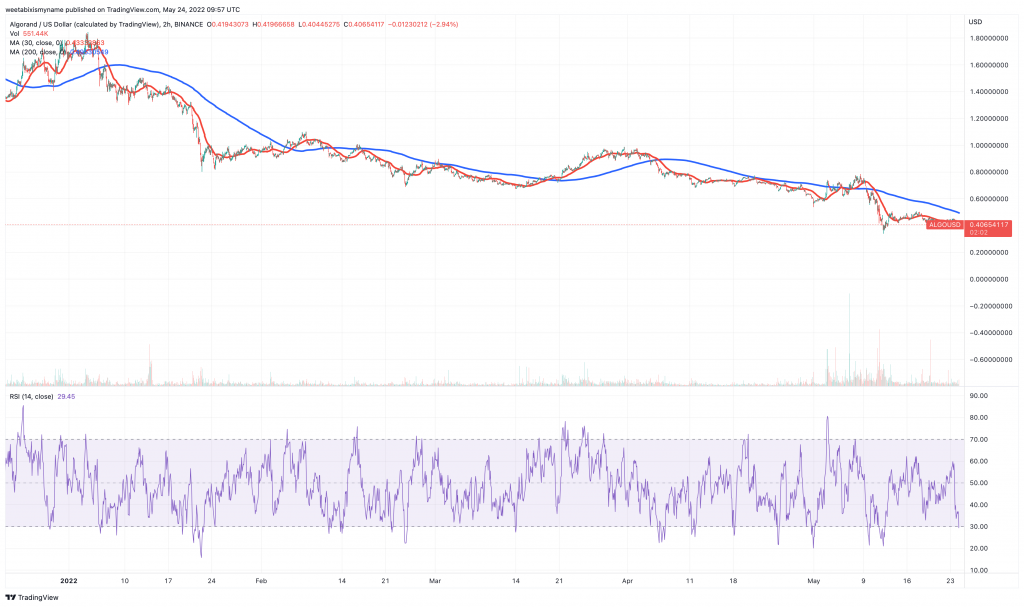 ALGO's RSI suggests that now is a good time to buy, with the coin significantly oversold right now. Indeed, compared to its promising growth, the altcoin is certainly low-priced right now.
Recent news suggests that Algorand is one to watch for the future. It and Hivemind Capital Partners recently announced their join acquisition of music website Napster. This is a big move in terms of cornering a share of the nascent Web3 market, given the clout that the Napster still carries.
BREAKING: @HivemindCap and @Algorand today announced the acquisition of @Napster, to once again revolutionize the music industry by bringing blockchain and Web3 to artists and fans. Music industry veteran Emmy Lovell has been named interim CEO. Stay tuned for further details. pic.twitter.com/y5NEI1oiRA

— Hivemind (@HivemindCap) May 10, 2022
More generally, Algorand is a proof-of-stake blockchain that claims to be more scalable and environmentally friendly than proof-of-work chains such as Ethereum. It currently accounts for a total value locked in of $127 million, which represents an increase of more than 1,800% in the past year.
It's currently witnessing a gradual increase in adoption, with Koibanx and the Developing Africa Group recently announcing that it will be using Algorand to develop a platform for recording and commercialising intellectual property within Nigeria.
BREAKING: @koibanx and @developingafro
to develop #Nigeria's official platform for commercialization of all IP in the country, on #Algorand.

As announced by @leoelduayen and @developingafro earlier today on a #TwitterSpace. Replay 👉 https://t.co/pGqAc2vp0s

— Algorand (@Algorand) May 23, 2022
Your capital is at risk.
Read more: