The Terra (LUNA) token has seen a pumping activity as a section of investors speculate on the coin's resurrection after a stunning drop that shook the cryptocurrency world. Terraform Labs developed LUNA with the algorithmic stable coin TerraUSD (UST) to maintain its $1 peg. Sometime between 9 and May 14, the value of UST fell by 85 percent, from $1 to $0.15.
Because of its relationship with UST, which dissociated from the dollar earlier this week and fell below one cent, LUNA collapsed. The value of LUNA dropped by 99 percent, from $62 on May 9 to less than a cent on May 14.
By the time analysts got to understand what had happened, the trading volume of LUNA increased by almost 200 percent in a very short period. At one point, the price of LUNA came between the levels of $0.0002 – $0.0004, after registering their low around the figure of $0.00000112.
Reasons Behind the Price Push of LUNA
The fact that margin trading (perpetual futures) has been halted by crypto exchanges and not yet bought back, including Binance Futures and derivatives platforms like Crypto.com and FTX, could be one explanation for the LUNA push.
Because short positions take significant quantities of an asset so as to short sell it at a specified price, the lack of shorting makes it very easy for LUNA to rise in value. Another explanation for why LUNA is surging was that Terraform Labs CEO Do Kwon recently informed investors and disclosed Terra's latest UST recovery strategy (TerraUSD).
LUNA, unlike most altcoins, was experiencing hyperinflation, with its circulating supply rising to 6.5 trillion from 350 million, which was informed to users by some crypto platforms. This was nothing like the COVID meltdown in March 2020.
Since traditional markets are inactive on weekends, cryptocurrency markets have far lesser liquidity, resulting in higher crypto price volatility in either direction – causing huge spikes to the upside and downside. Following a significant market buy, the LUNA price spiked to 0.002 BUSD.
It's also been through one of the most significant cryptos falls in history, from $119.55 to $0.00000112, witnessing headlines and being oversold.
Relisting of LUNA on Some Exchanges
Binance's decision to relist LUNA on May 13th has invited some backlash from crypto experts. So far as other crypto platforms are concerned, they are conducting their due diligence before listing this token. For example, eToro, which had delisted LUNA 15 hours before Binance, has not relisted it until 19th of May 2022, but now it's relisted and trading is resumed on this crypto.
Buyers were spared another 99% drop (and then another 90% drop on top of that) thanks to eToro's swift action. It had already dropped 99.16% on the day and 99% the day before, prompting some traders to hurry to purchase LUNA at a discount because it was formerly a top 10 coin.
On the other hand, despite the concerns, many traders still wanted to acquire LUNA; this is why, the early relisting favored Binance. Several cryptocurrency exchanges have failed to relist LUNA, resulting in an increase in trading activity on Binance as investors purchase the stable coin BUSD (Binance USD) to later purchase LUNA. In terms of market capitalization, Binance USD has been ranked 7th at the time of writing.
Your capital is at risk.

Current Price of Terra (LUNA)
At the time of writing, Terra (LUNA) has been trading at $0.000172 USD, with a 24-hour trading volume of $952,307,225 USD. It has dropped 17.38% in the previous 24 hours. With a live market cap of $1,123,430,981 USD, CoinMarketCap now it LUNA at 213. There are 6,533,168,836,038 LUNA coins in circulation, and the maximum supply is not available as of now.
Experts estimate LUNA will trade at around half a cent or $0.006 to reclaim its previous market valuation of over $40 billion — a more reasonable mid-term target price but still impossible given Terra's reputation.
Many traders desire to purchase LUNA; thus, it could still have large short-term price movements. The LUNA price is now 160 times higher than its low of $0.00000112 on May 13th.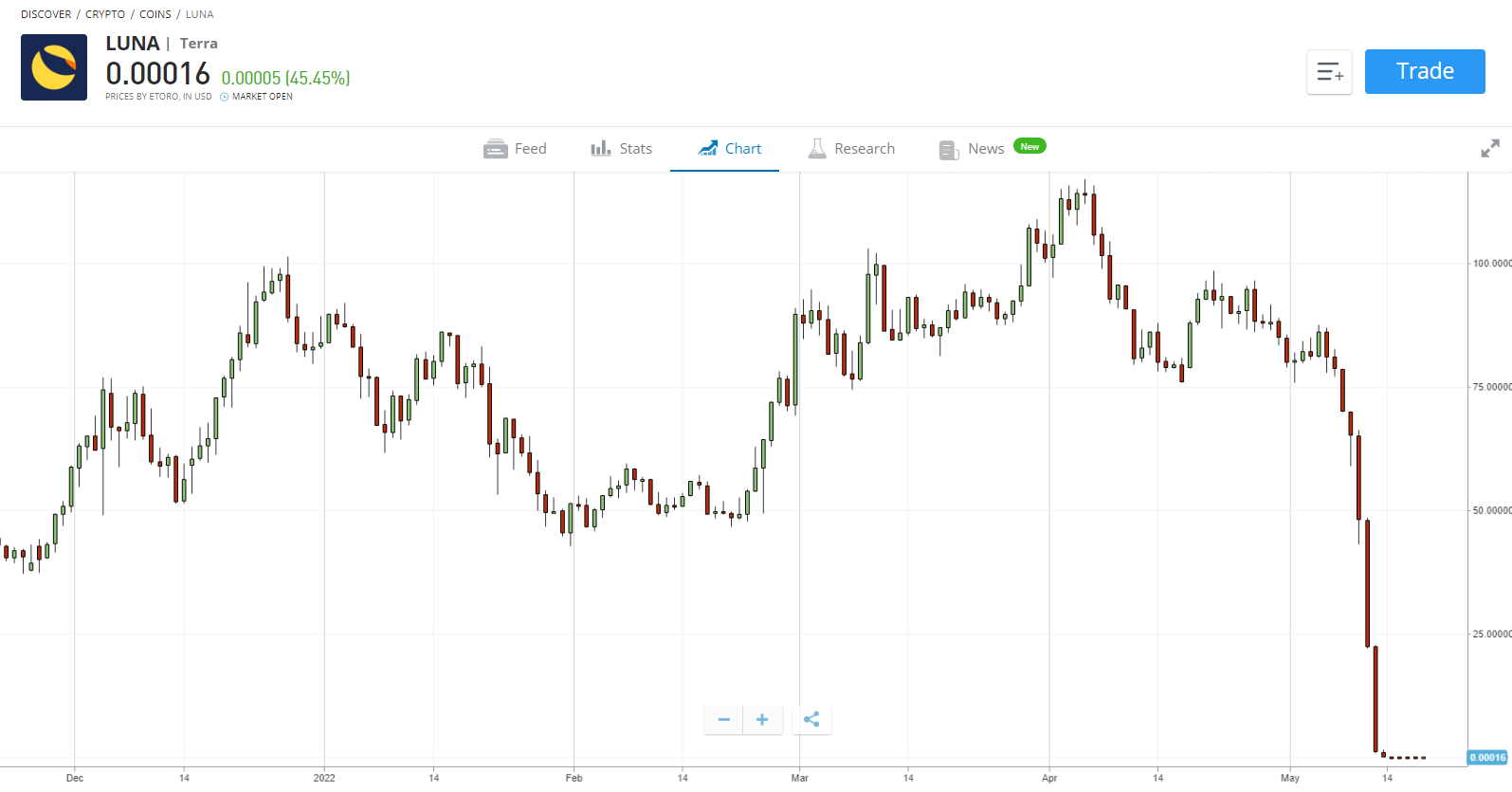 LUNA price chart via eToro Platform
This week, the LUNA value on Binance reached $0.000595 – a 531x increase from its low values. A move of over 50,000 percent will have been spotted by some professional traders.
At one instance, the LUNA price swung to the upside in a split second, reaching $0.002, indicating a 'fat finger' market buy that caused slippage. Although this was quickly reversed, some investors feel that because wicks signify supply zones, they will eventually fill.
This isa tenfold increase above the current LUNA pricing. Some traders who bought LUNA on the dip too soon or who already have it will dollar cost average into it at this low value in the hopes of breaking even though it moves back to about $0.002.
Should One Purchase LUNA?
On the one hand, the over 7 trillion LUNA tokens in circulation will make it tough for LUNA to rebound to its all-time high until Terraform Labs burns a major portion of the LUNA supply.
On Binance's website, there are still risk advisories for purchasing LUNA, but if users believe it's cheap and might rebound around a $10-12 billion market cap (now $1.19 billion), it could be a decent investment.
As mentioned, to maintain LUNA tokens in a flow, Terra Labs will have to burn a huge portion of the circulating supply. Having a circulating supply of 6.5 trillion and a total supply of 6.9 trillion, LUNA has the potential to break Bitcoin's market cap ($550 billion) even before it reaches nine cents, $0.09.
It may be too soon to say whether Do Kwon's recovery strategy would restore investor and trader trust in the cryptocurrency. The volatility is expected to continue, so if you're not seeking to gamble when it comes to cryptocurrencies, it might be wise to wait for next week to assess how LUNA's market reacts.
You could register an eToro account and only buy LUNA after its relisting on this platform from 19th May. Because eToro has 27 million users, is more regulated than Binance, and is available in the United States, the relisting of LUNA on this platform would almost certainly result in a price hike.
Lucky Block – Our Recommended Crypto of 2022
New Crypto Games Platform
Featured in Forbes, Nasdaq.com, Yahoo Finance
Worldwide Competitions with Play to Earn Rewards
LBLOCK Token Up 1000%+ From Presale
Listed on Pancakeswap, LBank
Free Tickets to Jackpot Prize Draws for Holders
Passive Income Rewards
10,000 NFTs Minted in 2022 – Now on NFTLaunchpad.com
$1 Million NFT Jackpot in May 2022
Cryptoassets are a highly volatile unregulated investment product. No UK or EU investor protection.