In the event of a crisis, many exchanges halted the trading of Terra LUNA soon after it took a dip. Protecting traders from high-risk trading was the most presented explanation by exchanges for the delistings.
The biggest exchange by volume, Binance, discontinued the trading of the LUNA and Terra tokens on the 12th of this month- when the price was down to less than a cent. Changpeng Zhao, the CEO of Binance presented a rational explanation as to why the exchange has halted trading.
He expressed, "An exponential amount of new LUNA were minted due to flaws in the design of the Terra protocol. Their validators have suspended their entire network, resulting in no deposits or withdrawals possible to or from any exchange"
Reason for Terra Crash
The Terra crash was due to the dysfunctionality in the architecture of the Terra network. UST, the Terra stable coin created to work in correlation with the LUNA token, witnessed a mishap. A large amount of UST was liquidated on Binance and one another exchange leading to the surge in liquidity of the asset.
Being an algorithmic stable coin, the liquidity was extended to LUNA as well. As a result, the market supply of LUNA rose from 350 million to a massive 6.9 trillion.
This was highly unfortunate as LUNA touched its all-time high just last month, at 119 dollars. While today, the price is way lesser than a fraction of a cent. All this while, the token did manage to make a few jumps, some spanning 5x, and this volatility was an incentive for new traders to make some money. But this wasn't as simple.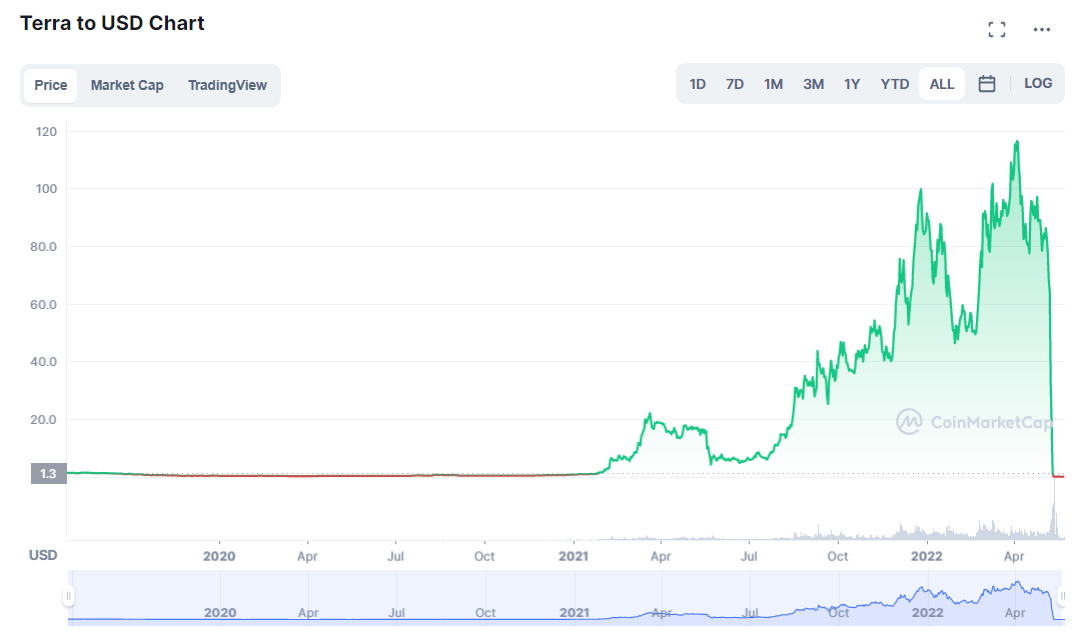 Luna All-time Price Chart via CoinMarketCap
Explaining the situation, the CEO of Binance said "Some of our users, unaware of the large amounts of newly minted LUNA outside the exchange, started to buy LUNA again, without understanding that as soon as deposits are allowed, the price will likely crash even more. Due to these significant risks, we suspended trading,".
Other major exchanges, such as eToro delisted LUNA on the same day as Binance. Announcing the delisting, eToro said, "We have taken the decision to disable $LUNA on the eToro platform due to market conditions. Existing client positions remain unaffected,". As of today, however, eToro has relisted LUNA on the platform for traders to buy and sell. However, its credibility as an investment asset raises skepticism.

In a matter of a few days, Terra managed to wipe out almost $40 Billion of investors' wealth. This effect was propagated to other cryptocurrencies as well, leading to overall crypto market bleeding. Bitcoin, for example, touched a 10 month low of $26,350.49.
Your capital is at risk.
Delisting and Relisting by Some Exchanges
As of 13th May, Crypto.com had delisted LUNA from its exchange. They explained the reason in a blog post saying "LUNA blockchain is currently down based on the validators decision. As a result, Deposits and Withdrawals have been suspended from the Crypto.com App and Crypto.com"
Amid the crisis, a few small-scale exchanges did not choose to delist the token. FTX and Gate.io- a China-centric exchange, still have the tokens available for trade on their platforms. The trading volume for FTX hovered around $445 million while that of Gate.io reached a level of $84 million in the 24 hours after the crash.
The delisting of LUNA did fuel the already plummeting token price, and this effect was parallel across the entire crypto market. Bitcoin touched a low of $26,350.49 during the crash. Ethereum showed a similar reaction, bordering a price of $1,748.30 at its lowest. Both these coins together lost over $400 billion in market cap, while LUNA lost slightly over $40 billion.
The delisting raised a pessimistic market sentiment, with many exchanges showing disbelief in the organization's potential to recover. Although some exchanges, such as eToro, are resuming trading of tokens on their platform, they do issue a warning citing the instability of the token.
Burning the supply seems to be the only practical option for LUNA to recover at the moment. The proposed figure is to burn 65% of the supply. However, the chances of recovery are slim, yet not impossible. As an investor, you must make informed decisions and choose to invest in this volatile asset wisely.
Read more:
Lucky Block – Our Recommended Crypto of 2022
New Crypto Games Platform
Featured in Forbes, Nasdaq.com, Yahoo Finance
Worldwide Competitions with Play to Earn Rewards
LBLOCK Token Up 1000%+ From Presale
Listed on Pancakeswap, LBank
Free Tickets to Jackpot Prize Draws for Holders
Passive Income Rewards
10,000 NFTs Minted in 2022 – Now on NFTLaunchpad.com
$1 Million NFT Jackpot in May 2022
Cryptoassets are a highly volatile unregulated investment product. No UK or EU investor protection.