The cryptocurrency market is down again today, with general investor sentiment turning negative against tech stocks. The market's total cap has dropped to $1.9 trillion, representing a fall of around 3% in the past 24 hours. The vast majority of coins have also flagged in the past day, with bitcoin (BTC) and ethereum (ETH) posting falls of nearly 4%. However, corrections and drops usually provide the opportunity for discounts and bigger gains. Accordingly, we've put together a list of the best 5 cheap cryptocurrency to buy for short-term profits. These coins exhibit a better-than-average chance of beating the market, while most also have good long-term potential.
5 Cheap Cryptocurrency to Buy for Short-Term Profits
1. The Graph (GRT)
GRT has corrected by 10.9% in the past 24 hours, to $0.347205. This represents a 4% drop in the past week and a 19% fall in the last 30 days.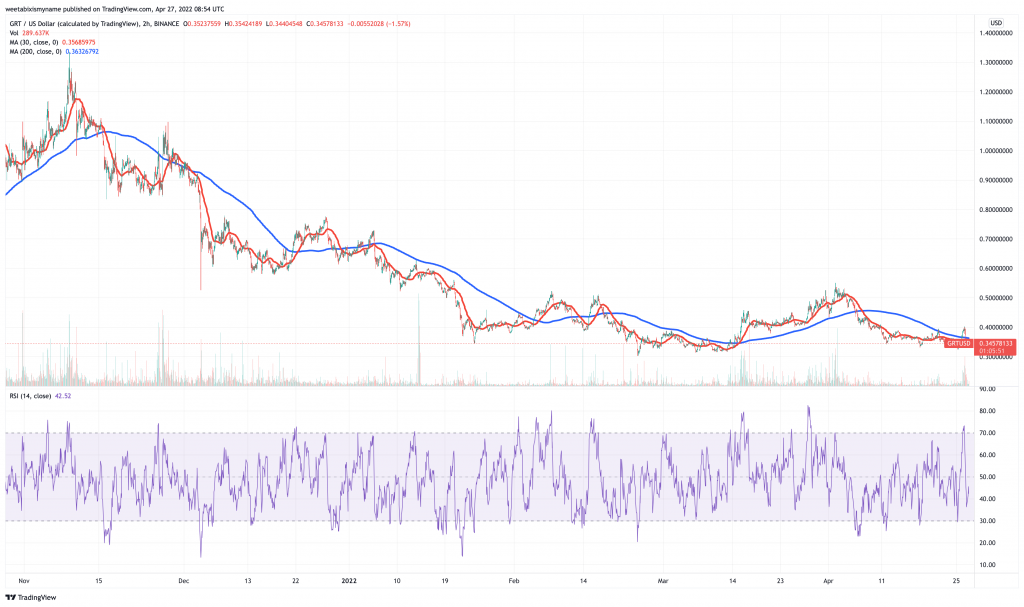 GRT has come down hard after gains yesterday, but this is mostly because of market-wide investor pessimism. Prior to the fall — which investors have also seen in global stock markets — GRT's relative strength index (in purple above) had jumped to 70. This indicates good momentum, something which may return after the current period of negativity subsides.
Looking at the bigger picture, GRT had been rising because of growing use of the Graph. The latter is a layer-one blockchain for Web3 applications and data, and it has been undertaking a migration of Ethereum-based data to its own network. What this means is that growing quantities of Ethereum blockchain data are now accessible directly via the Graph. This data can be queried by applications and users without having to rely on a centralised service provider, something which is essential if Web3 is to be decentralised.
The Graph ecosystem is championing decentralization as Ethereum subgraphs continue to migrate to The Graph Network 🛸

Here's an update shedding more context on the state of migration, query fees, & resources to help you migrate your subgraph today! https://t.co/Z26rrISXas

— The Graph (@graphprotocol) March 10, 2022
This migration means that more and more dapps have their data live on the Graph's network. This includes the Orca Protocol, which is a platform for building decentralised autonomous organisations (DAOs). It also includes Rocket Pool, which is a decentralised staking protocol for Ethereum (once it switches to proof-of-stake).
A subgraph used by the @Rocket_Pool community is live on The Graph's decentralized network!

Rocket Pool is a decentralized Ethereum staking protocol democratizing access to ETH2 staking. pic.twitter.com/nr3JyAZPPN

— The Graph (@graphprotocol) April 8, 2022
The Graph is positioned nicely to profit from the growth of Web3, which will rely on indexing protocols such as its protocol. This is why we could see surging later this year, and in subsequent years.
2. Dogecoin (DOGE)
DOGE is down by 13% today, at $0.142796. It's flat over the past week and up by 3% in the past fortnight.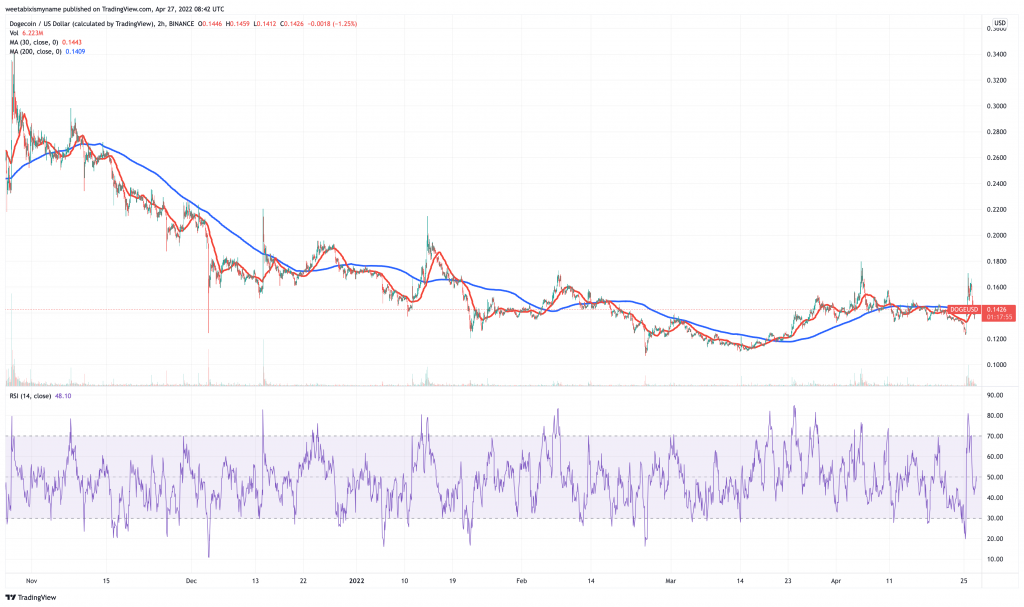 DOGE may have suffered a big fall in the past 24 hours, but it's now in a position where it could rally big soon. This is largely because Twitter has accepted Elon Musk's $44 billion takeover. By extension, Musk's ownership of Twitter could mean that the longtime DOGE fan may end up integrating DOGE-based payments and tipping on the social media platform.
💯

— Elon Musk (@elonmusk) March 27, 2022
This is something Musk hinted at when, prior to his takeover bid, he became Twitter's biggest shareholder. In fact, he's suggested this on more than one occasion, lending serious credence to speculation that it will sooner or later happen.
Maybe even an option to pay in Doge?

— Elon Musk (@elonmusk) April 10, 2022
Needless to say, if Twitter does end up integrating DOGE payments in one way or another, DOGE will skyrocket. Investors should therefore be thankful that the altcoin has corrected today after yesterday's exuberance. It gives them the chance to buy the altcoin on the cheap, and lock in bigger gains when it does surge. This is why it's one of the best 5 cheap cryptocurrency to buy for short-term profits right now.
3. ApeCoin (APE)
APE has the distinction of being really the only top-100 coin to have risen today, save for some stablecoins. It's up by 4.6% in the past 24 hours, at $18.96. It's also up 41% in the past week and by 62% in the past fortnight.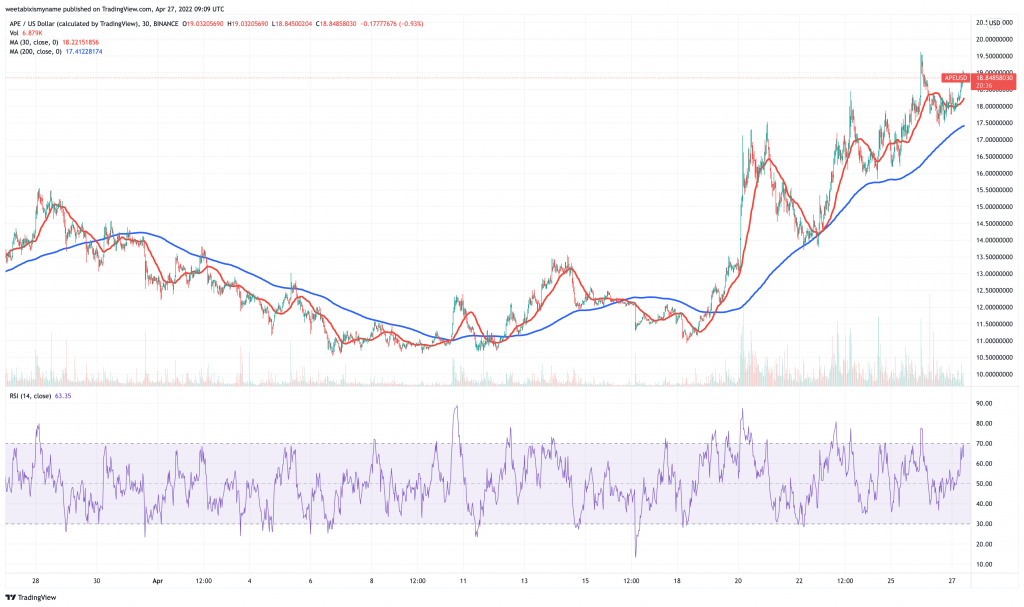 APE's technical indicators continue to look strong, even if you could argue that they may be due a fall. However, with nearly no major coin rising at the moment, APE's rising 30-day average (in red) and its RSI continue to offer some hope of profits.
At the very least, APE's rally is set to continue at least until April 30. This is when the Bored Ape Yacht Club launches its very own metaverse, the Otherside. Specific details of the Otherside are thin on the ground at the moment, although an auction for new NFTs will take place on the date of the launch.

The Otherside adventure will begin on 4/30 at 12pm ET, only on https://t.co/UWRD4dOC9H. The KYC on https://t.co/mbSVzDX9tp was to participate in Saturday's mint — only those who KYCed can participate. More details in the 🧵.

— OthersideMeta (@OthersideMeta) April 25, 2022
More generally, the Otherside's launch shows that the Bored Ape Yacht Club — which began as a limited NFT collection — can continue to grow its ecosystem. The same goes for APE itself, which as a governance token grants holders the right to vote on how the ApeCoin DAO spends funds on development projects. Its existence signals that Bored Ape aims to continue growing in the future, which in turn suggest that APE's price is likely to continue growing.
4. 0x (ZRX)
At $0.824720, ZRX is up by 8% in the past 24 hours. It's also up by 12% in the past week and by 14% in the past month.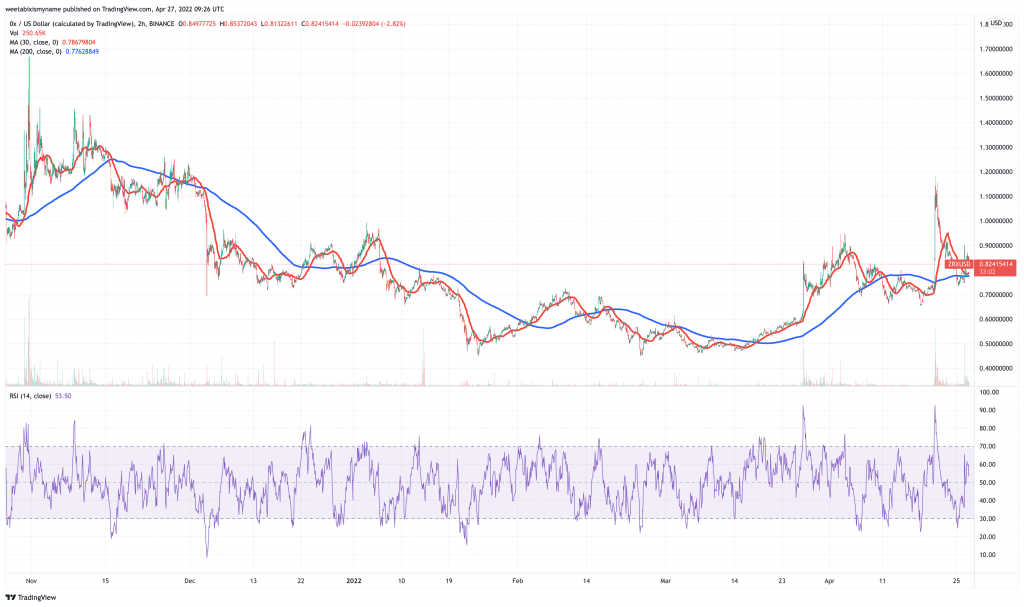 ZRX's indicators show promise of a continued rally. Its RSI has jumped from 30 to 60 in the past couple of days, while 30-day average has begun turning upwards after a decline. This suggests the beginning of an upwards movement.
0x is a decentralised exchange for Ethereum-based ERC tokens. Its native token, ZRX, has begun rallying because 0x Labs has completed a $70m Series B funding round. This is a strong bullish signal, since it indicates faith in 0x from big investors, and it provides 0x with the resources for further strong growth.
0x Labs has raised $70M in a Series B round led by @GreylockVC to continue expanding Web3's core exchange infrastructure 🎉https://t.co/HFch61hH42

— 0x (@0xProject) April 26, 2022
Greylock VC led the new round in 0x, explaining that the latter's strong growth is the main reason for its interest. As it outlined in a tweet, 0x has facilitated 43 million trades worth over $157 billion to date. This shows how big it has already become. And it also shows why we've chosen it as one of our best 5 cheap cryptocurrency to buy for short-term profits.
As the trusted exchange infrastructure for the internet, @0xProject has enabled $157B+ in tokenized value to flow across 43M+ trades on major blockchains. We @greylockVC are thrilled to lead the Series B. More from @saranormous & @SethGRosenberg https://t.co/EVnzcMu8Kk

— Greylock (@GreylockVC) April 26, 2022
5. The Sandbox (SAND)
SAND is down by 5% today, at $2.53. This represents a 13% fall in the past week and a 28% drop in the last 30 days.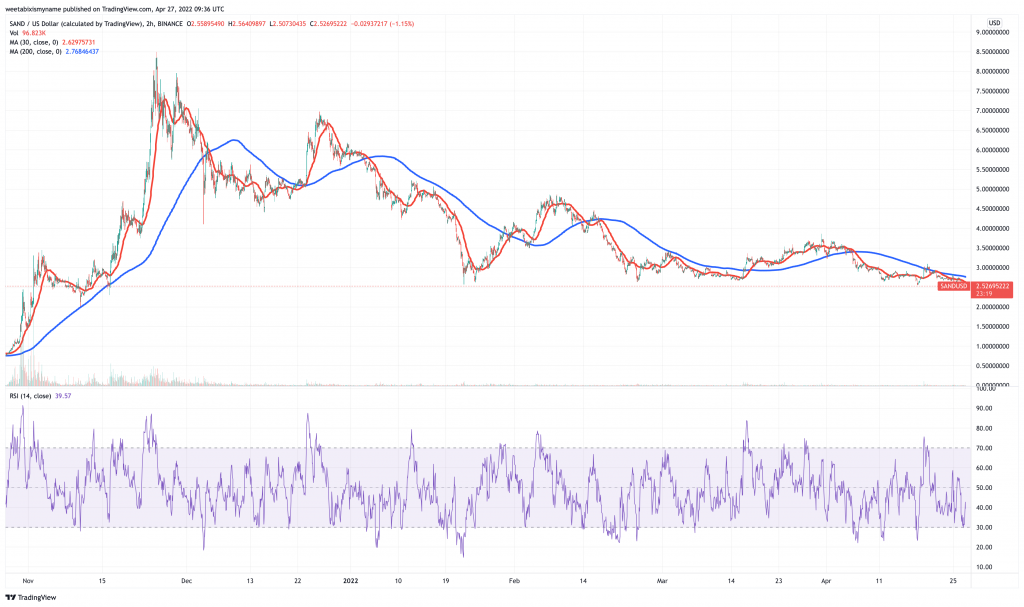 SAND's indicators suggest that it's near the bottom of dip. In other words, it could be close to jumping back upwards again, not least when its RSI had touched 30.
As a blockchain-based metaverse game, the Sandbox is set up nicely to rally strongly once market conditions become more favourable. It's currently looking at holding another funding round, following its SoftBank-led $93 million round from last year. No date has been given for the round, if it does happen, but it would undoubtedly given SAND a massive boost.
Even without new funding rounds, the Sandbox continues to grow. It recently revealed that it's partnering with metal band Slipknot to create a music-oriented metaverse.
We are partnering with @slipknot to Create the KNOTVERSE! 🔥 A one-of-a-kind meeting place for heavy music culture in the #Metaverse!

Step inside! 🎪 https://t.co/KBGY1RZ6dT pic.twitter.com/GdSuPSB5yc

— The Sandbox (@TheSandboxGame) April 19, 2022
This partnership comes on top of recent deals with HSBC, FlickPlay, Ledger, World of Women, and numerous others. This growth shows why the Sandbox is the likeliest blockchain-based metaverse game to succeed, and why we've included SAND in our list of the best 5 cheap cryptocurrency to buy for short-term profits.
Capital at risk
Read more: