The cryptocurrency market has had a good 24 hours. Its total cap has risen by 2%, to $2.09 trillion. Most major coins have risen by similar or larger percentages over the same timeframe, and with the market rising by nearly 9% in the past week, the momentum could continue ramping up. As such, we've selected our best 5 cryptocurrency to buy for a price boom this weekend. While these coins look set for a near-term surge, they also have good long-term potential.
5 Cryptocurrency to Buy for Price Boom This Weekend
1. Lucky Block (LBLOCK)
LBLOCK is $0.00276648 today, representing a drop of 5.8% in the past 24 hours. It's also down by 33% in the past week, and by 50% in the past month.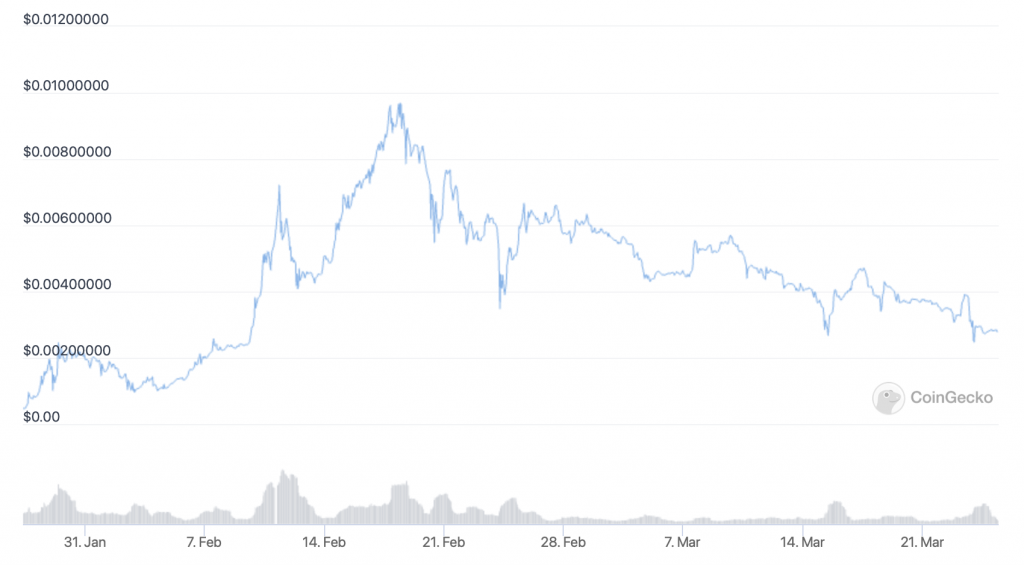 LBLOCK may be down in recent weeks, but it remains up by over 500% since launching at the end of January. And with the altcoin being the native token of the Lucky Block lottery platform, it has plenty of potential for rising further in the future.
Based on Binance Smart Chain, Lucky Block enables holders of LBLOCK to use the altcoin to enter draws. The first is scheduled to take place in April, with ticket holders have the chance to win 70% of each draw's fund. At the same time, all holders of LBLOCK will share 10% of each fund.
Lucky Block has also just launched 10,000 of its own non-fungible tokens. These NFTs — which had been delayed the previous week (causing price losses) — will grant holders entry to special NFT-based draws. The fund for each of these is around 2% of the main Lucky Block draw.
Today is the day! 🤞

Platinum Rollers Club #NFT drop! 🎉

In just 5 hours we're starting the #NFT minting party live on our Telegram

Join now and be ready – https://t.co/4MigxHlmDP

Don't miss your chance to win a #lambo and to get a life-time entry to the NFT #lottery! 🚀 pic.twitter.com/5KKf4nHK7K

— Lucky Block 🤞 (@luckyblockcoin) March 19, 2022
As part of the buildup to Lucky Block's first draw, the platform is in the process of rolling out its official app. It will also be launching an Ethereum-based version of its token, something which should greatly increase its uptake.
🚨Lucky Block V2 #ETH Token and Bridge to V1 Explained 🚨

Please read to learn more about the upcoming $LBLOCK ERC20 ⬇️

— Lucky Block 🤞 (@luckyblockcoin) March 14, 2022
2. Bitcoin (BTC)
BTC is up by 2.5% in the past 24 hours, at $44,122. This level also represents a 7.6% increase in the past week, as well as a 15% jump in the last 30 days.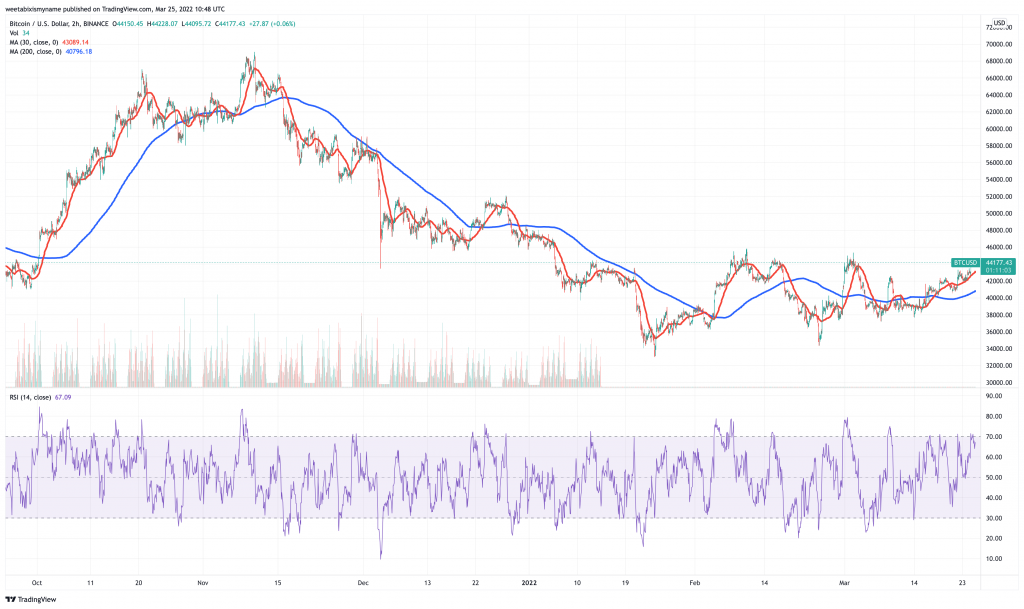 BTC's indicators are looking good right now. Its relative strength index (in purple above) has neared 70. Its 30-day moving (in red) has overtaken its 200-day average (in blue), and together with the RSI signals some encouraging momentum.
BTC is almost always the cryptocurrency to bet on during a stagnant or bearish market, yet a few things have happened recently to strengthen its case even further. Most notably, Russian parliamentarian Pavel Zavalny has suggested that the government is prepared to accept bitcoin as payment for oil and gas.
This admission triggered BTC's most recent jump from roughly $41,000 on Thursday to its current level. Yet BTC has also witnessed increased volumes in Ukraine and Russia during the ongoing military conflict between the two nations.
On top of this, BTC remains the most invested-in cryptocurrency as far as institutions are concerned. The latter account for around $67.5 billion in BTC holdings at the moment, indicating why it's one of our best 5 cryptocurrency to buy for a price boom this weekend.
3. Ethereum (ETH)
ETH is also up by 2.5% in the past 24 hours, reaching $3,136. This means it has increased by 11% in the last seven days and by 18.6% in the last 30.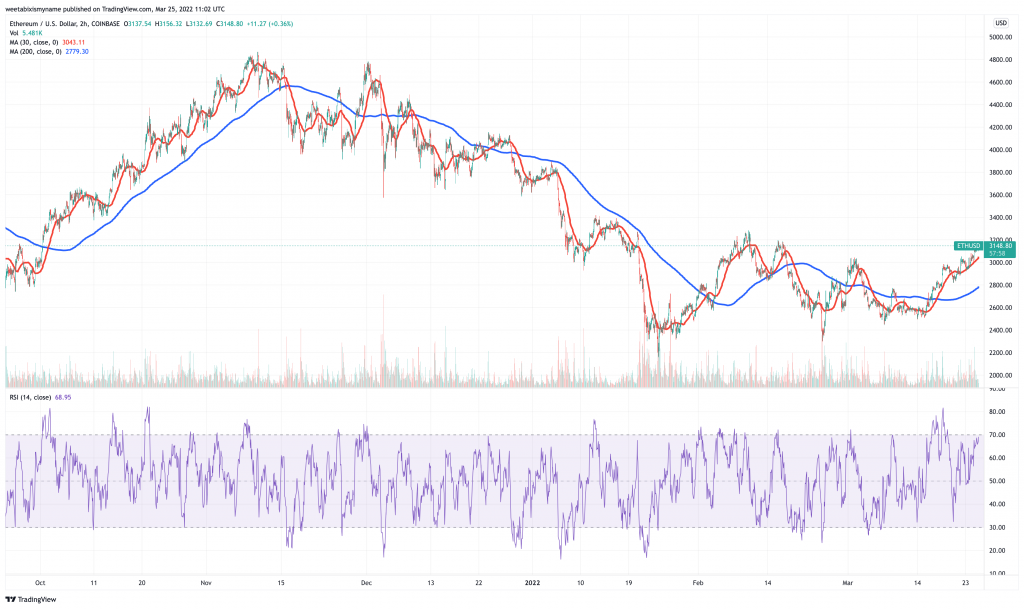 ETH's indicators are similar to BTC's, revealing good increasing momentum. While the altcoin hasn't benefitted from good news out of Russia (or any other nation state), it has enjoyed some good news recently. On March 14, it successfully launched the Kiln testnet. This will be used to test the merge between Ethereum's current settlement layer and its new proof-of-stake consensus layer. Given that this is the final stage of testing, once it's complete, we could witness the actual merge within a short window.
Kiln, the next iteration of Ethereum merge testnets, is now live 🔥🧱

Highly recommended that node operators, application developers, stakers, tooling/infra providers test their setups on the network. Blog post has all the info to get started 😁https://t.co/TCHBZxcFlt

— Tim Beiko | timbeiko.eth 🔥🧱 (@TimBeiko) March 14, 2022
Needless to say, the completion of the merge in Q2 2022 would be a big boost for Ethereum, and for crypto in general. It's therefore worth paying attention to what's happening with Kiln, since it could herald a big surge for ETH.
4. Aave (AAVE)
At $173.15, AAVE is up by 10% in the past 24 hours. It's also up by 10% in the past week and by 45% in the past fortnight.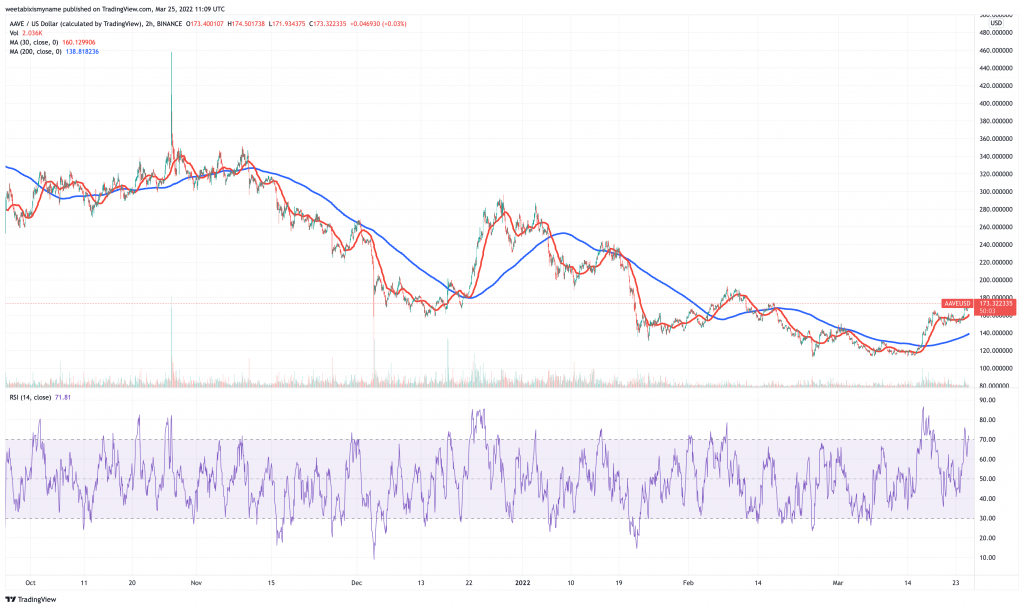 AAVE's indicators have recently spiked, in concert with the wider market. However, the altcoin has some specific news that is helping it to post above-average gains. That is, the DeFi platform recently rolled out V3 version of its protocol, introducing a range of enhancements that make it more efficient and decentralized.
1/ Aave V3 is here! 👻  
The most powerful version of the Aave Protocol to date, V3 brings groundbreaking new features than span from increased capital efficiency to enhanced decentralization. Read what's new in V3 in the thread below👇or visit https://t.co/H3jTyKRqNs to dive in! pic.twitter.com/LXzn7660nA

— Aave (@AaveAave) March 16, 2022
Aave is already the third-biggest DeFi platform (by total value locked in), according to DeFiPulse. However, the launch of V3 is likely to push it even higher, as evidenced by its recent surges. This is why we've included AAVE as one of our best 5 cryptocurrency to buy for a price boom this weekend.
5. Axie Infinity (AXS)
At $72.16, AXS is up by 12% in the past 24 hours. It's also up by 43% in the past week and by 53% in the past month.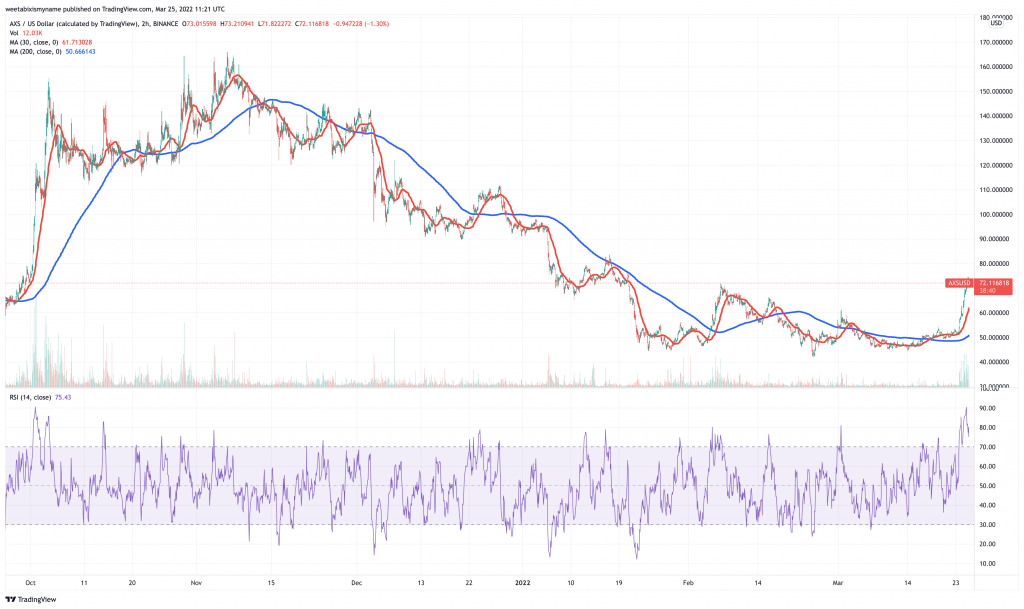 AXS's 30-day moving average has really shot up in the past couple of days, indicating a breakout. Its RSI reinforces this impression, having reached 90 a few hours ago and remaining at 80.
Since reached an all-time high of $164.90 in November AXS has been on a decline. In other words, it has been due a strong rebound, which appears to be happening (to some degree) at the moment.
Its current rise is largely related to the launch of Axie Infinity Origin, a core update that will introduce new interfaces, game mechanics, art, special effects and storylines. It should potentially reinvigorate a game that has been losing active users since reaching a peak of 2.7 million in November. It's daily active user count now stands at around 1.5 million, but this should increase again in the coming weeks and months.
🔥 Axie Infinity will first launch its Origin update on desktop computers only. Later the update will roll out with more features to mobile platforms; @AxieInfinity

➡️ Read More: https://t.co/ewtSfAZthz

— DappRadar (@DappRadar) March 24, 2022
Capital at risk
Read more: