For Bradley Brock, his 3-year-old dog, a mastiff named Moose, was his family and his support after a serious motorcycle accident. In a span of seconds on a November night last year, a police officer in Inkster, Michigan, took all of that from Brock when the officer shot Moose multiple times as the dog approached him.
Brock says, and video appears to show, the dog wagging its tail as it trots toward the officer. Brock has now filed a federal civil rights lawsuit arguing that the shooting was an unreasonable seizure under the Fourth Amendment.
The shooting is another alleged instance of an officer misreading dog behavior and slaying a pet—a sadly common occurrence that continues to devastate families, generate public outrage, lead to officers being fired, and cost police departments hundreds of thousands of dollars in lawsuit settlements.
Brock says he called 911 on November 15 of last year after a man at a gas station pulled a gun on him. Video of the incident shows an Inkster police officer talking to Brock while Moose sits on the sidewalk a short distance away, off leash. Moose then trots over to Brock, wagging his tail and stopping to sniff a passing pedestrian, before turning and moving toward the officer.
"He was very friendly, but if anybody was around me, he wanted to check 'em out and make sure they're okay," Brock says. "That's all, like any dog."
However, the officer begins quickly backpedaling, draws his gun, and within seconds shoots the dog multiple times.
Brock, escorted by police, took Moose to an emergency veterinarian, where the dog was euthanized. The veterinarian report notes that the Inkster police left immediately after dropping Moose off and "refused to give account of what happened."
The loss of his dog crushed Brock. He had lost one of his legs in a motorcycle accident several years earlier, and he was training Moose to be his service dog. Brock says Moose was a rescue dog who was caged and abused for the first six months of his life.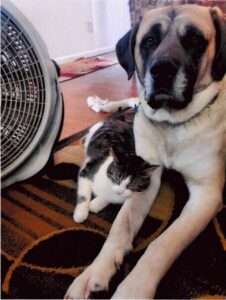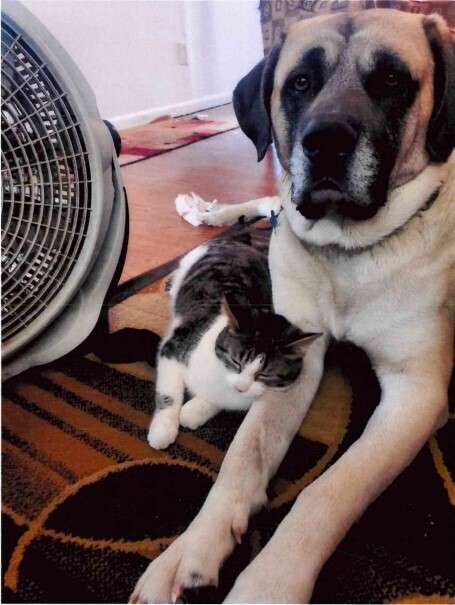 "When I got him, he had no hair from the middle of his back to the tip of his tail," Brock says. "They had run over his head with a truck, and it crushed his jaw and caused him to bite the tip of his tongue off. He was highly abused, so when I got him, I healed him as much as he healed me. We were partners."
The only reason footage of the incident exists is because a security guard at a nearby marijuana dispensary captured it on video via a drone he had in the air at the time. The Inkster Police Department told local news outlets that the officer's body camera wasn't turned on, nor was the dash camera in his cruiser active.
Brock says the dispensary initially refused to give him the video, but he later ran into the security guard, Antonio Williams, by chance. Williams sympathized with Brock and handed over the footage.
"The video clearly shows the dog was not aggressive," Williams told WXYZ Detroit. "The officer pulled his weapon and I don't know how many times he fired because I was busy wondering where the bullets were going."
Williams was fired from his job for sharing the footage with Brock, but he told WXYZ that he had no regrets.
The Inkster Police Department did not respond to a request for comment for this article. However, it previously said in a statement to Detroit's WDIV Local 4: "The members of the Inkster Police Department are without question saddened by the loss of anyone's pet, and we send our sympathy to the owner, however it is incumbent of pet owners to be responsible with their animals."
Brock says he wants the police to be better trained to recognize the difference between an aggressive and friendly dog. "I get it. We live in Detroit," he says. "People have pit bulls that are aggressive, that are guarding illegal activities. That wasn't my dog."
A 2016 Reason investigation found that a Detroit narcotics unit was responsible for a string of drug raids that left dead dogs in their wake and allegations from owners that their pets had been wantonly slain.
In the years since then, the city has spent hundreds of thousands of dollars settling lawsuits stemming from those raids. In 2020, the city paid $75,000 to settle one lawsuit after body camera footage contradicted an officer's claims that two pit bulls were growling and lunging at him when he shot them.
In 2018, Detroit paid $225,000 to settle another lawsuit by a couple who claimed police officers shot their three dogs while the animals were enclosed behind an eight-foot-tall fence—just so the officers could confiscate several potted marijuana plants in their backyard. In 2015, the city approved a $100,000 settlement to a man after police shot his dog while it was securely chained to a fence.
Following viral videos of dog shootings, intense negative publicity, and hefty lawsuit payouts, many police departments have started to recognize the need to train their officers on how to deal with canines without just reaching for their guns. Reason reported in 2018 on a pilot program by the National Sheriffs' Association that uses virtual use-of-force simulators to run officers through common situations where they might encounter a dog.
"My dog was well over 10, probably 15 feet away from him when he took the first shot," Brock says. "There's no reason that he should have taken that shot at a dog that's 15 feet away and wagging his tail."
"I just want justice for my boy," says Brock. "That's all."