ETH years ahead with upgrade. Sanctions cause market turmoil. JP Morgan sees no 'crypto winter'. Lagarde and Bankman-Fried talk regulation.
ETH
The Ethereum price was up 1.40% on the week despite the market being rocked by Western sanctions on Russia. A decision to remove Russian banks from the SWIFT payments system has seen a crash in the Ruble and Russian debt, while Russian companies were banned from accessing Western markets.
Some positive news for Ethereum was another upgrade milestone ahead of schedule. The zkSync protocol, responsible for implementing Ethereum scaling platforms, announced the test network release of an Ethereum Virtual Machine compatible Zero-Knowledge rollup (zkEVM) years ahead of schedule.
The EVM is the ecosystem in which all Ethereum wallets and contracts live and sets the rules of the chain from block to block. The new test network will be the first time a ZK rollup is released that is capable of running the full Ethereum environment and will show capable zero-knowledge technology is at scaling blockchains.
ZK rollups benefit from transaction costs that are around 1/200th of Ethereum fees and are a move towards finally seeing a solution to high gas fees on Ethereum. If it is successful, Ethereum could solve its scaling issues faster than expected.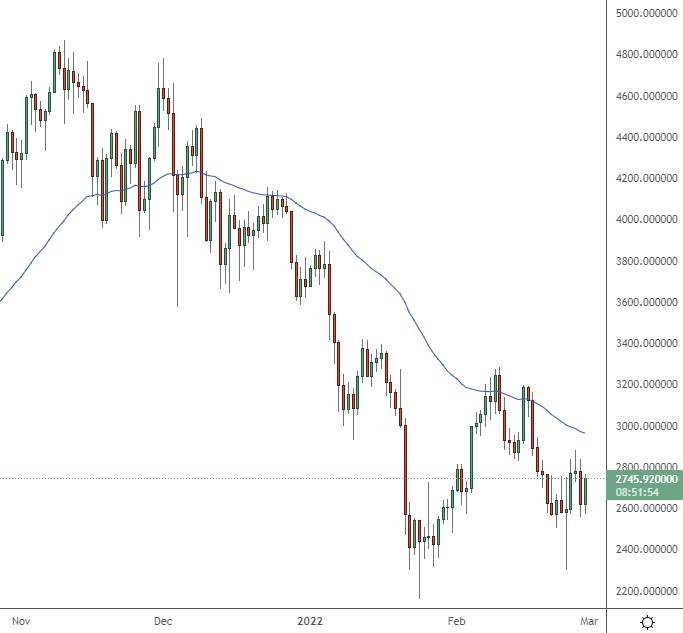 ETH was trading below $2,700 on Monday after the Russia news dragged the price of risk assets lower on Sunday and spoiled a three-day cryptocurrency rally.
BTC
The Bitcoin price is trading around $39,000 on Monday and the Russian developments have the industry buzzing about the coin, while there is also regulation risk.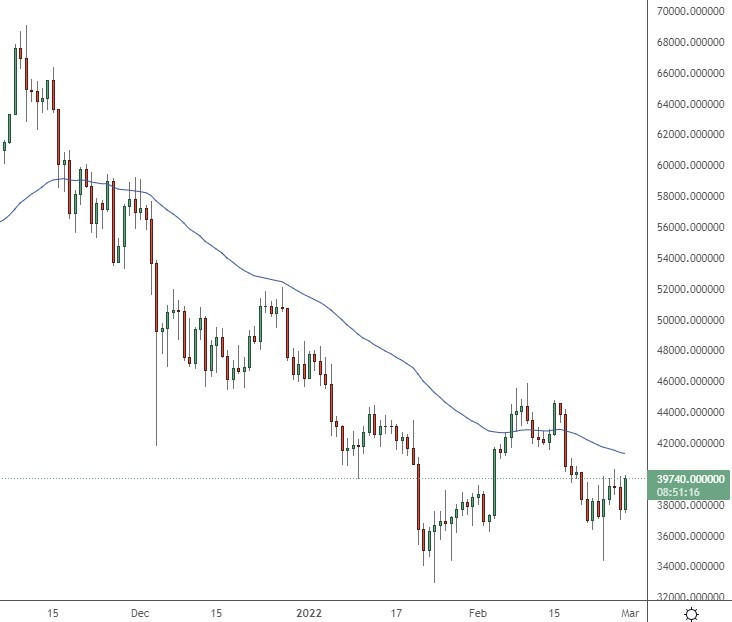 BTC bulls are pointing to positives such as Ruble-denominated volumes at nine-month highs, while the Ukrainian government has also been spending $10m of crypto aid donations on supplies. Ukraine's government was accepting donations in BTC, ETH, AND USDT, while asking exchanges to freeze the crypto holdings of Russia.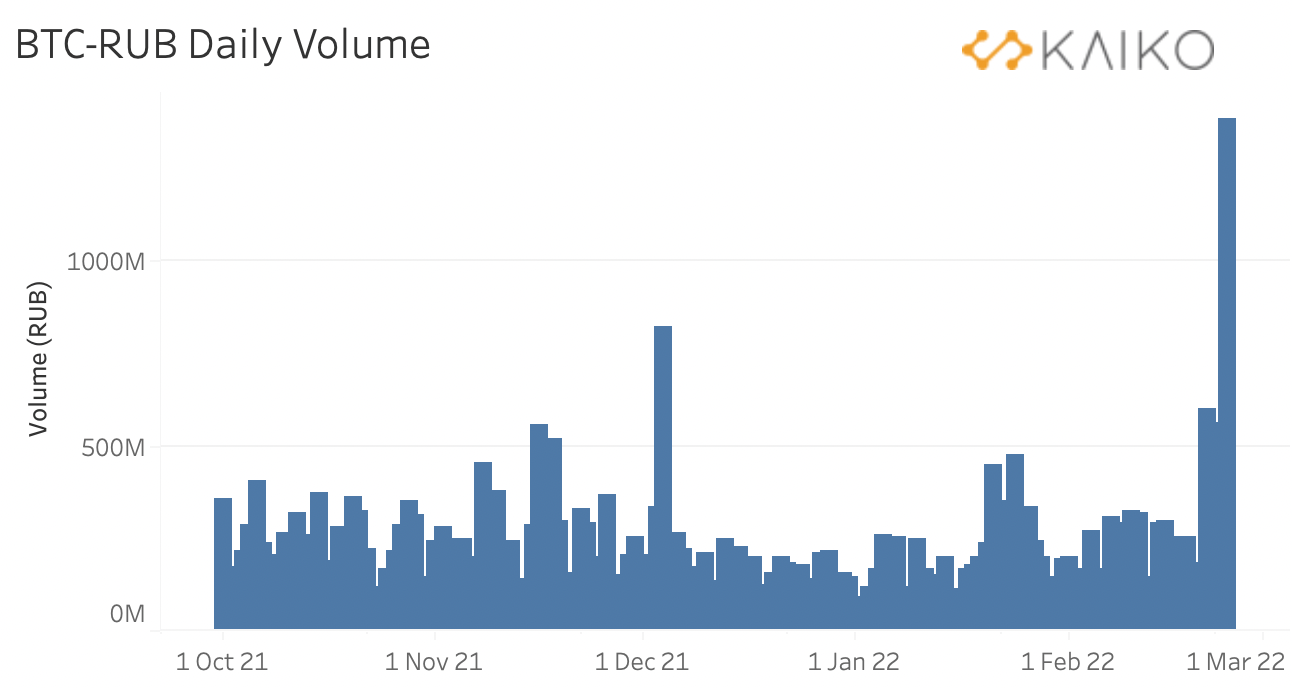 The European Central Bank President Christine Lagarde has threatened the crypto market with regulation and wants to see it move more quickly due to the Russian sanctions.
She wants to see the Markets in Crypto Assets Directive (MiCA) brought forward to stop Russians from using the blockchain as a loophole for the sanctions.
Whenever there is a ban or prohibition in place, or a system in place to boycott or prohibit. There are always criminal ways to try to bypass the restriction or the ban.
Meanwhile, Bank of America has said that there will be no "crypto winter" coming due to the level of user adoption and growth in development.
Bitcoin found support recently at the $34,000 level and will hope that markets can remain calm this week to mount a rally above $40,000.
CRO
The Crypto.com exchange has been actively involved in supporting Ukraine with donations to the Red Cross.
Crypto.com CEO Kris Marszalek announced that the platform had made a sizable donation to the Red Cross in support of Ukraine.
Recent developments also saw NFTs set to be released on the site. The exchange has seen a spike in activity and demand from users after the addition of the digital art collectibles on its platform. 
Crypto.com wallet now supports Cronos-chain-based NFTs, offering users the ability to store their digital collectibles in a single app. The Singapore-based company launched the Cronos, EVM-compatible blockchain late last year and now has $2.3bn in TVL on the chain.
The CRO coin now trades at number 17 in the list of coins by market cap with a valuation of $10.3 billion. The project was in the news last year with a $700 million sponsorship deal for naming rights of Los Angeles' Staples Center. CRO now trades at $0.40 after slumping from highs in November at almost $1.00 after the naming rights deal.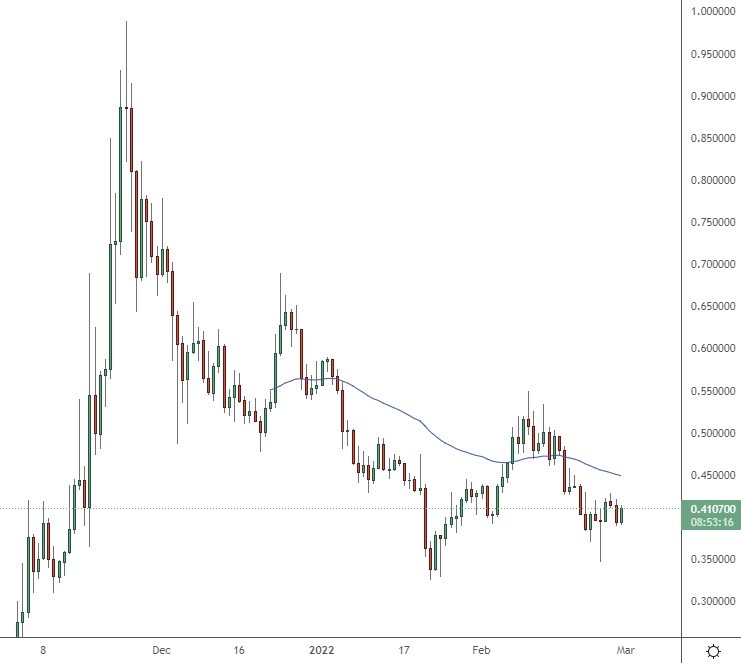 The number of new addresses of CRO has continued to see a steady rise in the last month, even after the platform was recently hacked on January 17th.
A total of 482 new addresses were added daily in the last month, with 214,950 holding the coin, according to CoinMarketCap.com.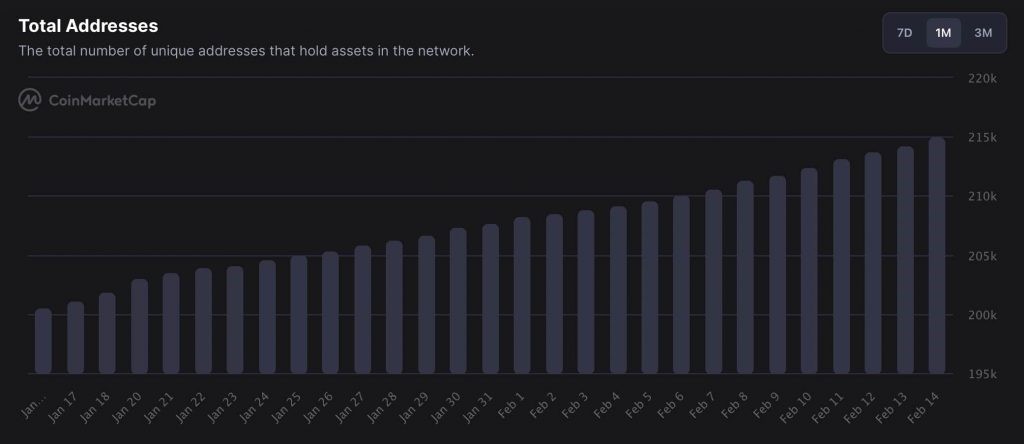 Crypto.com originally suspended withdrawals when users noticed funds leaving their accounts on January 17, with $30 million in assets stolen from 483 users' crypto wallets.
FTT
The CEO of the FTX exchange has been another calling for regulations in the crypto market.
Sam Bankman-Fried said institutions have been slow to embrace cryptocurrency as most feel regulatory certainty is vital.
"We've definitely seen institutions start to get involved in the space," the CEO of FTX told Yahoo Finance in a Tuesday interview. "But it's been much more of a trickle than a deluge so far."
We haven't seen sort of mass institutional inflows in the way that I think some people are anticipating. And I think a lot of the reason for that is that, first of all, these tend to be slow-moving companies.

These are just companies that are always going to be methodical about how they enter. But in addition to that, I think that there are a lot more waiting for more regulatory clarity before they feel comfortable diving in.
Last week, global watchdog the Financial Stability Board said: "ongoing vigilance" of institutional investors' involvement in crypto markets is needed, saying links between the two might end up triggering a financial crisis.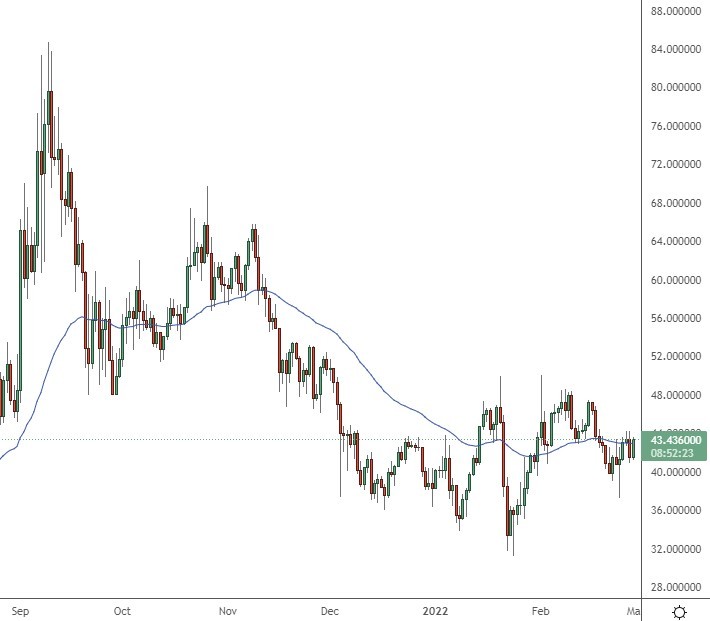 The FTT token is ranked at number 26 in the list of coins with a market cap of $15.2 billion. The coin was one of the better performers last week with a $4.33% rise to trade above $43.00.
Disclaimer: information contained herein is provided without considering your personal circumstances, therefore should not be construed as financial advice, investment recommendation or an offer of, or solicitation for, any transactions in cryptocurrencies.